Slap Magazine: Issue 15 May 2012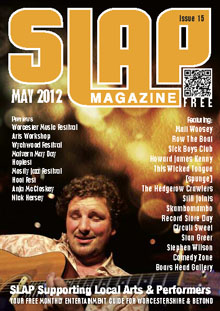 It's another wet Wednesday in Worcester as we put this months issue to bed. It was a crazy April to say the least, with so much going on around the County these days its no wonder the time runs away with us. We hardly had time to get over another fabulous sell out Slap Night before we go headlong into our May deadline.
With so much to look forward to its hard to know where to start. Lets hope May brings the sunshine back for the many local festivals on the horizon. May Day in Malvern, Hopfest in Bewdley, The Diamond Jubilee street Party in Kidderminster... the list goes on. We take a look forward to The Wychwood Festival at Cheltenham which is certainly one for the diary. For Jazz lovers there's plenty going on just up the road in and around Birmingham with the 'Mostly Jazz' festivals to look forward to. Then of course there's the Upton Folk Festival, just about something for everyone!
Slap Magazine is available to download as a PDF. You can also find free printed editions throughout Worcestershire, Herefordshire, Gloucestershire and Warwickshire.
Recent issues
We are proud to support the following