Slap Magazine: Issue 78 March 2018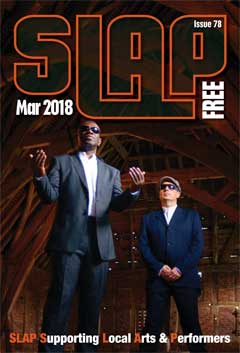 First of all let's get this out of the way... I've learned it's probably best not to puncture one's lung and break several ribs in the run up to a deadline during the shortest month of the year. That said, I have thoroughly enjoyed putting this issue together thanks to the sheer diversity of its content. In the arts alone we have costume art, performance art, Asian art, contemporary art, sculpture, and even art in pubs! Check out too, our featured artist Tracey Passey, who's wonderful mixed media masterpieces are inspired by the coast.
As well as art, there's news of acting courses, a dance feature, spoken word and poetry is also covered. Last minute news just in for any budding writers of a Short Story Competition for Evesham Festival of Words - open to adults and juniors. Closing date is midnight on Friday 23rd March. For more info visit: eveshamfestivalofwords.org.
Diversity isn't just restricted to the arts as we jump from Ensemble Échos at St Martin's, Worcester to the Damned at the O2 and everything in between! As always we bring you the news, reviews, previews and features from the local music scene. Our featured band are Bewdley's Cantaloop. See mainstays Dannie & Justin on our front cover - inviting you in...
Also featured is International Women's Day which again shows the rich, mixed culture bag, where dance, comedy, film and music are all represented.
Have you started planning your festival season yet? Well Andy O'Hare has put together a quick summary of what to expect on the local festy scene this summer. In this issue we feature the uncomparable Noztock.
We reported in the February edition of the sad closure of Worcester's Rise Records; well rumours have reached Slap HQ of the possibility of an independent store opening soon. Watch this space...
Inflat-Ed
Slap Magazine is available to download as a PDF. You can also find free printed editions throughout Worcestershire, Herefordshire, Gloucestershire and Warwickshire.
Subscriptions for Slap Magazine deliveries
Would you like to recieve a copy of Slap magazine delivered to your door every month? We now offer subscriptions allowing you to subscribe for one year. Each year consits of 11 printed copies, with a double issue for December / January.
When you subscribe your subscription will start with the current issue, and will be delivered by Royal Mail.
To purchase a years subscription for £40 to have Slap Magazine delivered to your UK address please pay with PayPal below.
Recent issues
We are proud to support the following