Slap Magazine: Issue 80 May 2018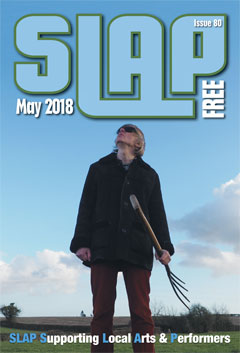 Despite the weather's best efforts, it seems that summer is around the corner and if this bumper issue of Slap Magazine is anything to go by, event organisers and promoters are feeling the vibes already. At a time when the national press are reporting venues closing and organisations like the Music Venue Trust are campaigning to support grassroots venues, it is heartwarming to see so much happening in the region.
According to our resident geek, in 2018 alone, Slap has listed almost 3000 events. If that doesn't show you what a hotbed of talent we have here, nothing will! There is clearly no excuse not to get out and support your local scene.
You'll find information about a multitude of events and exhibitions, like The Ring – an arts programme based on the canal ring between Worcester and Droitwich - running through the summer with an ever changing programme of events and installations. The Empathy Museum's A Mile in My Shoes will be installed in Worcester's Cathedral Square for ten days at the end of the month, after successful residencies in London, San Paolo and Western Australia. As if this wasn't enough, we have listings from over 200 venues across the region with a jam packed programme of music, theatre, dance and spoken word.
We've also been inundated with news of new releases from musicians including Stourbridge's own Jess Silk who's hosting an album launch on 11th May and prodigal son Vinny Peculiar with Return of the Native (on regular rotation in the Slap office right now). We're also featuring the new releases from Liberty Artillery, Wille and the Bandits, Poppy WS, Ed Strong and Inkubus Sukkubus. More information on these later in the issue.
Exhaust-ed
Slap Magazine is available to download as a PDF. You can also find free printed editions throughout Worcestershire, Herefordshire, Gloucestershire and Warwickshire.
Subscriptions for Slap Magazine deliveries
Would you like to recieve a copy of Slap magazine delivered to your door every month? We now offer subscriptions allowing you to subscribe for one year. Each year consits of 11 printed copies, with a double issue for December / January.
When you subscribe your subscription will start with the current issue, and will be delivered by Royal Mail.
To purchase a years subscription for £40 to have Slap Magazine delivered to your UK address please pay with PayPal below.
Recent issues
We are proud to support the following