Slap Magazine: Issue 83 August 2018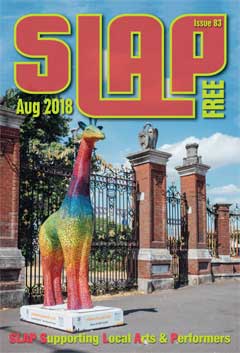 Hello folks, I trust you all had a fabulous July and made the most of the glorious sunshine...
If you have been in Worcester over the last few weeks, you couldn't have missed at least some of the colourfully painted giraffes dotted around the City as part of the 'Worcester Stands Tall' public arts trail. The event has really captured the publics interest and has been a big talking point for locals and visitors alike. Of course there's always one or two who need to spoil it for everyone else with mindless violence, as two had to be taken away for repair... We chose the installation by artist Matthew Smith at the gates of Worcester Race Course as our front cover for this issue.
The festivals came thick and fast last month and we take a look back at the wonderful Nozstock festival. It was the sell-out 20th anniversary and, although I say it every year, the best one yet.
And so the summer continues... in this issue we look back at the Westfest, Linton and Upton Blues. We also take a look forward to the brilliant Lakefest, Old Bush Blues, Kidderminster Fringe festivals and last but not least the Moseley Folk festival.
Next month we'll bring you all the latest news and updates from the Worcester Music Festival due to take place mid September. We at SLAP can't wait, enjoy August!!!
Infest-ed
Slap Magazine is available to download as a PDF. You can also find free printed editions throughout Worcestershire, Herefordshire, Gloucestershire and Warwickshire.
Subscriptions for Slap Magazine deliveries
Would you like to recieve a copy of Slap magazine delivered to your door every month? We now offer subscriptions allowing you to subscribe for one year. Each year consits of 11 printed copies, with a double issue for December / January.
When you subscribe your subscription will start with the current issue, and will be delivered by Royal Mail.
To purchase a years subscription for £40 to have Slap Magazine delivered to your UK address please pay with PayPal below.
Recent issues
We are proud to support the following