Slap Magazine: Issue 84 September 2018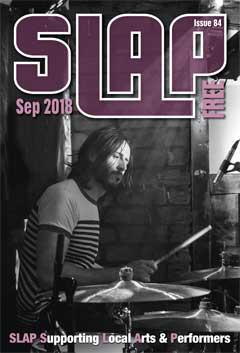 Hello folks, If you thought the festival season was at an end, think again. This year's Worcester Music Festival is taking place from 14th – 16th of this month. Across the city some twenty venues open their doors for free over the three day music bonanza. Our front cover is from last year's WMF - Liberty Artillery's Jamie May at Drummonds.
As well as the usual haunts the festival organisers have some interesting new venues at their disposal; Paradiddles, The Earl (Boat), Circle Of Swords and the Henry Sandon Hall to name but a few.
SLAP Magazine are excited to be hosting another eclectic Saturday night at the Marrs Bar with Birmingham's Ivory Wave, Johnny Kowalski & the Sexy Weirdos, South Londons electro punks LegPuppy as well as local legends Nigel Clark and Vinny Perculiar.
Remember it's not just about the music, there's Comedy, Poetry and plenty for the kids. The full printed festival guide will be available from Saturday 8th September and organisers will be on a market stall on the High Street that day where you'll be able to pick up a copy and ask any questions.
In this issue we look back at three very different festivals; Lakefest, Old Bush Blues & Worcester Beer Festival as well as look forward to Bewdley Literary Festival, Cheltenham Paint Festival and the Ring as part of Canal & River Trust Arts on the Waterways. So if it's diversity you're after - we've got it!
Diverse-Ed
Slap Magazine is available to download as a PDF. You can also find free printed editions throughout Worcestershire, Herefordshire, Gloucestershire and Warwickshire.
Subscriptions for Slap Magazine deliveries
Would you like to recieve a copy of Slap magazine delivered to your door every month? We now offer subscriptions allowing you to subscribe for one year. Each year consits of 11 printed copies, with a double issue for December / January.
When you subscribe your subscription will start with the current issue, and will be delivered by Royal Mail.
To purchase a years subscription for £40 to have Slap Magazine delivered to your UK address please pay with PayPal below.
Recent issues
We are proud to support the following