Us and Orange River @The Marrs Bar, Worcester 22nd April 2022
As one anonymous but forever immortal wise ass once cracked that nostalgia ain't what it used to be. Tonight's retro laden Marrs Bar line up of Orange River Remedy and trad rockers Us gave the perfect opportunity to put that new folk wisdom to a stringent examination.
A neon Orange River Remedy stage light buzzes into mellow tangerine life and it's no minor detail because, as it turns out, it's the flicked switch that transports all present back to '67 and the summer of love, Sunset Strip bars full of the beautiful people, Monterey, Woodstock it's all there as ORR immediately WOW! us all over and over again with their mix of covers and dazzlingly arranged original material. Versions of The Doors (Break On Through, Back Door Man), The Kinks (Accute Schizophrenia Paranoia Blues) and Dr Hook (Millionaire) are all gutsy calls but ORR show the innovation that is clearly their stock-in-trade to carry them off brilliantly. That same innovative spirit is front and centre in original songs Confusion, Sunny Lady and Rollin' On, whose complex harmonies and arrangements are all nailed dead on like a carpenter possessed.
There is such a joy to every second of ORR's performance and they carry the watchers along on it. The brothers Hansel play off each other beautifully, guitarist Rikki with his stunning fret work, Ty is engaging with the audience and flowing in his bass style while drummer Lottie Pennington, who is both stoic and energetic, treats us to her lightening bright smile every time the exhilarating vibes of her bandmates overwhelm her – and us. A cover of Little Richard's "Tutti Frutti" is a surprising but pleasing end to ORR's offerings and the response to it, and them, confirms the many new friends they have made here tonight.
As ORR leave the stage many are left wondering about how it is that these three young people ended up playing the type of music they do – and to such a high level. There's one thing for sure though, whatever the answer to that question may be, in troubled times, Orange River Remedy have the cure to all your blues. Groovy, man.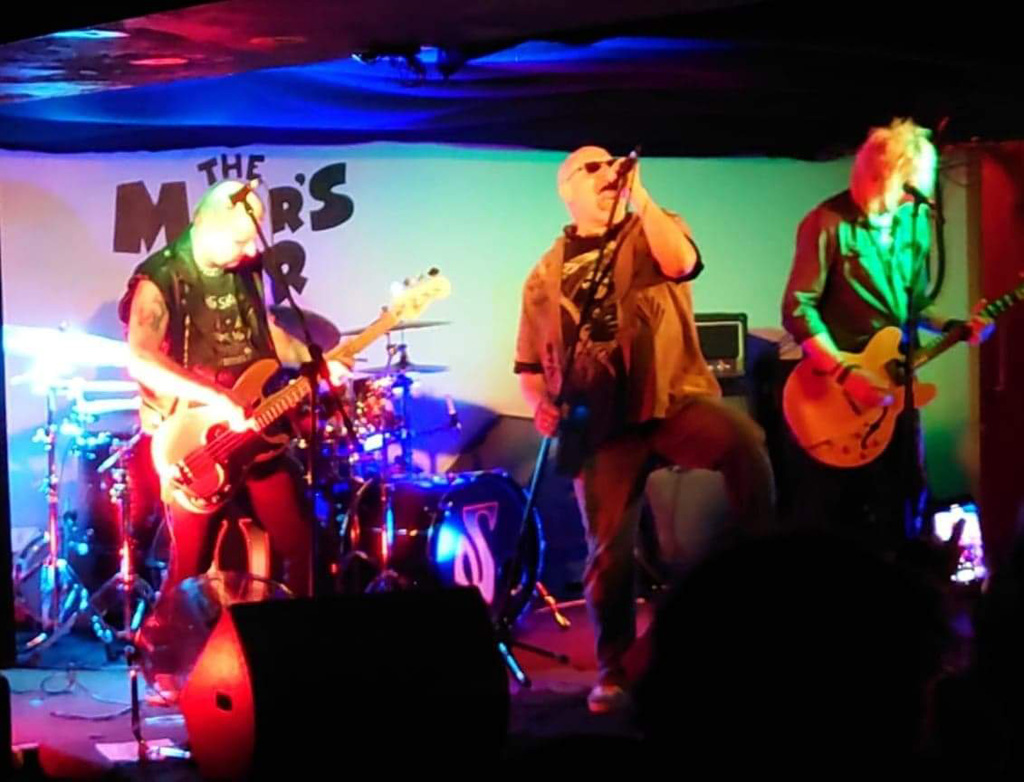 By stark contrast to the previous incumbents of tonight's stage Us (that's, as frontman Stu Evans points out, is Us as in "Us and them") are somewhat longer in the tooth but the benefits of countless road miles and about a collective century of experience are brought into sharp focus from the get go as Us screech headlong into opener Jack the Ripper like a souped up mob getaway car – fast, furious and beyond the reach of their counterparts. A harder edged version of the Who's "The Seeker" keeps the rev counter firmly in the red and it's not until after an exciting hint at the hard rock M.O. of Us, in the form of their own "In the Mood" that we are given the chance to catch our breath from such a high octane beginning.
Stu seems to take pity on the gasping watchers as he chats and gives us maximum respite from the power of Us. His communication with his audience is always personal and he informs the them that although this current outfit has solid steel connections to the now defunct Stone Cold Killers project Us are very much not them but the highly respected songs from that time will be represented here tonight (as evidenced by the set opener) because, quite frankly, those songs "are too good to let go". This revelation is, of course, greeted with enthusiastic and universal approval. Us then proceed to make good on that promise straight away with the SCK classic "In the Mood".
Old school gems "Radar Love" and "Proud Mary" are given the Us beef up treatment while their new material "Another Lonely Heartache" and "Black Tiger" sit comfortably and credibly alongside those more established standards. Evans continually wrings the neck of his microphone as if to wrench every iota of power out of his exemplary rock vocal. Bassist Barry Pedlingham belies his "Mad Baz" moniker by being the very model of steadfast reliability, setting the pace for his bandmates to rumble along to. Guitarist Phil Vokins is a study in consummate professionalism, coaxing exquisitely complex lead work from his guitar whilst making it all look like such a walk in the park. Meanwhile, the new boy, drum virtuoso Chris Harvey, is laying down a far advanced marker for all who would aspire to be in his seat. Full on grooves, shapes being thrown around like confetti, hard rock par excellence indeed and, as a blistering version of The Loving Spoonful's "Summer In The City" brings the curtain down on a rapturously received live debut from Us, we can return to our newly appraised original proposition and conclude that, based on what has been witnessed here tonight, yes, the quality of nostalgia is not only what it used to be, sometimes it can be better. Rock on.
By: Fisch.