Slap Magazine: Issue 73 September 2017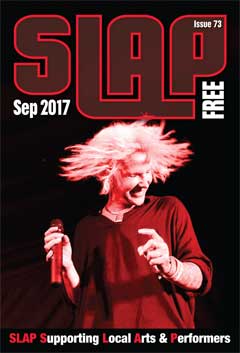 Hello everyone, August has come and gone in a flash it seems, as the festivals all blurred into one big crazy party, one which the inclement weather couldn't spoil.
In this issue we take a look back at just a few of those wonderful weekends such as the fabulous Jinney Ring Blues Festival, the hugely successful Drunken Monkey Rock Festival which raised a staggering £14K for Air Ambulance, the incredible Lakefest at Eastnor of course, and finally the Old Bush Blues Festival, where we took our front cover image of performer Lorna from Northsyde.
We're not quite at the end of the festival season just yet, there's still plenty to look forward to. Take a look at the local festival guide on page 36 and see what takes your fancy. Although we are beginning to move indoors for a few of them...
The big one, outside of Birmingham, is of course the Worcester Music Festival which celebrates its 10th year this September. It's bigger and better than ever before with new venues getting involved and exciting new features such as Spoken Word & Comedy events. Please check out the guide on the centre spread for sneaky overview of what to expect in a couple of weeks...
We are also over the moon to help spread the word about the very first Worcestershire Pride event taking place this month, supporting the LGBT community and promoting equal rights but above all acceptance for sexual and gender minorities. Check out our preview on page 8 and visit the website for up to date information.
For fans of sculpture and large art installations, there's the Jinney Ring Annual Sculpture trail as well as the Elemental Sculpture Park near Cirencester both open to the public throughout September - see pages 10 & 11.
So if you're bored this September, tell someone else 'cos I ain't listening...
Deaf Ed
Slap Magazine is available to download as a PDF. You can also find free printed editions throughout Worcestershire, Herefordshire, Gloucestershire and Warwickshire.
Subscriptions for Slap Magazine deliveries
Would you like to recieve a copy of Slap magazine delivered to your door every month? We now offer subscriptions allowing you to subscribe for one year. Each year consits of 11 printed copies, with a double issue for December / January.
When you subscribe your subscription will start with the current issue, and will be delivered by Royal Mail.
To purchase a years subscription for £40 to have Slap Magazine delivered to your UK address please pay with PayPal below.
Recent issues