Slap Magazine: Issue 87 December 2018 to January 2019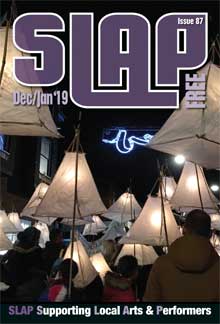 Hi and welcome to the December/January issue of Slap Magazine. This edition marks the completion of our 8th year in publication; simply unbelievable - where the time has gone?!
A massive thank you, as always, to all the good folk who give up their precious spare time to help with Slap each month. Whether it's contributing, editing, photography or delivering magazines around the region, without you this publication would be nothing.
I have to add, by the way, that we rely on advertising to help produce Slap each month and all too often this year we have failed to break even on various issues, including this one. Are the years of austerity finally catching up with us? Is it the uncertainty over our future as a nation after Brexit? Either way, much head scratching is required during the festive break if we are to go into the new year with confidence.
On a more positive note, the end of January marks 'Independent Venue Week' and in this issue we bring you news of recent additions to the venue circuit. Firstly we report on Paradiddles' first year anniversary and its continued success. We also feature Annie's Burger Shack in Worcester, which promises to be a welcome addition to the live scene. We also feature 'Into the Valley' at the Trico stadium in Redditch, another much needed outlet for live music in the area.
Have a great festive break and we'll see you on the other side...
Scroog'Ed
Slap Magazine is available to download as a PDF. You can also find free printed editions throughout Worcestershire, Herefordshire, Gloucestershire and Warwickshire.
Subscriptions for Slap Magazine deliveries
Would you like to recieve a copy of Slap magazine delivered to your door every month? We now offer subscriptions allowing you to subscribe for one year. Each year consits of 11 printed copies, with a double issue for December / January.
When you subscribe your subscription will start with the current issue, and will be delivered by Royal Mail.
To purchase a years subscription for £40 to have Slap Magazine delivered to your UK address please pay with PayPal below.
Recent issues