The Royal Oak in Alcester
The March Singer/Songwriter Sofa Sessions at The Royal Oak in Alcester promised an evening of diverse talented artists and it did not disappoint! The monthly sessions showcase artists who write and perform their own songs with covers by their influences.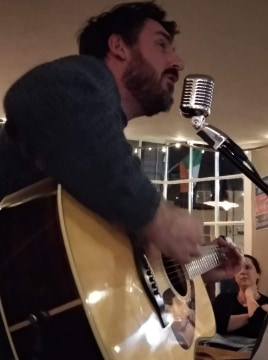 Tom Owen-Smith from Bidford started proceedings. Tom's strong emotive vocal and vibrant direct guitar style set the tone for his set of nine songs. His composition 'From my bed' is a song about radical change. 'Let's do it', a rousing number urged us to Rock 'n' Roll…and indeed we did! Tom also doesn't shy away from soul searching, his cover of 'Sonnet' by The Verve complementing his own material. An artist well worth seeing.
Tu-kay and Ryan were next, they are Rebecca Ryan and Ash Tu-kay Woodward from Northamptonshire. Rebecca providing lead vocal, Ash on acoustic and also singing. Resulting in some warm melodic harmonies.
Commencing with three of their own songs, the gorgeous 'Moving Slowly' a song called 'Laff' and a delightful song about communications in a relationship….not the easiest of topics to write about!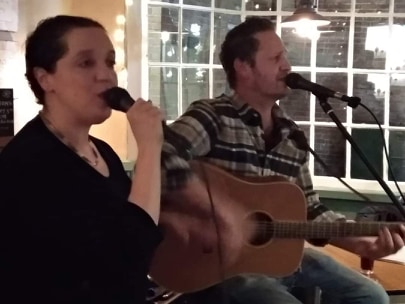 Rebecca told us that Eva Cassidy was an inspiration and a lovely cover of 'Somewhere over the rainbow' was delivered. We hope to see them back at the Sofa Sessions soon.
The final artist on the bill, Cotswolds based Greg Brice, came to the sofa area with his guitar. A young bespectacled man with a slightly serious air about him.
He is certainly serious about music and it shows, he has an excellent blues guitar style coupled with broad knowledge of the genre. A skilled blues guitarist who is also an excellent singer is a rarity and Greg is precisely that.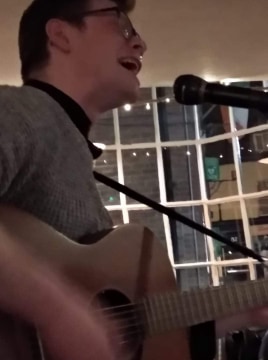 Highlights include his own composition 'Brother' a heartfelt song about a younger brother who is many miles away and greatly missed and 'Why do you kill yourself working?' another excellent self-penned number with a pertinent message.
Greg knows his blues men, presenting excellent covers of 'As the crow flies' by Tony Joe White (the father of swamp Blues) and 'Nobody loves you when you're down and out'. It's not all serious, Greg is a relaxed performer and he did tell us a joke!
However, the punchline to this particular performance is: – If you have the chance to see this talented young artist then take it!
By: Ed Rehring