The MAS RECORDS DEVOLOPMENT PROGRMAMME has been providing help and support to new and emerging bands for well over a decade. With their 20th Anniversary fast approaching and amid what has been one of the toughest periods for bands MAS is once again reaching out to offer a helping hand to artists struggling to unlock their full potential providing rehearsals, live demos, recording sessions and photo sessions all for free along with mentoring and Masterclasses from industry experts.
Based in the West Midlands but covering many towns and cities across the UK, they certainly have some heavyweights in their corner with Robert Plant (ex-Led Zeppelin), Ricky Wilson (Kaiser Chiefs, The Voice) & Karen Harding as patrons. However, being a non-profit organisation, their focus has always been to help at the grass roots level and create a network that is ultimately sustained by the artists themselves.
Scott Garrett, Head of MAS Records says of the evolving scheme: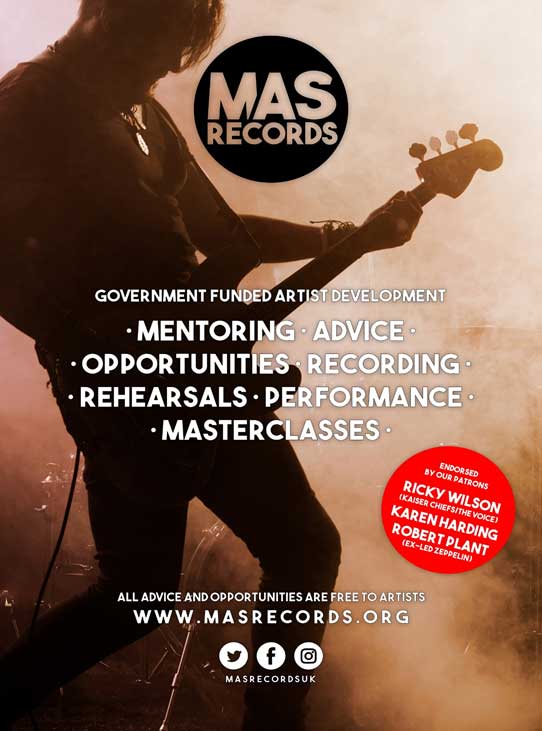 "To sustain a career in the music industry, artists need to be part of a supportive community. MAS Records is the gateway into a community of hundreds of musicians and industry personnel. Through MAS, artists will network with people who are Radio Pluggers, owners of Management Companies, Booking Agents, Labels and other artists to gig swap with. We encourage artists to apply today as places and funding are limited!"
With industry-standard recording studios and rehearsal centres across the country and a team of experienced and talented mentors and regional coaches; MAS artists are able to hone the skills needed to facilitate their creativity, and the MAS team are there to support them every step of the way.

This initiative is led by the artist. They take the lead, set out their ambitions, and you set their own goals; with their own inspiration and creativity marking the path along the way. An intensive hands-on-experience which sees them writing, playing, producing, recording, developing, performing, managing, and promoting their own original music under the careful eye of MAS industry professionals.

Bands on the MAS scheme also have access to interviews with artists and musicians, masterclasses with a host of industry talent, including top producers, A&R people, radio pluggers, managers, songwriters, and promoters. MAS go behind the scenes with artists, share exclusive performances, and uncover all the corners of the industry.


Bands with members aged 19 and over can apply to join the MAS Records artist development scheme here: www.masrecords.org/apply
Jonn Penney, (Ned's Atomic Dustbin) is MAS Records Artist Development Lead:
Those looking for a taste of what MAS can offer should come along to Base Studios in Stourbridge on Saturday 21st August where they will be opening up their doors for local emerging artists to check out the facilities and discover what huge potential is in store for them if they join the MAS Records development programme.
To find out more about MAS, visit us at www.masrecords.org.