Slap Magazine: Issue 85 October 2018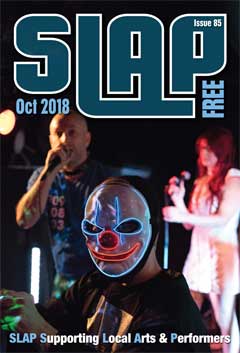 Hi there Slap Readers...
Thanks for picking up your free copy of Slap Magazine October issue.
Yes that's right the Autumn is here and the long summer festival season is finished for another year. And what a summer it's been. As the dust settles following the wonderful Worcester Music Festival we look back at just some of your highlights in six page review of the best one yet!
Our front cover features the incredible LegPuppy from South London who made the festival their own with a performance that'll be talked about for some time to come. The Slap night was incredible with stunning performances from Ivory Wave, Johnny Kowalski and the Sexy Weirdos, Vinney Peculiar and of course our own Nigel Clark who owned the compere slot too!
We Have started to see many of the wonderful photographs taken over the three day bonanza coming through and I have to say the standard is getting higher once again, giving the WMF photo competition judges a bit of a headache to say the least.
Also in this issue we look forward to the Bewdley festival which never fails to throw up some interesting names and performances. There's also plenty to get involved with locally as we bring news of mentoring opportunities for young people, Severn Sounds search for Young Talent and the Young Poet Laureate Competition Launch. Lots to think about and get involved with. See your next month.
I'm off for a lie down...
Tir-Ed
Slap Magazine is available to download as a PDF. You can also find free printed editions throughout Worcestershire, Herefordshire, Gloucestershire and Warwickshire.
Subscriptions for Slap Magazine deliveries
Would you like to recieve a copy of Slap magazine delivered to your door every month? We now offer subscriptions allowing you to subscribe for one year. Each year consits of 11 printed copies, with a double issue for December / January.
When you subscribe your subscription will start with the current issue, and will be delivered by Royal Mail.
To purchase a years subscription for £40 to have Slap Magazine delivered to your UK address please pay with PayPal below.
Recent issues
We are proud to support the following