Advertise your business with SLAP Magazine
Advertise your Business, Venue, Events or services with SLAP Magazine. The go-to publication for Arts & Music in the South Midlands.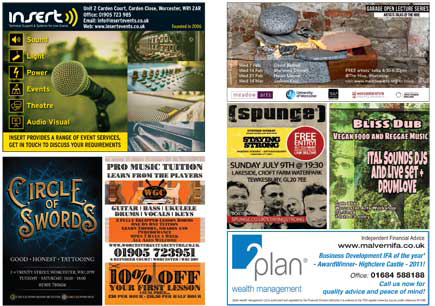 Building on the success of the last 9 years, but never resting on our laurels, SLAP Magazine has grown to a larger B5 format providing more advertising options at reasonable rates.
SLAP offers you an affordable way to reach at least 5000 potential clients each month across 3 counties.
Your advert will be seen by a targeted and truly local audience because SLAP is packed full of exciting editorial, news, reviews & previews to keep our readers interested for longer whilst holding on to the magazine as a reference throughout the month.
We are a local business and want to be vital to our customers, that's our readers and our advertisers.
With a variety of options you can put your message across with an advert to promote your business at an affordable cost with full FREE design service.
SLAP is produced to the highest standard. All artwork can be finished to ensure that your company image is enhanced by its association with a high quality publication.
Example Advertising Rates
The prices quoted below are based on a run of 6 months. One-off advertising costs are available on application.
For further information call us on 01905 26660 or email ruth@slapmag.co.uk
Download our Advertising Rate Card > >
1/8 page ad 72.5 x 52.5mm from £35 per Month
1/4 page ad 72.5 x 108.5mm from £65 per Month
1/2 page ad 147 x 108.5mm from £100 per Month
1/3 page 147 x 72mm from £85 per Month
Full page Ad 147 x 220mm (white border) 163 x 240 (plus bleed) from £190 per Month