Slap Magazine: Issue 88 February 2019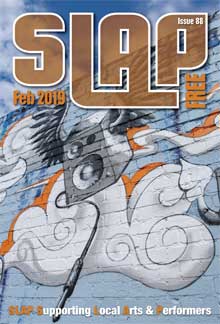 Hello one and all! Exciting times here at SLAP HQ as we go to press on the first issue of the year, coinciding with the start of Independent Venue Week. There are loads of events up and down the country celebrating independent venues and this region is no exception, with events at The Frog and Fiddle in Cheltenham and the Prince Albert in Stroud. We're especially excited here in Worcester to have 6 Music's Steve Lamacq broadcasting his drive time show from BBC H&W before an event at the Marrs Bar.
It's worth noting that thanks to the hard work of local promoters, Worcester is bucking the trend with new and interesting small, venues opening at a time when nationally many independent venues are facing closure.
So it's a new year, and we'll soon be moving in to the festival season. It's now the time for artists to submit their festival applications to the vast array of festivals in the UK. There's plenty of on-line resources listing where and how to apply (Sentric Music is one of our faves, with a regularly updated and comprehensive list). Having spoken with festival organisers, they receive thousands of applications, so don't be too despondent if you don't hear back. When it comes to completing an application form, we strongly advise answering the questions in full; for example if they request a link to a music stream platform or your social media links don't just put 'search my band name', they are more than likely to skip over that artist on to a correctly completed application form.
We wish all artists the best of luck with their applications to festivals in the 2019 season.
it-Ed
Slap Magazine is available to download as a PDF. You can also find free printed editions throughout Worcestershire, Herefordshire, Gloucestershire and Warwickshire.
Subscriptions for Slap Magazine deliveries
Would you like to recieve a copy of Slap magazine delivered to your door every month? We now offer subscriptions allowing you to subscribe for one year. Each year consits of 11 printed copies, with a double issue for December / January.
When you subscribe your subscription will start with the current issue, and will be delivered by Royal Mail.
To purchase a years subscription for £40 to have Slap Magazine delivered to your UK address please pay with PayPal below.
Recent issues