Slap Magazine: Issue 89 March 2019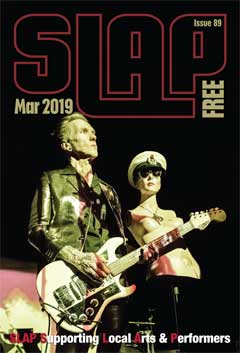 Hello and welcome to the March issue of Slap Magazine, and a bumper issue it is too. 56 pages packed with local arts news, views, reviews and previews. Hopefully enough to keep you interested throughout the month.
February was an exciting month for us. It started brightly with Independent Venue Week and a visit from 6Music's Steve Lamacq helping to raise the profile of an already thriving local music scene. Check out our own Geoffrey Head's pictorial highlights of a week of IVW gigs in our centre spread.
The month ended even brighter with an early Spring to get us in the festival mood. As the festivals are beginning to announce their line ups we take a look at Lechlade and Fusion, showing just how diverse the scene can be with many more to follow over the coming months.
Spoken word, Poetry and Comedy are also well covered within these pages, with something here for everyone. So why not make the most of it folks, go to a show, an exhibition, a viewing or even a gig in the pub, there's over six hundred to choose from in this area alone!
Over the last year or so we've had numerous enquiries from people about subscribing to Slap Mag to be delivered to their door. We've listened and decided that to give our readers the option. There are of course costs associated with this, but by subscribing you'd be helping to support the magazine. For details visit slapmag.co.uk/subscribe
Subscrib-Ed
Slap Magazine is available to download as a PDF. You can also find free printed editions throughout Worcestershire, Herefordshire, Gloucestershire and Warwickshire.
Subscriptions for Slap Magazine deliveries
Would you like to recieve a copy of Slap magazine delivered to your door every month? We now offer subscriptions allowing you to subscribe for one year. Each year consits of 11 printed copies, with a double issue for December / January.
When you subscribe your subscription will start with the current issue, and will be delivered by Royal Mail.
To purchase a years subscription for £40 to have Slap Magazine delivered to your UK address please pay with PayPal below.
Recent issues