Slap Magazine: Issue 94 August 2019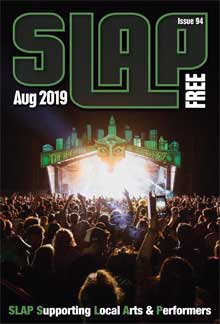 We have had an amazing July of fun, festivals, good weather, good music and wonderful vibes all round, and August is looking just as exciting!
There is plenty to look out for in August locally as you will have seen in previous issues. This month we look at Artrix Vintage Festival, Kidderminster Fringe and the Worcester Show. But with so much to choose from you'll be spoilt for choice. Rock fans will flock to the Drunken Monkey Festival, Blues fans to the Old Bush and Gloucester, Folk fans to Bromyard and Moseley. The more eclectic amongst you will need to make some hard choices, whether it's urban, outdoor, in the sticks or town centres, it's all happening in August.
If like us you were at Upton Blues, Ledbury Fringe or West Fest you can look back and relive those memories within these pages. Or if you were at Nozstock (see our front cover image) you can look back with us in a different way by watching the videos produced by Little Charley and Will from Mahoosive Events. We'll be releasing these via our social media channel in the coming weeks. They include footage from the festival including band performances, interviews and sound bytes.
It's not all about music of course as Worcester Beer festival will vouch for, but it has to be said that in recent years it's encouraging to see beer festivals and food festivals booking live, but more importantly, original acts too!
As always at this time of year there is plenty going on the arts, dance, spoken word and theatre including many activities for the kids this school holidays.
Fest-Ed
Slap Magazine is available to download as a PDF. You can also find free printed editions throughout Worcestershire, Herefordshire, Gloucestershire and Warwickshire.
Subscriptions for Slap Magazine deliveries
Would you like to recieve a copy of Slap magazine delivered to your door every month? We now offer subscriptions allowing you to subscribe for one year. Each year consits of 11 printed copies, with a double issue for December / January.
When you subscribe your subscription will start with the current issue, and will be delivered by Royal Mail.
To purchase a years subscription for £40 to have Slap Magazine delivered to your UK address please pay with PayPal below.
Recent issues