The Prince Of Wales, Ledbury – Sunday, March 1st, 2020
Beki Brindle and her band seem to have camped out in the Midlands lately, performing gigs at multiple venues across the region. I eventually got to catch up with them at one of my favourite spots, The Prince of Ledbury. Hall of Fame inductee Becki arrives with veteran drummer Sticky Wicket, and bassist Colin Ness. Sticky comes across as a cheeky cockney, though he's actually from Brum and, despite a long career working alongside numerous rock and blues artists, he's also a renowned swing drummer! Colin is more reserved; a gentle giant hailing originally from Scotland. Beki's worked with the likes of Jerry Lee, The Waterboys, U2 and The Pogues – I'm sure they were all unforgettable gigs, just as this evening was setting up to be; with good ale and friendly locals. There's a touch of disorganisation around the initial set up and tweaking, though Sticky's drums really make the intro, before Beki pours us a "Whiskey", warming into her blues funk groove.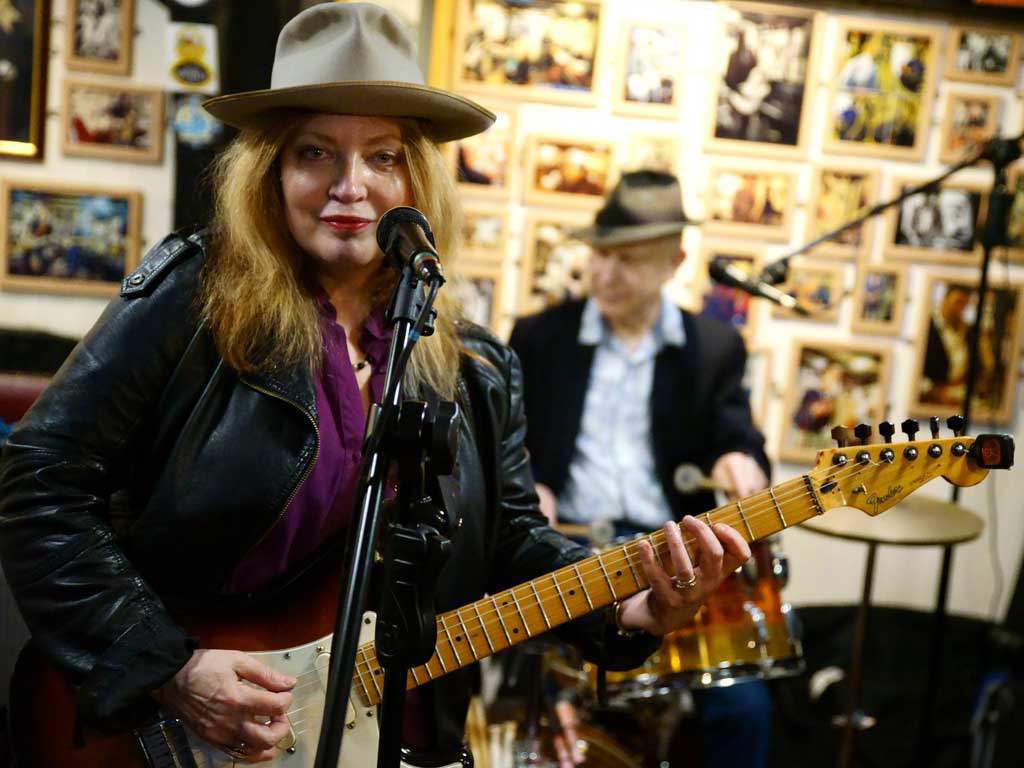 With some more fine-tuning, sound and vocals seem balanced as we head into Lil Walter's "Crazy 'Bout You". Beki's voice lies somewhere between Bonnie Laitt and Janis Joplin, and it's no bad thing, all cylinders are firing nicely. A gorgeous, Estes, gospel-tinged "Floating Bridge" drifts by, with Beki's fingers coaxing out the best of her road-weary Strat. Sticky flits nimbly across the 'skins for the rich, infectious Rumba of Beki's self-penned "No Return Blues", before a blistering take on "Killing Floor" scorches the air. Beki becomes "Possessive"; heavy with funk and just a sniff of Sabbath, while Sticky goes walkabout, tapping his way around beam, bar and bottle of the Prince. Colin keeps the rhythm going as Sticky returns to cymbal and skin, waiting for Beki to tighten her "Shoelaces", her guitar brings a hush to the crowded room. Boots tied, the sweet rag blues of "Diving Duck" float by on a river of whiskey – make mine a double! "Blues That You Do To Me" features on Beki's album, and it's sultry, suggestive and wonderfully soulful blues. Alas, time's pressing, and "All Night Long" has the band 'wang dang doodling' away
These evenings of Sunday Blues heaven are a truly great part of the POW, and it shows in how many come to enjoy the music, an ale and a natter. I really like the raw-edged blues that Beki brought us, and when the band slot into their groove the result is superlative. Beki has a wonderful, smoky voice, that hints at 40 Woodbines a day. Sticky is one slick operator, and Colin really does the business, his bass pitched perfectly. I look forward to seeing them again, but please, please tighten up the set a little.
By Graham Munn
Find out more