Every now and again you come across a small independent concern whose philosophy and commitment make a lasting impression. Sarah Leake's, memorably titled Freaky Beaky is one such creative force. A one family movement who fashion art from redundant artefacts that one or two might not see the potential in…
Q: How long have you been trading and what was your inspiration for opening an online recycling shop?  Is the name "Freaky Beaky upcycling" important or symbolic?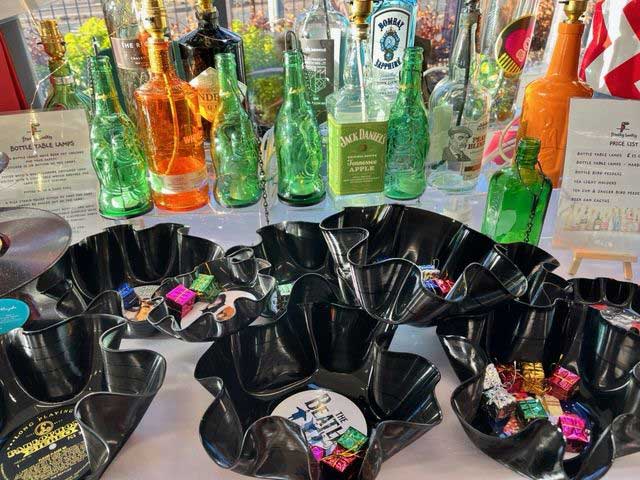 A: It started with bottle lamps. We've been trading since October 2020. I've always been into recycling. At my old workplace they used to call me the eco warrior as I set up recycling scheme in the office. I was given a really pretty gin bottle for a birthday that I just couldn't throw into the recycling. My mom had bought me a bespoke lampshade for the same birthday and I thought the bottle would go well with the new shade as a table lamp. My Dad's background is engineering and he is very practical so I asked him if he thought it was easy enough to create a lamp and after a few attempts on the kitchen table (not to my Mom's amusement!) using a few different techniques to drill into the bottle – we perfected it and the lamp was created.
My obsession with Upcycling vinyl came about a year later when I was preparing for my wedding. My husband and I are festival junkies so I knew I wanted a festival themed wedding. My husband and a few of our friends formed a band for our wedding music and the festival theme idea grew from there. I'm quite creative so I wanted to keep the theme going throughout the day – so I created a number of festival decorations such as flowers in old wellington boots, old beer bottles as vases and wanted something interesting for our festival food to be displayed on so I hunted out some of my husband's scratched vinyl and created the vinyl cake stands.
The name beaky comes from a family nickname and I came up with freaky as my products are a little unusual.
Freaky Beaky is forward thinking and positive in its outlook, however, its inception is tinged with a personal sadness…
Q: I understand the family are heavily involved but to what extent and purpose? 
A:My Dad is very practical and has always helped me develop my ideas for products. However, it was after my Mom sadly passed away last August that we really started to turn it into an ongoing venture. Prior to that we just created lamps and cakestands for family and friends as gifts.
My Dad needed a project after my Mom passed away – As Mom loved feeding the birds, we created a bird feeder out of an old jukebox vinyl record to display on her grave and then that progressed to using glass bottles for our garden. We started to create so many items, giving them to friends and family – friends of ours were asking why we hadn't set up an Etsy shop. And there you go the idea of the shop was born.
All our family and friends get involved.
My husband helps by making sure we do not accidentally use playable vinyl and is known to rescue a few along the way.
Our friends donate used bottles for the lamps and bird feeders and our Guinea pigs test out and trial new ideas before they go on sale.
Q: What is your philosophy behind your products? I guess it is not about the money…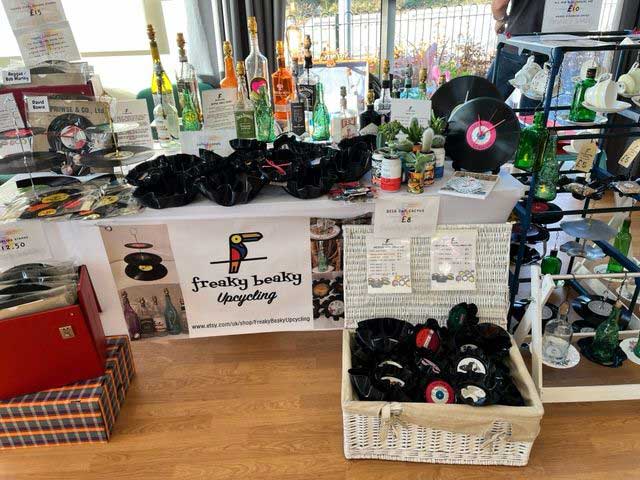 A: At University I studied Env' science and focused on environmental issues and conservation. The amount of waste that could be recycled but are sent to landfill is astounding.
Our motto is "Waste not Want not". It's all about turning something that would otherwise be thrown away or end up in landfill into something useful…giving something a new lease of life!
Our vinyl has been donated by local record shops where they would otherwise throw away their unsaleable vinyl.
Our bottles are donated by friends and family. And I've also been very lucky where a couple of local bars have agreed to collect their empties and donate them to us.
For items we are given, we in turn make a small donation to charity.
Of course the Freaky Beaky story is a very personal journey with a very human back-story…
Q: You clearly love making your products looking at your Etsy online shop and through talking to you…where did your personal fascination begin?
A: Growing up my Dad always used to fix things / attempt to rescue stuff before thrown them away. I suppose now that would be classed as Upcycling.
I've always been into recycling. Before we had a regular recycling collection I wrote to the local council when I was at senior school pestering them for a local collection to save having to take all the bottles to the bottle bins and paper a short drive away.
I supposed my facianation with vinyl stems from my Mom. She loved her vinyl – her old 45s and 78s playing them on her Dansette. I used to spend hours listening to the old 60s classics with her explaining how she used to go watch the Beatles. I used to be so envious. I used to love going through her collection looking at the different labels and album covers. The fact that so many records just get thrown away is astounding. They have no where to go as can't be recycled!
Creativity as we know comes in many forms and Freaky Beaky's approach allows for a fluid approach to creating an individual end product.
Q: What do your products offer that you believe others don't? Any unique selling points? 
I realise that the labels of the unwanted vinyl may not be everyone's cup of tea. I was asked if I could do a Christmas themed cake stand last year and didn't have any old Christmas records so I started to research where I could find some new stickers to add over the original record label. In my search I found a small business who replicates 'modern' / 'current' record labels and started experimenting with adding new labels over the top of my vinyl products – turns out they're quite popular.
The bottle lamps I've seen for sale by others that do a similar thing utilise popular well known brands for their bottles. Although we also do this we try and source unusual / lesser known brands /bottles from local companies and are lucky that local bars have been helping us with our supply. We've just finishing creating a bottle lamp for a customer – her son owns a small distillery nearby and she wanted a lamp made out of one of his bottles. A local micro-brewery has just stated to produce gin – with their permission we've turned one of their bottles into a lamp also.
Q: What item is your biggest seller and why do you think this is? 
A:The vinyl record bowls are most definitely popular at the moment with the new labels added over the existing record label. I think they're popular as they come in 3 sizes and I have sourced a wide variety of labels so people are able to customise them to their own liking. They are also reasonably priced so affordable to many.
Q: The reviews on your online shop are superb…what is the best compliment your products has been afforded?
A: I think the best reviews have been where the customer mentions the service they've received rather than about the products themselves. We pride ourselves on good customer service, being friendly and going out of our way to help.
Q: You have taken a stall at the Record Fair, @ the Old Con Club in Malvern on December the 19th, what can we expect from your stall?   
A: We are trialling some new vinyl products and we are going to be displaying them on our stall so watch this space……
Q:Anything you would like to add for personal satisfaction?
A: I'd like to thank my Dad for all of his hard work – Freaky Beaky wouldn't exist if it wasn't for him. And I'd like to thank my family and friends for their support and encouragement.
What comes across effortlessly is Sarah Leake's determination to recycle the redundant and unwanted – a philosophy to subscribe to – and create a piece of art that can be cherished and appreciated…but also serve a useful purpose! In a throwaway age, I would argue, these sentiments are to be championed. 
Etsy page: https://www.etsy.com/uk/shop/FreakyBeakyUpcycling