The early evening started out at the Queen Vic, as usual, meeting with an old friend unseen for a number of years. The ensuing conversation ranged from the old work place – failed love affairs – and included everything in between. Much like the rest of the evening…
Everything about Oblong, the evening's support was right for this gig. Their rectangular music with fuzzy right-angles was instrumental in setting the tone. The bass driven and electronic percussion explorations underpinned the instrumental tracks. Guitar chords and pulsating synths added texture and subtle nuances to the lyric-free songs. The microphone may have only been used for introductions, however, if you think Oblong have nothing to say, you are mistaken…
There is no mistaking the voice of Neil Arthur the lead singer of Blancmange. There was no mistaking the fact Arthur was pleased to be playing locally and in front of friends. Like Elvis our Neil was never afraid to step through the fourth wall to chat, charm and connect. Even his backing, or rather mates, added to the experience for our singer and us.
Like a friend who knows you so well, Neil Arthur knew exactly what we wanted…promising songs old and new.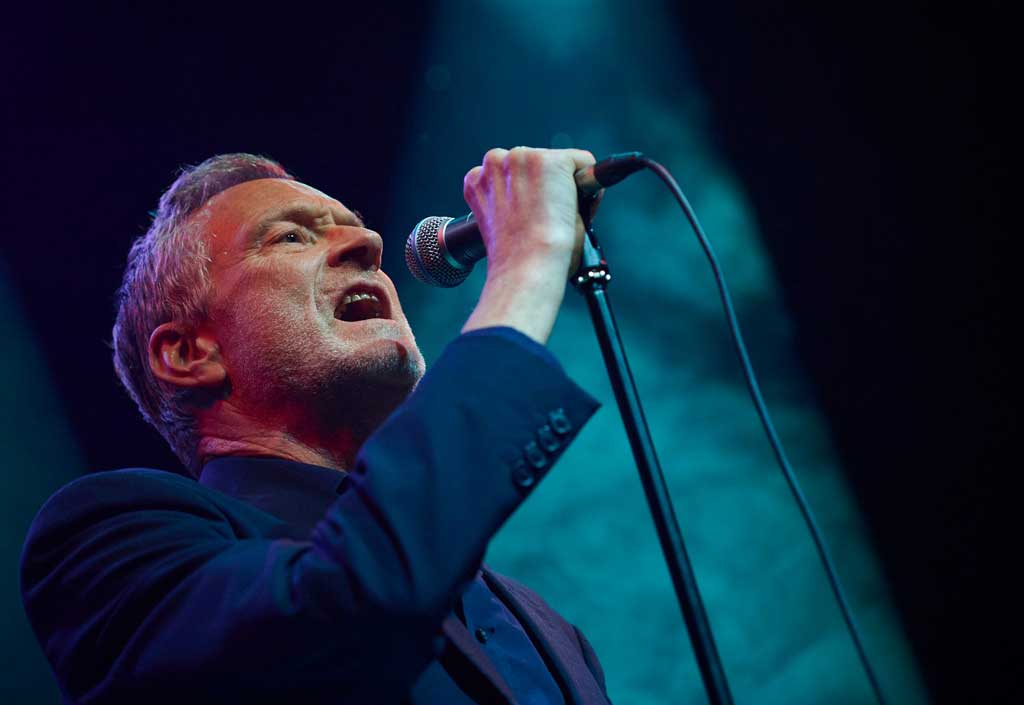 Blancmange's wall of electronic-"pop" required close listening at times to appreciate the lyrics. Last Night I Dreamt I had a Job is a damning response to a mundane workplace. The percussive beat reflected the uniformity of factory work. Although, the polka-dot attired arm-dancers managed to find a rhythm of their own on the night.
The understated beauty of Waves was met with a metaphoric Mexican wave of approval. Failed relationships are a source of great art, perhaps this is one reason we put ourselves through the pain. Maybe, unsigned divorce papers are nothing more than a stimulus? For the ladies in front of me Waves seemed to instigate a dreamy, knowing and goofy grin; as if they had just chanced on an old-flame unexpectedly.
Big Audio Dynamite sang "a stranger is a friend you just know yet." Even the newer songs by Arthur had a familiar matey feel. In response to society's need to judge the, What's the Time, is a probing treatise of value judgements wrapped in the Blancmange trademark. Noting everything in between, the artist asked what is your favourite dog? The best child? The best crash you ever saw? The irony was not lost on the audience.
Blancmange's audience expected, demanded, needed, Living on the Ceiling! Now forty years old there is a lot of history with those making up the fourth wall and this single. The resulting infectious dancing and care-free singalong response was due, in no small part, to the relationship with Blancmange and the friendly bunch in front.
Reassuringly, this was a notable night for meeting up and reviving old memories- for the record!
Photos: Jonathan Duckworth
Words: The Swilgate Scuttler