Dom Martin Live, Support from Band Delta Fuse, Huntingdon Hall, Worcester 13th October 2023
I had been eagerly anticipating this: Dom on his Buried In The Hail tour, with his band, skillfully supported by the up-and-coming Irish Bluesrock band, Delta Fuse. Despite the turmoil of Brexit, we are fortunately still able to witness the depth of talent just across the Irish Sea. Delta Fuse ripped through a fiery set of songs, primarily from their own repertoire, and was duly rewarded by an enthusiastic audience. They closed with an excellent rendition of 'Buzzsaw Blues,' driven by a Gibson 335, listen closely for that raw-edged sawing guitar, followed closely by 'Bloodhound.' I'm certain we'll be seeing much more of this trio in the future.
As we've come to expect, Dom's opening was acoustic, with the finger-warming 'Hello In There,' before smoothly transitioning into 'The Fall.' Dom's warm, smoky voice flowed gently through the hall as his fingers created a babbling stream of notes. 'Government,' another beautiful lament, led us into the heart of the song, with bassist Ben Graham and drummer Jonny McLlroy joining in. With a resonator in hand, Dom ground his way into the fire and fury of the exceptional 'Belfast Blues,' as the rhythm section stirred up the tension. Truly gripping, and later, it was interesting to discover that Alice Armstrong is responsible for the brilliant graphics for the single release and the wonderful T-shirts, but alas, none in my size! Damn. The Green Meany came into play for the fabulous interpretation of Willie Dixon's 'Crazy,' exploding to life as the band powered in, like a raw egg in a microwave moment, as Dom attacked the strings of the Les Paul. It's no Patsy Cline, thankfully; Willie Nelson gave his approval for Dom to record his version.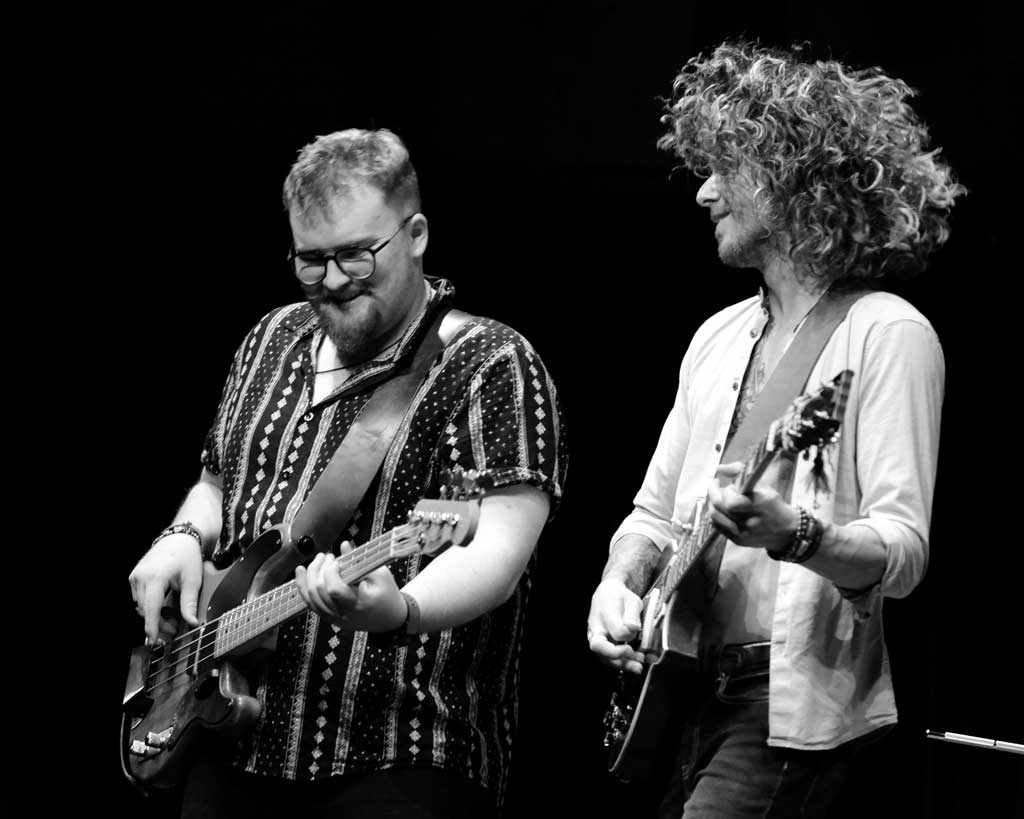 The audience was completely mesmerized, with many not having seen Martin live before. It was time to heat things up a little and get a bit 'Unhinged' with dirty, rock-weighted blues that played "dirty games" with your mind. The focus of the tour, the outstanding 'Buried In The Hail,' found the resonator working its magic, with Dom's voice deep and shaded, a slightly discombobulating song pouring down from dark, stormy skies. All were stunned into silence for a moment, before thunderous applause filled the auditorium. You don't leave such evenings without that song lingering in your mind.
One of Martin's major influences, Rory Gallagher, is always going to be part of the show, and tonight proved no exception as a suitably savage '12 Gauge' was fired out, only for Dom to reload with a blast of Gallagher's take on 'Messing With the Kid,' treating us to a wonderful display of storming electric blues.
Time was running out, a brief stage pause, and the 'encore' kicked in, a meaty six-string smorgasbord, chopped, sliced, and packed into a feast of shuffling, funk-filled rock blues. I won't attempt to break it down further, but suffice to say, the air was electric for a full 15 minutes as the band tore through the heady atmosphere that threatened to tear through the roof of this old chapel.
I caught up for a quick chat at the end, leaving with precious vinyl tucked under my arm for the walk home. It doesn't get any better than that! Dom Martin seems to have grown since I saw him earlier this year. This has to go down as the gig of the year for me, all in my own backyard.
By: Words & Photography – Graham Munn
Find out more
For updates on Dom Martin's shows and his 2024 solo tour, check out his website
And for more from Delta Fuse, including 'Buzzsaw Blues,' visit their Bandcamp page