Uncover Presents: Hannah Mac, Gaby Kettle, James Chatfield and Kyle Parsons
Drummonds, Worcester – 12th October 2023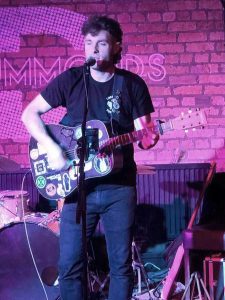 Yet another banging Uncover gig at Drummonds featuring a line up of Midlands based singer/songwriters and musicians. Opening the night was Kyle Parsons with an offering of original tracks all written and performed from the heart. Opening with Brick by Brick, with a heart string pulling line that's talks of getting a dog from a rescue centre, – "but I'm sure he rescued us". Kyle's voice is harmonic perfection as you feel he's lived every lyric and story in his own way. Other tracks such as I Woke Up Outside, Gold and Clarity were included in the set and have all been reviewed by Slap before. Hearing them live and seeing the passion hits different . This guy knows how to hypnotise his audience with his voice and lyrics. Shook and England are hard hitting tracks which feel autobiographical, as you can see how much it means for him to relate the story through the method of song. Ending the set with Little Blue Car, which takes us on a journey with the love of his life and her car, the night was off to a fabulous start.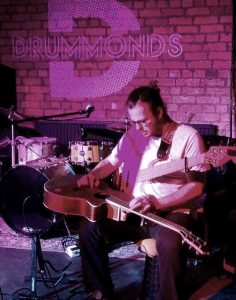 Next up was James Chatfield, who was a stand in for Emma Howett on the night. If you've walked the streets of Worcester, you'll have seen James and his mesmerising performance playing both guitar and bass. A set of his original music set a soothing tone, with clever intertwining melodies. The concentration on his face is as captivating as watching his hands interact with both instruments, with skilled looping and layering adding to each track. Clever, and refreshing to hear and observe. A musician who needs to be seen to be appreciated, and his new album, The Castles We Build, is out now.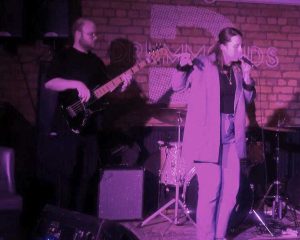 Gaby Kettle and her backing band took to the stage with a bluesy Jazz set. Gabys classically trained vocals lends themselves to offer a range of songs that explore people and relationships. The tracks, such as Jamacia, From You and Wonder are upbeat and soulful. New song On and On, a catchy pop tune which showcased the variety on Gabys range and tone. The set felt intimate, as if relaying her life stories to an exclusive group of friends, welcoming us all in.
Hannah Mac was the last act of the night, opening with a cover of the Nora Jones classic, Don't Know Why, which straight away showed the depth of Hannahs voice. Next up, an original, Feels Like That, told of missing a significant other. Laid back track Leal got us all chilled out and This Can't Be added to the relaxed mood of this feel good set. Another upbeat cover of Young Hearts Run Free lifted us back up, and original track My Girls kept us high with an insight into a close knit friendship of a group of girls getting each other through. Fleetwood Macs Dreams again gave Hannah a chance to show off her silky, sultry vocals and the backing band to show versatility to switch between different sounds and genres. The crowd cheered for more and a Beyonce cover came out to close the night. Another great line up from Uncover, bringing together several wonderful, authentic artists.
Words Kate Fitzer
Photos Matt Fitzer
Find out more