Ocean Colour Scene's Simon Fowler and Oscar Harrison
Sub-Rooms, Stroud | 16th February 2023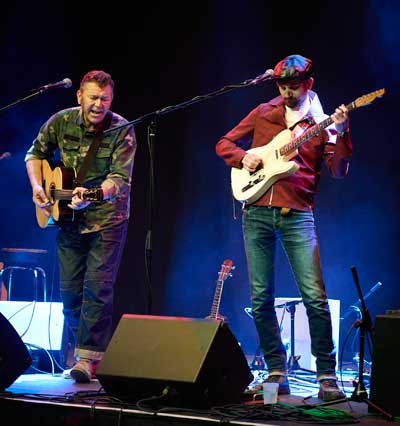 It is a truth universally acknowledged that any quote from a Garage can only ever increase and never come in under-budget. Fact. Coincidently, a night with Ocean Colour Scene and their music is also a sure fire, nailed-on, bona-fide certainty…
As a matter of fact having witnessed Pete Williams (Dexy's original bassist) perform in the early-bird slot on the evening I know he has the songs and the voice to offer a full night's entertainment. Fact. In the bar, after his session, our singer-songwriter admitted his nervousness on stage – this was imperceptible – all we experienced was a worldly troubadour playing his heart out. His anthems of the every-day, about love, first jobs and social commentary inspired more than a few to buy vinyl and CDs. £20 for a heavyweight vinyl Lp is not a great deal of money…
To witness Simon Fowler (singer/guitar) and Oscar Harrison (piano/ drums) of OCS perform at the Sub-rooms would have set you back a reasonable £29. I once had a plumber charge me £50 for thirty minute's work (sic).
The warmth and genuine affection for the two musical mechanics was palpable from the start. Once the roll-call of songs began, the atmosphere took on a near-carnival feel and Simon Fowler was not afraid to work the room to maximise the night: with comedic asides, cartoon voices and "spontaneous ad-libs". However, it was the songs, the melodies, the lyrics and, of course, the opportunity to relive those heady days when Brit-pop and Neo-Mod strutted on our high-streets. This was the salient fact why our Subs sold-out on the night.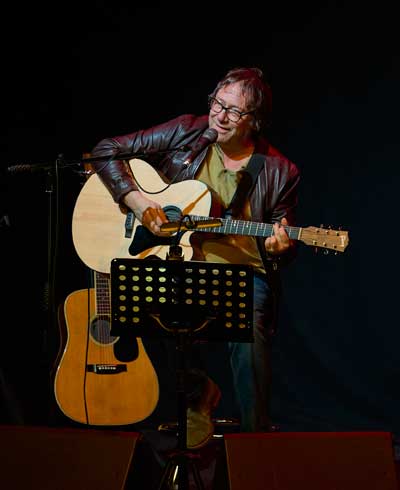 Simon Fowler's voice is distinctive and his highly tuned ability to hit the high notes and sustain them is impressive; much like twin Weber carbs at full throttled rpm. Profit in Peace still resonates – sadly – like all good songs. "Chelsea Walk" was a little known B-side that appeared to be known by all. The snippets of "Wonderwall" and Inspiral Carpets…"so this is how it feels to be lonely" bought more than a flicker of recognition from the audience. "The day we caught the train" provoked a sing-along which was a fitting finale for our night out.
Our night out, the two hours plus of entertainment, education, and elucidation was invaluable. A less agreeable experience at the Garage in question cost me over £160 (+VAT) in labour – for less time. The plumber who pocketed my money didn't even say thank you…
From the stage, as Fowler and Harrison (along with his son) bowed to enthusiastic applause, the "thank-yous" for the fans were framed with sincerity and appreciation. I know no one leaving, once the lights went up, felt cheated or determined never to come back again and you can have this cast-iron quote in writing!
For my Mum, on what would have been her (Cat's Mother?) birthday and because Mum knew the price and value of everything.
The Swilgate Scuttler
Photography: Jonathan Duckworth