Slap Magazine: Issue 90 April 2019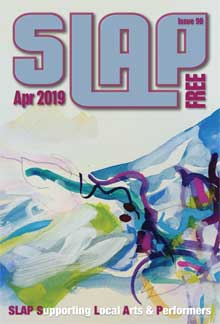 Spring is here as we turn our thoughts to the season ahead, and what a summer it will surely be with all the music and arts events in the pipeline.
We again look forward to a few of the local music festivals such as Mello, where Severn Sounds again have a stage focusing on the young talent around the area; Kidderminster, Hereford, Worcester Colleges and Christopher Whitehead, Pershore and Tewkesbury High Schools are all represented, which bodes well for the future of our local music scene. We bring news of other festivals such as Upton Jazz and Under the Hill festival near Evesham.
Poetry lovers are also catered for In this issue, as we highlight a vibrant spoken word scene, with articles on the upcoming Cheltenham Poetry Festival and the Evesham Festival of Words, as well as all the other regular local events..
There's plenty for art fans in these pages too. If you haven't been to see the Matisse exhibition at Worcester Museum yet, then I suggest you pop along before it ends later in the month. Our April cover features work by artist Emma Archer who grew up in Redditch.
There is of course plenty of other stuff in this issue to keep you interested and occupied, so do yourself a favour and get out and about, celebrate your local area and take your mind off the dreaded 'B' word, at least while the sun keeps shining...
g-Ed
Slap Magazine is available to download as a PDF. You can also find free printed editions throughout Worcestershire, Herefordshire, Gloucestershire and Warwickshire.
Subscriptions for Slap Magazine deliveries
Would you like to recieve a copy of Slap magazine delivered to your door every month? We now offer subscriptions allowing you to subscribe for one year. Each year consits of 11 printed copies, with a double issue for December / January.
When you subscribe your subscription will start with the current issue, and will be delivered by Royal Mail.
To purchase a years subscription for £40 to have Slap Magazine delivered to your UK address please pay with PayPal below.
Recent issues