Slap Magazine: Issue 91 May 2019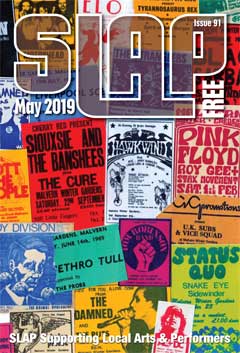 Where does the time go? It's May already, my favourite month, and it's the time of year we get to find out who will be headlining all the big festivals we have to look forward to. This year's top announcement has to be from Nozstock with Sleaford Mods and I for one can't wait.
We continue with our festival preview features this month, with a look forward to Wychwood and Mostly Jazz, Funk & Soul festivals as well as the brand new Stroud Steampunk festival. There are festivals happening locally throughout May - take a look at page 54 for a full list in our region, with something for everyone
Our cover features the Malvern-based charity 'Rock Around the Hills' who have created an interactive exhibition celebrating the story of rock, punk and progressive rock at the Winter Gardens from 1961 to 1990. The exhibition features images of over 400 posters, tickets, flyers and fanzines as well as recorded memories from audience members, musicians and promoters who were all part of the Malvern Winter Gardens story. From a time when it rocked to the sounds of bands such as The Jam, The Kinks, The Who, Pink Floyd, Motorhead, Hawkwind and many many more.
We also, as usual, bring you an assortment of local artists' new releases which, as always, will be on the SLAP Spotify, so please give them a listen and follow our playlist.
Follow-Ed
Slap Magazine is available to download as a PDF. You can also find free printed editions throughout Worcestershire, Herefordshire, Gloucestershire and Warwickshire.
Subscriptions for Slap Magazine deliveries
Would you like to recieve a copy of Slap magazine delivered to your door every month? We now offer subscriptions allowing you to subscribe for one year. Each year consits of 11 printed copies, with a double issue for December / January.
When you subscribe your subscription will start with the current issue, and will be delivered by Royal Mail.
To purchase a years subscription for £40 to have Slap Magazine delivered to your UK address please pay with PayPal below.
Recent issues