Slap Magazine: Issue 92 June 2019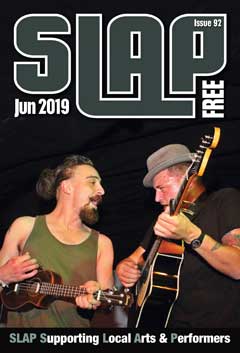 Well it's finally the end of May, whatever next? Who knows? Let's worry about the things we are in control of, such as what you're going to do for entertainment this month... Well I guess that all depends on what floats your boat, either way I can guarantee you'll find it in June.
If it's literature, spoken word and poetry you're after then turn to page 8 where Suz Winspear tells us all about what to look forward to at Worcestershire LitFest from the 9th to 15th June. And on a similar theme, the main Evesham Festival of Words weekend is in this month from 28th - 30th. If it's performing arts you're after then Dancefest are holding Creativity and Wellbeing week with a series of events from the 10th June. Leominster comes alive with an eclectic range of activities such as live music, dancing and poetry with a festival 6th - 9th of June. In this issue we also look forward to the 34th Upton Jazz Festival on page 17.
We also look back at two very different festivals which took place in our region in May, with reviews from Birmingham's Swingamajig festival with Will Munn and Cheltenham Jazz festival with Geoffrey Head.
Continuing with our local festival previews we look forward to The Morton Stanley Festival in Redditch which takes place mid August with the strongest line-up yet. If it's a June festival you want then check out our local festival list after this month's listings followed by just some of the local arts events, exhibitions and cinema.
As usual we've reviewed some of the latest releases from local artists which don't forget, you can hear for yourselves by following Slap on Spotify.
Follow-Ed
Slap Magazine is available to download as a PDF. You can also find free printed editions throughout Worcestershire, Herefordshire, Gloucestershire and Warwickshire.
Subscriptions for Slap Magazine deliveries
Would you like to recieve a copy of Slap magazine delivered to your door every month? We now offer subscriptions allowing you to subscribe for one year. Each year consits of 11 printed copies, with a double issue for December / January.
When you subscribe your subscription will start with the current issue, and will be delivered by Royal Mail.
To purchase a years subscription for £40 to have Slap Magazine delivered to your UK address please pay with PayPal below.
Recent issues