Lakefest, Eastnor Park
12th-15th August 2021
So they say the big stuff happens in "threes". Three big moments in life that follow in quick succession. Sandwiched between being made redundant and quickly finding a new job, fell Lakefest 2021. A four day, escape from reality that came at just the right time for me. Four days to prove, beyond doubt, that music is a great comfort, a soul cleanser and a spirit lifter. Following the restrictions of covid for the live music industry, this was an opportunity not to be missed.
As a non driver, my time at Lakefest relied on like minded individuals to take me back and forth, but Lakefest, you made it worth it!
After navigating 2 incorrect but very long queues on Thursday night, we finally got in for our shortest visit if the weekend. Late 80s power ballad icons T`Pau took to the Main Stage and despite lighting issues, Carol Decker proved she's still a force to be reckoned with. The band, which originated from Shrewsbury, treated us to all the classics including China in Your Hand, and Heart and Soul. Moving into the Floating Globe tent, the festival vibe really hit, as a house party was going down. The lights were low, the people were jumping as a beat boxing, high energy bunch of guys were working the crowd to epic proportions.
Final stop of the night was in the After Hours tent. The Collective Band mixed genres to offer us a toe tapping, body moving set, with hard hitting lyrics, beats for days and infectious hooks. With Lakefest being "their biggest gig to date", keep an eye out for this Nottingham based band.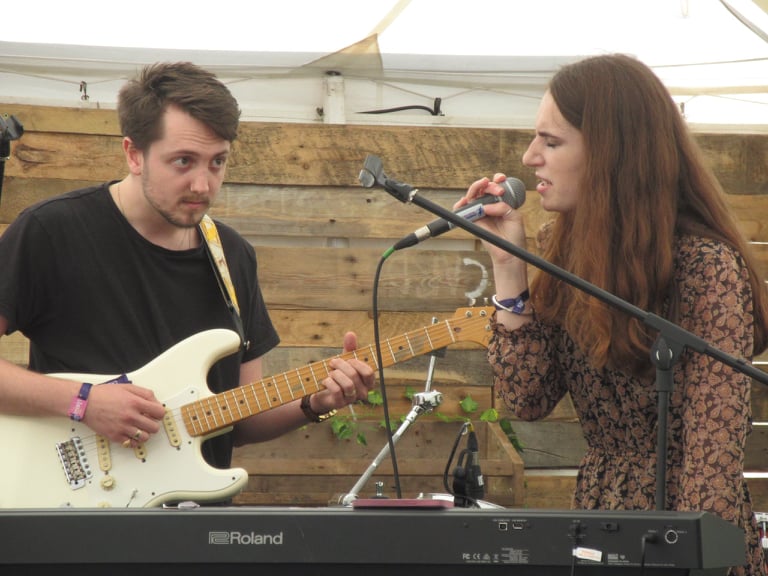 Main Stage Friday and one of my highlights of the weekend, amongst many, was Joe Wheldon and The Offshore. Using Lakefest as a platform to showcase their upcoming album, this band , who have only been together for a year, produced a set worthy of the main stage, and dare I say, a later slot. Joe's vocals were deep and gritty and suited the set list which included "Crazy Out There" , written about Covid times, and Falling Again, a slower funky number with shuffling cymbals. A real festival treat.
In the Brethryn Cocktail tent, Redwood, accompanied by Niall on keys, delivered a set of hauntingly beautiful vocals, a mix of originals and covers. This Worcestershire based singer, made a Destinys Child song her own, but it was her own songs that really drew you in, lilting, floating vocals, especially on final song, "Rewind". Beautiful voice and ethereal stage presence. Over to the BBC Introdcing tent for Ski Lift, a guitar pop band from London who performed short, snappy, toe tapping tunes to get up and dance to. Over on the main stage, The Salts were kicking up a folk sea shanty storm impossible not to get wrapped up in.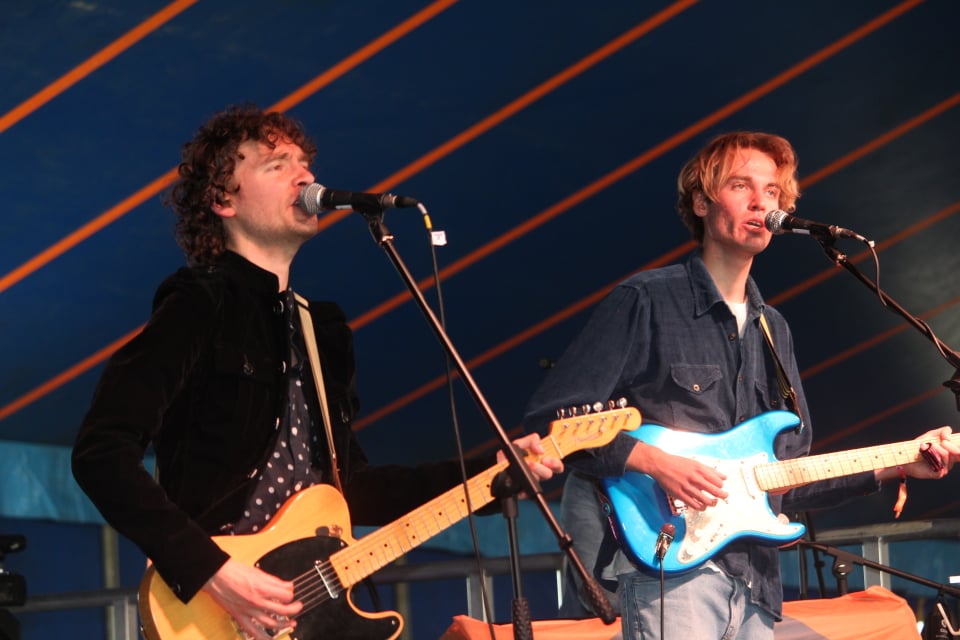 Jack Blackman and The Beautiful Wreck kept the folksy vibe going in the Floating Globe, adding edge and grit. A mix of delicate , stripped back songs such as Nearly Man, to jolly feel good wonderfulness in the form of Straight Up Genius, with a solid country feel and suitably twanging guitars.
Red Hot Riot were bringing the rock and roll from the Forest Of Dean, high energy rockabilly and a deserved huge crowd to watch these guys. "Mona Lisa" was my favourite track of their set, slower than most, but oozed the 50s rock and roll vibes of the last game at prom, with harmonising vocals and pulling on the heartstrings. One for the hopeless romantics.
Dead Dads Club served up a set of original indie music and had the Brethryn Tent heaving with their gritty guitar and growing vocals, Minimum Wage was my favourite of their set, a song about a woman who takes all from her man. Beautiful guitar solo, addictive lyrics. The closing strains of the set will stay with me forever, as the band had us singing some choice lyrics with them, the look on my friends face was priceless! I won't spoil the surprise, go see these guys next time they are local and you'll know what I mean!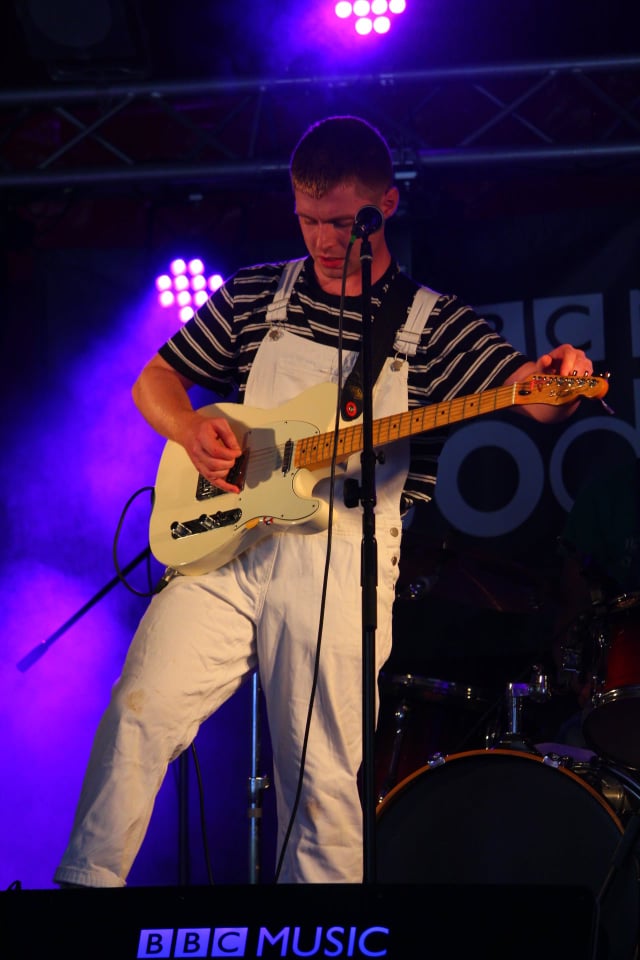 Saturday in the BBC Introducing Tent introduced me to Echo Gecco. This Stourbridge band combined heavy riffs with smooth jazz and vowed to push boundaries. And that they did, Their set was amazing, Pint Of Coffee was energetic and hyper just like a caffeine rush with hard hitting drums and shoutable lyrics. No Help Tonight kept the energy up and All Over The Place was a cacophony of noise, fast then slow, vibey lounge music one minute, then runs off in another direction the next. But it worked! The lead singer held the crowds attention, with clapping encouraged throughout the set.
The biggest surprise of the festival for me was Reggae band Nucleous Roots. This being a genre I actually knew little about yet the desire to get up and dance was so overwhelming. Their infectious likability jumped off the stage and wrapped you up in there bubble. The beats were amazing, everyone was up in their feet, and songs such as One Good Night, about blowing your pay packet on doing the things you love made the crowd beg for more. For the first time during the festival that I'd seen, we got an encore despite the tight schedule, and I danced with the music and felt as high as the energy.
Delinquent Roots caught my attention in a different way. A feisty band performing a set of covers and a few originals, mesmerised me with their lack of drum kit, but the addition of a best boxer who relentlessly provided sounds I didn't even know were capable from a human. The female vocalist Alicee was a quirky vocal mix of Amy Winehouse and Gwen Stefani, her voice solid and powerful. An eclectic mix of songs that went from Stevie Wonders Jammin too a Disney track with ease, this band is exciting and fresh, and unlike anything else I saw over the four days. I will be watching out for them.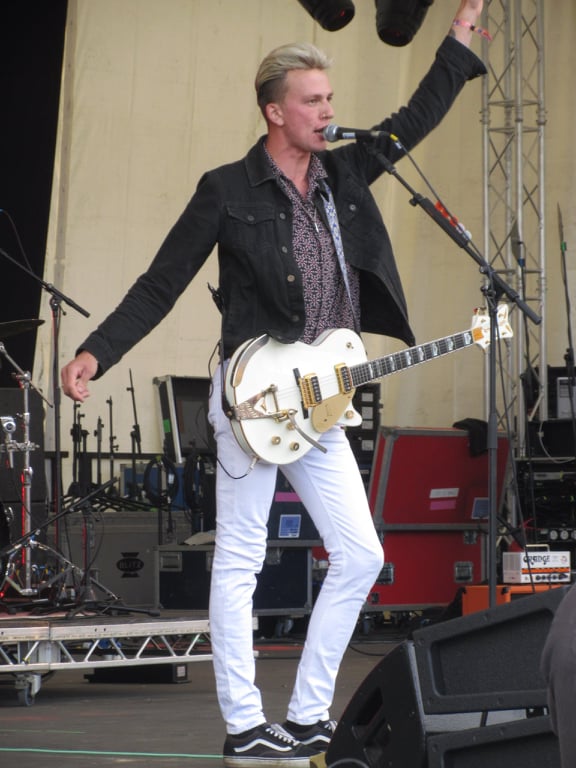 A break from music was taken to watch the absolutely magnificent Red Devils parachute team, something I'd never seen before and felt honoured to witness. Outstanding.
Another highlight were Muddy Summers and the Dirty Field Whores. Described on their website as radical feistyfolkpunkswingpop, this quartet sang hard hitting songs about equal rights, breast feeding and erm, masturbation and were nothing short of bloody brilliance. Throw in a violin, a cajon and a stick bass and what you see is far from what you get, definitely not what you expect. The visuals are beautiful and the music is wonderfully enthralling, then the lyrics are edgy, political spikes poised to take down the world. The mix worked well, and touched the audible and visual senses like no other in the festival line up.
Erica hit up the main stage, a dynamic unsigned band brought us some indie rock and delivered original tunes like "Whitehorse" and "Ghost" with energy and passion, despite the three piece back being down to two for the festival.
Scram were the first act up in The Brethryn Tent on the final day. A mellow and soothing start to the day, with blusey music including originals and covers. Delicate and gripping lyrics in the originals show an undeniable raw talent for song writing.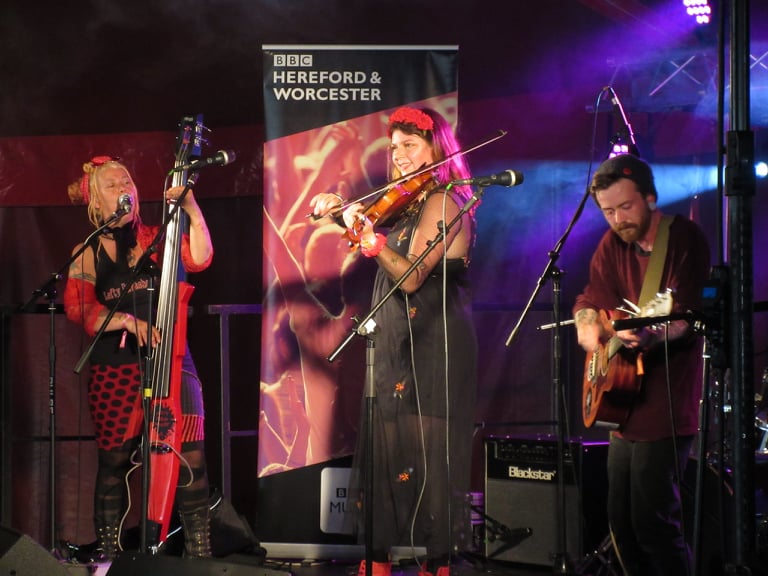 Tim Prottey-Jones in the BBC Introducing tent was the only act to bring a tear to my eye. Loud and soulful, this guy's voice blew me away. His opening song Fire, was as powerful as the title suggests, and his whole set continued on the same path. His track Good Life was inspired by the tragic events surrounded Caroline Flack, and Until I Do, which was originally a duet with Stephanie Quayle, was a beautiful ballad delivered with a country soulful edge.
However, it was Drinking For 3 that triggered my waterworks display, a song about his son and the journey leading up to his birth.
His final song Exit Wound left a mark with all who were watching. One man delivered a main stage worthy set.
The Stereo MCs on the main stage were epic. Absolutely bloody epic. I didn't expect to enjoy them as much as I did and the buzz in the car on the way home was still going. The hip hop bands frontman Rob is now 60, but he was jumping on and off the stage as tracks such as Connected, Elevate My Mind and Step It Up rang out across the huge gathering. He oozed warmth and connected with his audience on a level words can't describe. He WANTED to be there, he LOVED it and you could physically feel his passion for the music he was performing. Absolute knockout performance. One I'll never forget.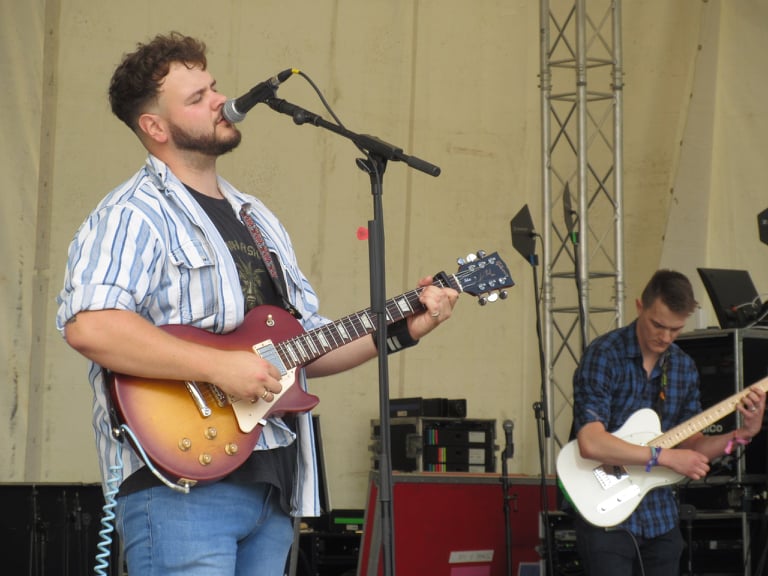 The rest of Sunday was spent at the main stage. First up, The Vengaboys. Now, not my usual choice when it comes to music, when in Rome as the saying goes. The festival feeling was infectious, the crowd all ages and the partying was hard! Inflatable beach balls flew above us as the Venga Bus parked up and entertained us with cheesy covers, sparkling outfits and irresistible goodness. For a group that has been going since the 1990s, this self confessed Eurotrash band can still work an audience up into a festival frenzy. And let's be fair, isn't that what it's all about? We all need a bit of cheese.
Next up, Ash. Frontman Tim Wheeler has literally barely aged since the indie rock bands rise to fame in the mid 90s, and worked the whole stage throughout the set. Bass player Mark strummed himself into positions never seen before as the trio from Ireland pleased the crowd with fan favourites, hit after hit including Girl From Mars, Oh Yeah, Goldfinger and Sometimes. The tracks still sound as good now as they did back then, and my indie loving heart was fuelled with good times and memories. My sister, who passed away in 2013, was a huge fan of Ash, and I know she was rocking along with the epic drum beats and recognisable riffs.
Main stage final act was Razorlight, and yet another memorable performance. Despite the first rain of the festival, amongst the glorious sunshine, the London rock bands performance wasn't dampened, as enigmatic frontman Johnny vocally aced his set of back to back crowd pleasers, America and In The Morning being excitedly received from the crowds. They enabled the soaking crowd to feed off the bands collective energy and infectious rhythm. The drummers long hair being blown upwards by a wind machine as Johnnys recognisable curls began to stick to his head as the raindrops tried and failed to wash out the heightened mood.
Lakefest, you were a dream. So many more memories – the Samba band, the costumes (shout out to chicken man who was there every day in his chicken onesie) , the laughs, the silly selfies, Mr Brightside being performed as we caught the tail end of a set, and the strains of a slowed down version of Sex Bomb from the awesome Tom Jones as we had to leave early on the first night.
My words alone can't do justice to this amazing festival and line up. This was my first year attending, it won't be my last.
By: Kate Ford
Find out more