"Love The Arbo" (LTA) is an enchanted light trail for all to explore based in the Arboretum community in the heart of the City of Worcester.
Starting with a main launch event Sat 12th Feb with residents windows running until 14th (6pm-9pm daily) LTA is a community event of window displays using all kinds of materials, lights and sounds, made by the hands of the residents themselves! You will find window displays in all of the streets in the Arboretum area, from Southfield Street to Chestnut Street, as well as Wood Terrace and Sansome Walk.
LTA have gained investment from the Cultural Development Fund with support from The Arches Worcester Festivals at Severn Arts. So for this year's event you'll see installations & pop ups as well as a collaboration with the University of Worcester's Digital Media course.
Elaine Knight, Arts Director, Severn Arts said:"We have invested in local community festivals like Love the Arbo to help them raise their ambition, develop their organisers and grow audiences. We're really pleased that Love the Arbo has been able to develop new ideas and new partnerships to bring new audiences to the Arboretum for their event.
With three nights to get out and explore the window creations of this diverse community, the launch night on the Saturday features the additional installations and pop-ups around the Arboretum including the Baptist Church, Westbury Pocket Park and the canalside area and streets.
LTA has partnered with University of Worcester's Digital Media students who were involved in our free workshop sessions for residents and have been working on five installations for our little Pocket Park on Westbury Street.
Helen Holmes, Course Leader for BA Digital Media at the University of Worcester said, "It has been a delight to work with the Love the Arbo team. This has been an invaluable opportunity for our students to collaborate with the community, and to see their creative concepts through to final products, in action. We hope this is just the beginning of our partnership and have many ideas for future development."
We are also working with a local business to light up a section of the canal path and under the railway arch near Westbury Street.There is an exciting Audio Visual performance with sound and projections from local band The Arboretum (named after our very area) in the Baptist Church on Sansome Walk, local dance charity Dancefest perform in front of the Church and catch our roaming stilt walkers as you explore the streets.Kate Cox, Love the Arbo committee member said "We're really pleased to be back opening up our community event for the public after last year's 'residents only' low key event. This year sees lots of exciting new work popping up around the area and we are hoping for more residents to create window displays than ever before. So come and explore!"
Sat/Sun/Mon – 6pm-9pm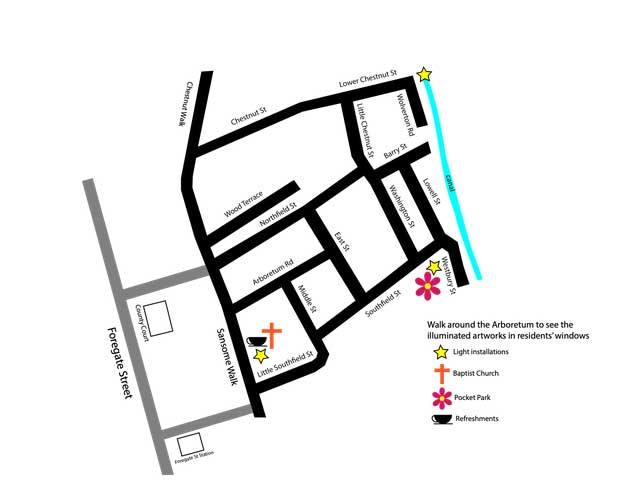 Residents window displays.
Walk the streets of the Arboretum and discover the creations from our community!
Saturday only
University of Worcester Digital Arts student installations.
Explore their creations in the Pocket Park. 6pm-9pm
The Arboretum – live AV performances from a local band named after our area!
Worcester Baptist Church. 6.30/7.30/8.30pm
Stroll the lit up canalside and railway archway.
6pm-9pm
Roaming stilt walkers
6pm-9pm
Dancefest
Popping up on the streets 6pm-7pm
Performance outside Baptist Church 7pm