Nicola Currie, A Profusion of Peonies
Spetchley Park and Gardens, Worcester
May 26 to 29 and May 31 to June 2, 2023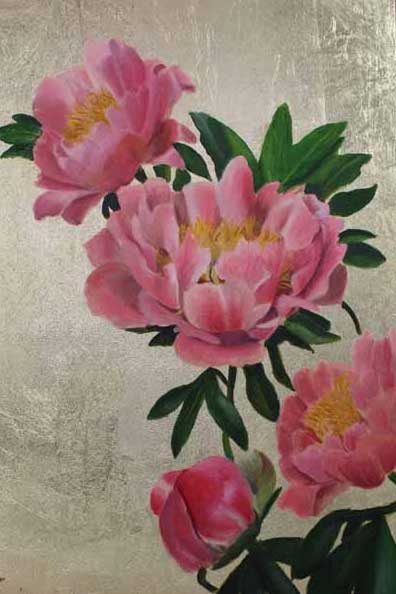 After studying Fine Art at Worcester University, Nicola now specializes in creating contemporary still life oil paintings that showcase the quality of light and colour found in everyday objects, particularly food. Her paintings often feature images within images, achieved through the use of reflective surfaces. "In a society that is bombarded with fast moving visual imagery I believe that a still life painting can help viewers regain the capacity to be still, gaze and wonder," says Nicola.
Drawing inspiration from the Dutch Golden Age, Nicola typically works on traditional gesso boards, using thin glazes of transparent paint to create luminous effects. More recently, she has begun exploring metal leaf as a medium. Nicola's work has been exhibited at prestigious venues such as the New Art Gallery in Walsall and the Royal Birmingham Society of Artists, and she has also held solo exhibitions at Worcester and Carlisle cathedrals. She has been appointed as the artist in residence at Spetchley Park Gardens in Worcester. "The Spetchley residency is exciting for me and is going to be a significant part of my work during 2021 leading to two solo exhibitions," says Nicola