Raggedstone Crawler and George Hemming live at Drummond's, Worcester 6th February 2022 for Uncover 5th Anniversary weekender
As Uncover Promotions roll on into day two of their mammoth showcase of local talent, heading to Drummond's in the heart of Worcester, to escape the ravages of a cold and wet February Sunday in order check out a couple of the up and coming local acts, seemed a more than reasonable course of action. SLAP put that theory to the test by dropping in on the lunchtime sets by Raggedstone Crawler and live debutant, George Hemming.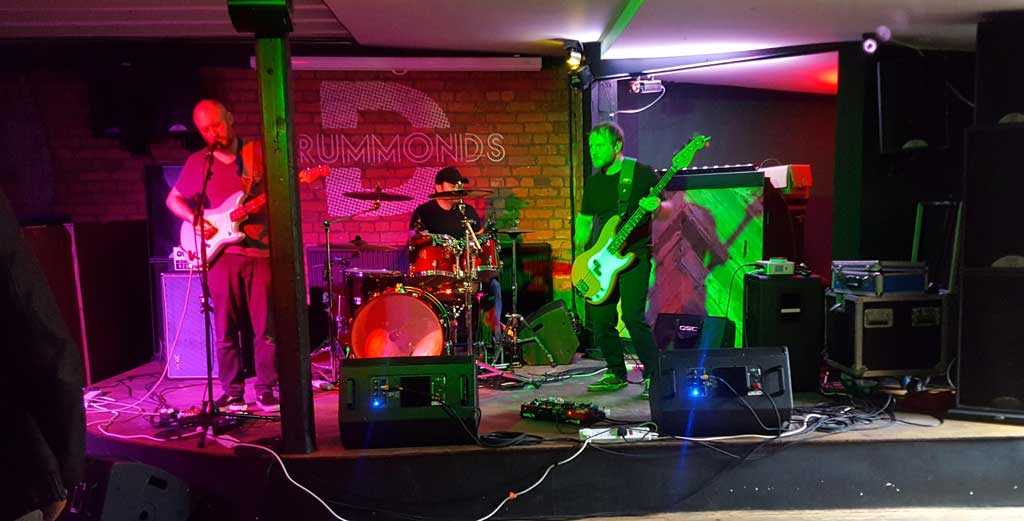 Anyone hoping to have their post-Saturday night fragilities gently eased by power trio Raggedstone Crawler are in for a shock and a brilliant shock at that. This is no Sunday chill out lounge session, RC don't have that in their mission statement, this is a "wake up and listen up!" shoulder shake of a set infused with great skill and energy that grabs the attention of anyone who has stopped dead to witness it. "See You Again" and "Persecution of the Persecuted" are a solid opening gambit performed with ease and style. Out front, guitarist/vocalist Rupert Lewis and bassist Ben Blackshaw are boundless in their efforts and behind them drummer Ali Davis is perfect in his. RC let it all hang out, this is full on hard rock beef and it sates the appetites of the watchers, and then some. Any remaining cobwebs are blown well away with "Movement In Time" and "Devil On Your Back" emphatically underlines a hugely entertaining half an hour or so. RC have unquestionably succeeded here today, as they undoubtedly will many times over in their career and that is something we should all look forward to.
Those who were actually in search of a more traditional recovery session didn't have to look far as sixteen year-old multi-instrumentalist, singer/songwriter George Hemming popped his live performance cherry on this afternoon's second stage. George, who has teen idol looks and a room illuminating smile, is immediately likeable and serves up delicious, easy listening Sunday lunchtime fayre, with a mixture of covers and self-penned original numbers. George is confident and competent, accompanying himself on guitar and piano he kicks things off with Joji's "Slow Dancing in the Dark" which earns him immediate approval from the sizable gathering. George's crowd wrangling skills are also on display as he involves the watchers in a fully interactive singalong version of The Fratellis "Whistle For The Choir". His own compositions "The Taxidermist" and "Hills" show maturity, insight, wry humour and are well received as George grows into his new entertainer role but what really impresses is the vocal performance. Clear, wide ranging and emotive it reaches deeply into the watchers, causing them to hang on every word. An endearing version of the Pixies "Where Is My Mind" brings an end to a fine live debut and the enthusiastic appreciation that follows is well merited. One thing is for sure, if young Mr Hemming is a taste of things to come from our musical youth then the future is very bright indeed.
By: Fisch.
Find out more