10th March at Guildhall Gloucester
It goes without saying, I've been an avid follower of 'The Bandits ever since they fled the Cornish beaches and bars and found their way into my 'patch'. The music that those three dreadlocked hippies brought with them was truly infectious, though not virally, unlike the gloom that inflicts our world at present. I had travelled down to Dorchester, pre-Corona, for the original gang's final hurrah, and now would finally get to take in their complete, fresh line-up. Wille takes the helm, as ever, but even Mr Edwards has evolved, blossoming into a fully formed, strutting frontman. With occasional respite provided by Weissenborn and Dobro lap guitars, Wille performs alongside Matthew Gallagher on keyboards, Harry Mackaill on bass, and Finn McAuley on drums; this one is going to be interesting.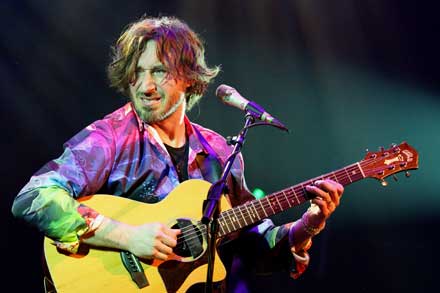 Supporting WATB, Troy Redfern and his band hit the stage like a bolt of lightning. Troy is at his aggressive best, hurling out songs in a fusillade of sharp, biting shrapnel and dirty slide, accompanied by explosive bass and drum. Coming out from the "Otherside", Troy rips through his set as if the Devil's on his tail, accompanied all the way by "Double Trouble" pairing, bassist Barny and Luke on drums. "Waiting For Your Love" throbs out, a track destined for their next album, currently being recorded at Rockfield Studios. Troy's busy with his fat slide, as drums crash and bass thunders, leaving just one question, are we "Satisfied"? Judging by the response of the gang out on the floor, the fully loaded RHR song brought about a unanimous verdict; guilty as charged, with no complaints.
There's a distinct air of expectancy as the lights are dimmed for Wille & The Bandits to settle onstage. Their audience is a crowd of dedicated WATB followers, who have been attending shows in Gloucester for many years. Wille fires straight into "Bad News", while Finn fires salvoes from the drums; hair-flying, sticks thrashing hard against the skins and 'hats'. Matthew is busy on keys, and Harry rumbles out a cascading bass; "Bad News" is good news, and a great start.
Wille is soon running cool, to "Keep It On The Download". The band slot in their solos before our frontman takes off on an eclectic journey with his lap slide, and we slip into the jazz flavoured licks of "Living Free"; the very essence of WATB. "Mamon" remains as beautiful as ever, a personal favourite, though the absence of Andy's djembe and Matt's stick bass are felt. Wille takes centre stage, drumming up some heat alongside his new bandmates to take us into an impassioned "4 Million Days". Drums break like waves on sand, and Wille soars away into an atmospheric lick. "Angel" is organic; it grows, blossoming into an electric storm of sound that eventually, momentarily clears, allowing Wille to fly into the heavens. Clouds draw in for a thunderous close, as Wille cries out into the darkening sky. It's music that remains as awe inspiring as ever.
Rattling forward, we're about to become "Victim Of The Night", awakening with a jolt to find that the band have travelled back in time for the anthemic "1970". The inevitable curtain call arrives as the stunningly beautiful "Angel", an inevitably different take from past line-ups, that still leaves you lost for words like few other songs can. Do I miss the magical sounds of Andy, on tongue drum, tubes, djembe and the kitchen sink? Undeniably. The depth and power of Matts bass, as well as the unbounded energy he brought to the stage are a big loss too. In turn, Wille has stepped up his stage presence, bringing a fresh vibe and sound to the stage too, with the additions of Matthew's keyboards, Finn's full on, rock drumming, and Harry's subtle, grounding bass. Wille's music is, and will continue to be, as distinctive as ever, and the band will transform and strengthen as they grow into their new roles, as a New Breed.
By: Graham Munn
Find out more
Wille & The Bandits
https://www.facebook.com/willeandthebandits.official
Troy Redfern
https://www.facebook.com/TroyRedfern