Slap Magazine: Issue 17 July 2012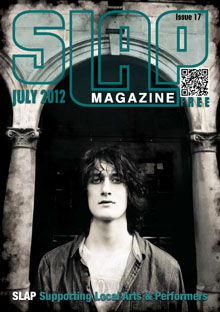 Okay, I was wrong about summer finally arriving in my last editors notes but hey, I never said I was a weatherman, just a wishful thinker. I at least have been lucky at the festivals I've attended, Wychwood at Cheltenham racecourse turned out to be glorious despite the expected down pours. Those who made the trip to the Isle of White or Download may well tell a different story...
Looking on the bright side we have another bumper issue for you this month with 56 packed pages bringing you the latest art and music news, stories and features from around the three counties. In this issue we feature Wychwood Festival and take a look back at the Jubilee celebration in Kidderminster and Droitwich.
Slap Magazine is available to download as a PDF. You can also find free printed editions throughout Worcestershire, Herefordshire, Gloucestershire and Warwickshire.
Recent issues
We are proud to support the following