This recent lockdown meant that the Blue Magpie Craft Fair at Malvern's Elmslie House could not run as originally planned, but due to the easing of restrictions they have been able to reschedule to December 11th, 12th & 13th.
Elmslie House in Great Malvern will once again be opening its doors and playing host to an amazing array of designer-makers for the Christmas Blue Magpie Contemporary Craft Fair topped with festive cheer!
For the first time, the fair will be taking place over 3 days, with 30 makers joining us in person, and other makers also taking part online on Instagram under the hashtag #bluemagpiechristmas.
Anna's legendary cakes are always a popular part of the Blue Magpie Fairs and we're thrilled that the much-loved tearooms will be relocated outside, in a Christmas market style affair called the 'Cake-Away'. There'll be mince pies and mulled wine too, so visitors will feel well and truly toasty – and festive!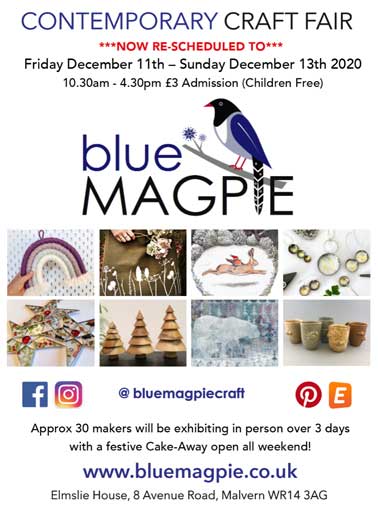 The event is Covid friendly with visitor numbers, physical distancing, plenty of hand sanitiser and a new one-way system around the house. 
Entry is £3 for adults and free for children under 16. The entrance fee is valid for multiple visits over the 3 days of the fair including entrance into the raffle, with amazing prizes from the makers up for grabs.
Instead of an e-catalogue, the team at Elmslie House have put together a Christmas Look Book which you can find on www.bluemagpie.co.uk or on the @bluemagpiecraft instagram feed. 
What better way to support a small, family-run craft fair featuring local artists and makers. To shop local this Christmas – just Follow the Magpie!