"I think that every musician is unique. When music is at its best, is when it's really from the heart and is an expression of your own individuality". – Deborah Rose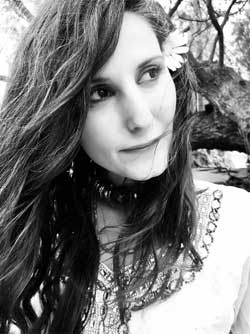 Folk singer-songwriter, Deborah Rose, has recently released her latest album, 'The Shining Pathway'. So, we wanted to get to know the mind behind the music and find out the inspiration behind such an incredible album.
Produced by Ben Walsh, a composer and violinist for the electronic band Plaid, this is Deborah's third album. It combines the styles of the two artists, forming a calming blend of her voice and Ben's contemporary style of music.
The songwriter was born Newport, South Wales, and now resides on the Welsh borders. Always singing and musically orientated from an early age, she knew she wanted to develop this into a career.
"I started singing professionally with a duo from Droitwich called the Fairer Sax as my first professional job, and we had regular performances in various hotels and corporate events."
Knowing a bit about her background and her connection with music, we wanted to find out where her inspiration comes from when writing music, as well as how her inspiration translates into her creative process of songwriting.
"I am inspired by a lot of female vocalists and songwriters who are storytellers. And I enjoy listening to the voices of Eva Cassidy, Sandy Denny and the lyrics of Jone Mitchel."
With a large mix of strong female vocalists and musical stylings, we wanted to know how exactly Deborah approaches writing her music.
She commented: "I find that generally, it's by listening to music, lyrics, maybe even looking at a painting, going to a gallery, reading a newspaper article, or going for a walk. They all are major sources of inspiration that feed into my creative process."
Some main features in Deborah's inspiration are music focused on hip-hop, rap and even Poetry. She specifically finds the era of Victorian poetry the most interesting, as she uses it within her song the 'The Recruit', where the lyrics are formed from the poem 'A Shropshire Lad' by A.E Housman.
This was done by the artist as a means of marking the 100th anniversary of WW1. Recording the song in Ludlow, she was able to feature the mentioned bells in the poem from Ludlow Tower.
Deborah added: "There is a little shrine to A.E houseman at the tower, and the bells I found to be a very prominent feature of Ludlow as a town. It is a quiet medieval market town, and it makes the town seem very timeless, so I decided to read 'A Shropshire Lad' because of hearing those bells. A melody came pretty much instantly as I was reading it and hearing the bells at the same time."
Making a good point on how Deborah personally takes inspiration from others, we wanted to know how her creative process differs to when she consumes music on a more personal level. Like most musicians, Deborah has gone on to tour an impressive collection of countries to share her music. She explained to us how she finds the music scene different in other countries compared to the UK.
"It is a very interesting experience. In America, they have a lot of collaboration with the singers in songwriting circles where you will have probably at least three artists in one night, like the bluebird cafe in Nashville. Audiences are very expressive, and particularly I think with UK artists and especially Celtic music."
When touring with others and sharing her music, she stated how she feels that when performing, there is an exchange of energy relating to a musician's piece of music, whether it be your creation or someone else's music, that is what makes a great performance. It creates an emotional connection between people.
Emotional connections are a strong point for Deborah, as she believes that music has a 'healing power' when it comes to reflecting on yourself. Curious, we asked her to expand her point as she discussed how; "Healing is about becoming whole as an individual, music can help you find your own voice, and I find that it is a way of expressing all parts of your life."
"I personally feel, as well, that it is tied in very closely with my connection with my faith. And music allows me to move onwards and live an authentic life free of conditioning."
The subject of healing fits in most notably with her new song on the album 'Grace Go I'. This song takes note of Deborah's time at prisons within the UK and US, working as a musician in residence teaching prisoners the art of songwriting. This art is a transformational experience for them, allowing them to find inner peace, learn a new skill and to heal.
Deborah has always had an interest in working in places such as prisons where people cannot always access music regularly. Starting by sitting in and watching other people's classes, she went on to run a few writing courses before getting to where she is today: a musician in residence at a woman's prison In Staffordshire called Drake hall.
The course that Deborah ran was part of a rehabilitation programme. These types of courses allow prisoners a way of finding their voice, as well as helping them to be able to express their personal stories as they rebuild their lives.
"They are prisoners who have had adverse childhood experiences, victims of domestic abuse, sexual abuse and have been witness to trauma in their life. So, it can be a form of therapy where writing your experiences and sharing it with others can help in releasing some of the difficult emotions and create art out of something painful."
Upon reflection, we asked Deborah how these classes also help her and how they are beneficial to her music to which she replied: "I learn so much every time I go and work in a prison. The stories that I hear from the people that I meet form an incredible transformation."
She continued by saying: "It's incredibly rewarding and enriching work. I always feel like it can be very tiring and often be quite demanding on your energy, but it's also revitalising at the same time because of what you witness and experience in working with people who are serving sentences."
To summarise, we asked her what she specifically wanted listeners to take away from her music with the UK still in isolation: "I would hope that my music engages people really… I would want people to find my music interesting if not comforting. And to help people explore their depth and inspire them to create music." 'The Shining Pathway' is out now on both Soundcloud and Spotify for listeners.
By: Alex Kingswell
Find out more about Deborah Rose