The Seventh Wave Festival of Electronic Music eBook
Published February 2023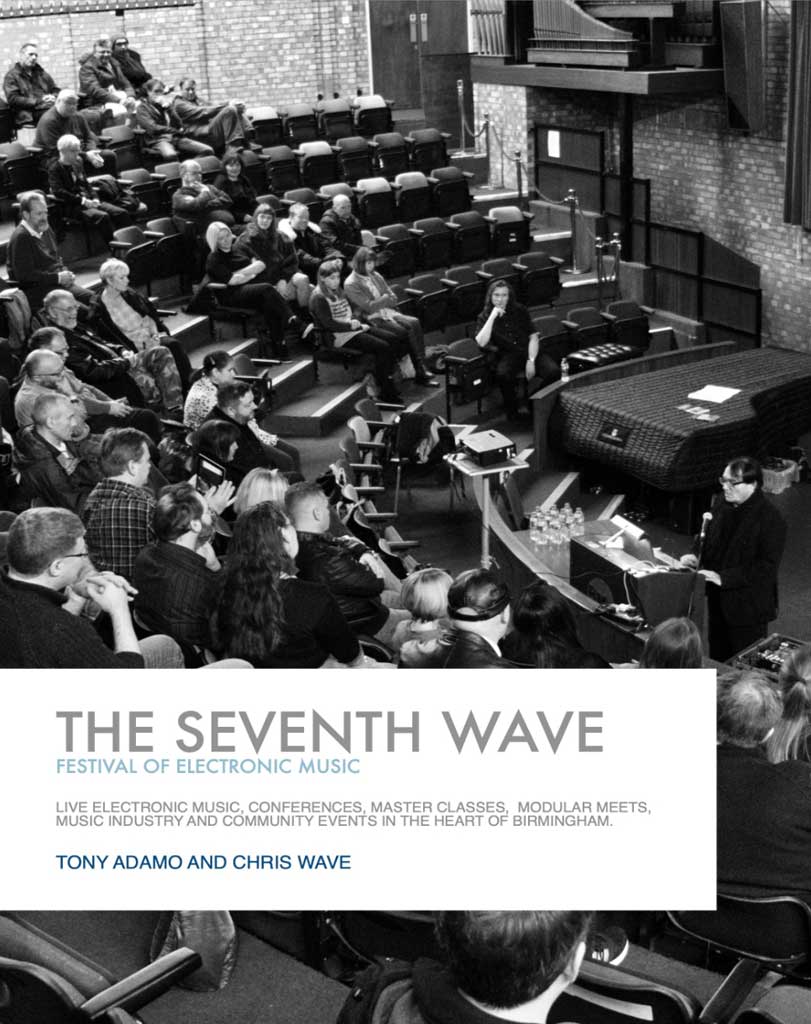 'The Seventh Wave Festival of Electronic Music' eBook
'The Seventh Wave Festival of Electronic Music eBook Supplement: Sounds of the Seventh Wave'
The Seventh Wave have been putting on electronic gigs for years, and have now produced a book detailing their history and events…
Chris Wave's involvement with the Birmingham music scene dates back to 1993 as DJ and founder of the Elevation club night; founder/promoter of The Bubble Club (all-nighter at the esteemed Que Club) and founder/promoter of Diverted Sound running in parallel to The Seventh Wave Festival of Electronic Music. With a wide taste in music and as an all-round music obsessive, Chris has also written a number of published articles (Record Collector and others); has contributed to published sleeve notes for a number of major artists for Universal, BMG and Cherry Red; and all things music related from band management to self released  publishes as well as the occasional experimental electronic music show via Mixcloud.
Co author, Tony Adamo is a former Art, Design Technology and Media Studies, specialising in film production. A change of direction led to becoming a freelance photographer, producing images, music and video for websites, catalogues, promotional materials and developing educational projects. Music production projects include short film soundtracks, 'ten:ten', a live electronic music persona, 'b.nine', an experimental distraction and 'lichen', an ongoing collaboration with Peter Coyle (formerly of the Lotus Eaters). A live performer of electronic music with an important visual film element and known variously as ten:ten, b.nine or himself. Currently working on multimedia projects including eBooks, photographic journals and film, both in the UK and Japan.
The Seventh Wave journey began In November of 2016 when the inaugural 'The Seventh Wave Festival of Electronic Music' took place across four days and across three venues. The intention being It will grow, it will develop… this is the start of something. The stellar 'live' line-up included highly influential ambient industrialists :zoviet*france:, revered 'Kraut-rock' and electronica collective Gnod, Ex-Kraftwerk member Wolfgang Flür, DJ Rusty Egan of Visage fame and Richard Barbieri (currently with Porcupine Tree but he cut his teeth as the highly respected synth player for new wave pioneers Japan in the 1980's). There was also an all-day conference with keynote speeches from Wolfgang Flür (Ex-Kraftwerk), Andy McCluskey (of multi-million selling synth pop exponents OMD) and DJ Rusty Egan (whose Blitz Club started the New Romantic movement).
Between 2016 and 2022, The Seventh Wave Festival of Electronic Music has worked with Thomas Dolby, Martyn Ware, Fiat Lux, Tim Bowness, Ulrich Schnauss, Thorsten Quaeschning, Banco de Gaia, Test Dept, The Black Dog, Ultramarine and many, many more. The details of this unique musical experience which traverses the inner and outer reaches of electronic music have been documented in an eBook running to a total of 249 pages.
For a mere £7.99 you not only get the eBook but have the option to access a companion publication ('Sounds of The Seventh Wave' : Music, Video and Audio from the Festival) for 'free'.
Full details of both publications can be found here:
The Seventh Wave Festival of Electronic Music eBook can be bought from the Apple book store
Further information can be found on the Seventh Wave website
The Seventh Wave is an Electronica Radio Show and can be heard via Mixcloud