Over half way through another challenging year, Evesham Festival of Words have just completed their main, if somewhat abridged, Festival weekend. So far this year they have run competitions, talks and presentations via Zoom. 5 live events and maintained a lively online Boob Club.
In addition, EFW have just unveiled their own Evesham Little Free Library and two absolutely stunning 'book benches'.
Pictured is Festival Chair Sue Ablett with the Little Free Library. The bench photo shows Festival Patron and local MP, Nigel Huddleston, with the artist Ian Gibson. Do visit them at 'Raphaels' Restaurant at Hampton Ferry, borrow a book, take a selfie and enjoy refreshments close at hand!
Live events coming up: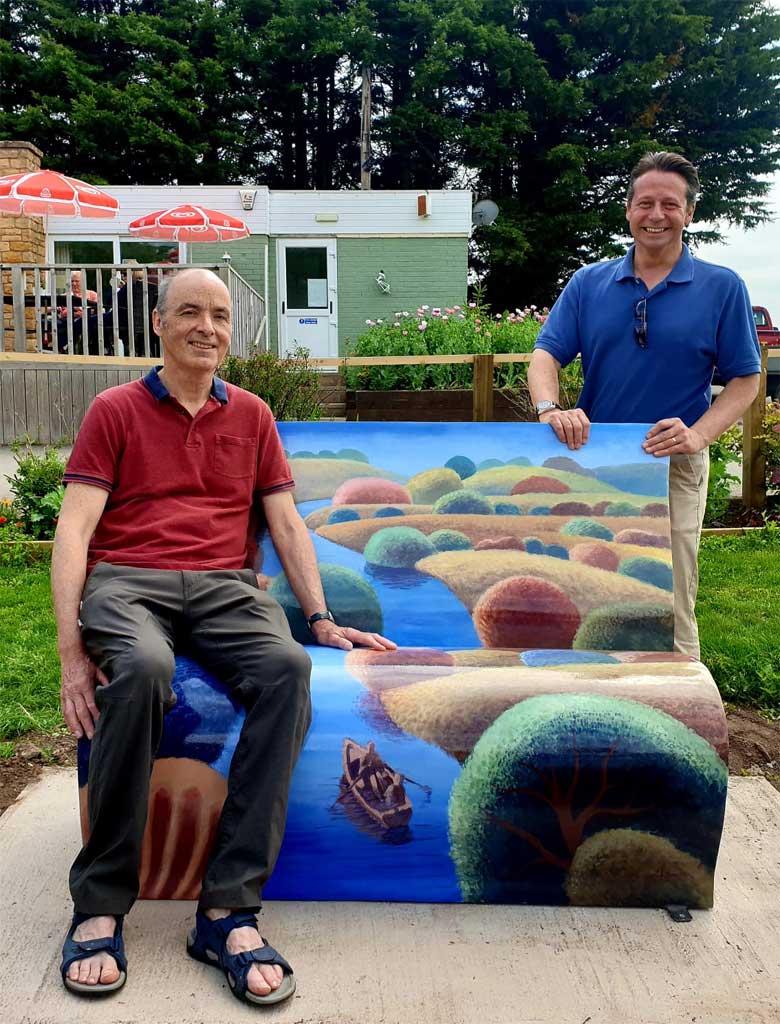 The brilliant Mikron Theatre Company are back on Saturday 7th August with a performance of 'A Dog's Tale'. Help cheer the underdog as we celebrate canines past and present and explore the enduring love between people and their dogs. This will be outdoor whatever the weather. Seats must be pre-booked. Booking details on our website.
Fri 20 Aug 2.30 pm Illustrated talk: 'Absolutely Delicious: A Chronicle of Extraordinary Dying' with Alison Lester. The story of how her mother chose to approach the end of her life with the same positive energy with which she had lived. Woven into the narrative are poems both by Alison and her mother as they shared the impulse to grapple with life's challenges through poetry.
17th September 2.30 pm Illustrated talk: 'The Railway Travellers Handy Book 1862' with Tony Conder. a talk based on the change in habits and manners that the railways brought about for Victorian society.
Both talks at Hampton Community Hall, Tickets £6, inc refreshments.
For more details of the Autumn/Winter series of live and online events and upcoming Short Story Competition, please visit the Evesham Festival of Words website.: www.eveshamfestivalofwords.org