Year of the Dog & Desert Boots live at The Marrs Bar Worcester, 27th March 2022
Sunday 27th March, Worcester was graced with the absolutely jaw dropping brilliance of Cardiff based swing band Year of the Dog. City Centre venue Marrs Bar, hosted the six piece band for their first Worcester gig. Support was provided by local band Desert Boots, an upbeat funk and soul band featuring seasoned local solo artists Riché on vocals and Kringo Blue on guitar.
From the opening track, you could feel the groove of a northern soul influence, with the smoothest vocals that had a soulful growl.
Amongst the set, was the track "Mainstream", which had a chilled Sunday afternoon feel about it, soaring vocals riffs, percussion and sexy guitar arrangements. When not on keyboard, vocalist Riché expressed the songs with his hands, a passionate performer who oozed effortless coolness on stage, along with the other band members. The whole set was as funky as you can get, groovy lounge bar music that demands to be heard.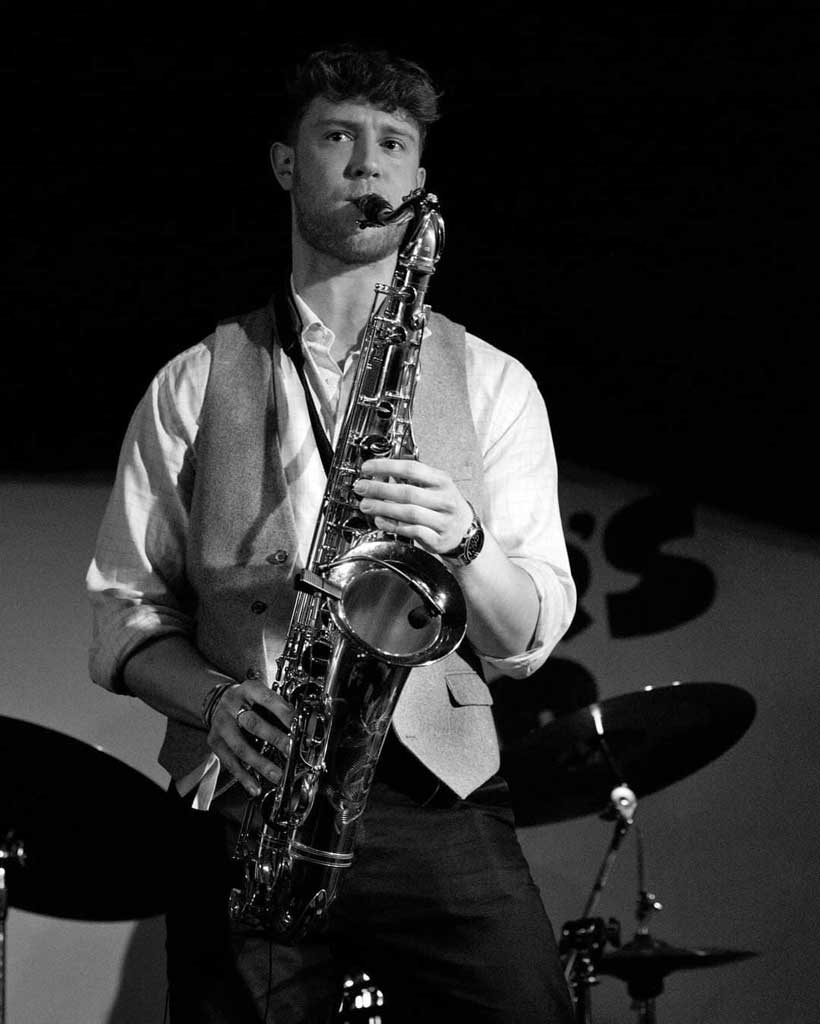 Main act Year Of The Dog literally blew the roof off of the Marrs Bar. Undeniably,THE best live band I have seen in a long time. To start my review with that statement is testimony to how much I adored them. Despite being aware that this band had featured on the Netflix original series Sex Education, as a reviewer I didn't really go into the gig with any expectations. However, I certainly left with desires to see them again very soon! Next time I do, I won't be note taking, I'll be dancing!
Featuring guitar, bass, drums, saxophone, bass trombone and trumpet, Year of the Dog opened with "Hair of The Dog" ,which started off slow but had the most irresistible brass beat arrangement making it impossible not to want to move and groove with it. Lyrically these guys are nothing like anything I've heard before, comical connotations, narrative story writing that painted a picture over the suave brass background.
From one song to the next, the beats got bigger, the crowd got pulled in more and more by these smartly dressed guys from Cardiff, and they charmed us all like snakes, and got us winding and dancing like modern day pied pipers. "This Ain't Over" was the brooding offering of the evening, a beautiful arrangement where each element of the band has chance to shine without overshadowing the others. Gentle beats, silky vocals , a sexy sax solo, brilliant brass notes and the gentle guitars running beneath. We were then treated to a version of Acceptable In The 80s which showed have adaptable these instruments can be. Track "Arch Enemy" got people clapping along, and by this point we were putty in their hands, a crowd in awe of the band on stage would've done anything they asked of us. The gig was the final leg of their mini tour and they certainly delivered.
The band's new single Headlight Glow was one of countless highlights for me that night, another smoky offering of bluesy goodness and sultry musical passion, and it lead into another bouncable track.
At one point I was too lost in the music to take the notes needed to produce this review. I could not take my eyes or ears away from them, and I'm even sure I heard a little Star Wars music in there somewhere, and track "Put that in your pipe", which deepened and darkened the velvetly notes . After leaving the stage, Brian Marrs paid tribute to how awesome they were and asked if we wanted more, to which the answer was a resounding hell yes. The boys came out and treated us to Run These Streets, the track that was mainly featured in a scene in Sex Education. Ultimately the most joyful song of the night, although I felt myself smile the moment they walked onto the stage at the beginning of their set.
I don't mind saying I've been through a really hard time on a personal level recently, and the music, performance and energy these 6 Royal Welsh College of Music graduates delivered, was exactly the soul medicine I needed. They put on a show. And I drank up every second of it.
I had the pleasure of meeting Felix, Jacob, Olly, Luke, Peter and Gareth after the gig to thank them for the first genuine hour long smiles I'd had for a long time.
Music is the very best healer, and if you ever need a pick me up, hunt these guys down and go see them live. A return to Worcester is already planned, but look out for them at festivals and other venues. Hand on heart, this is one you'll regret missing.
By: Kate Ford
Photos by Carl Freeman
Find out more