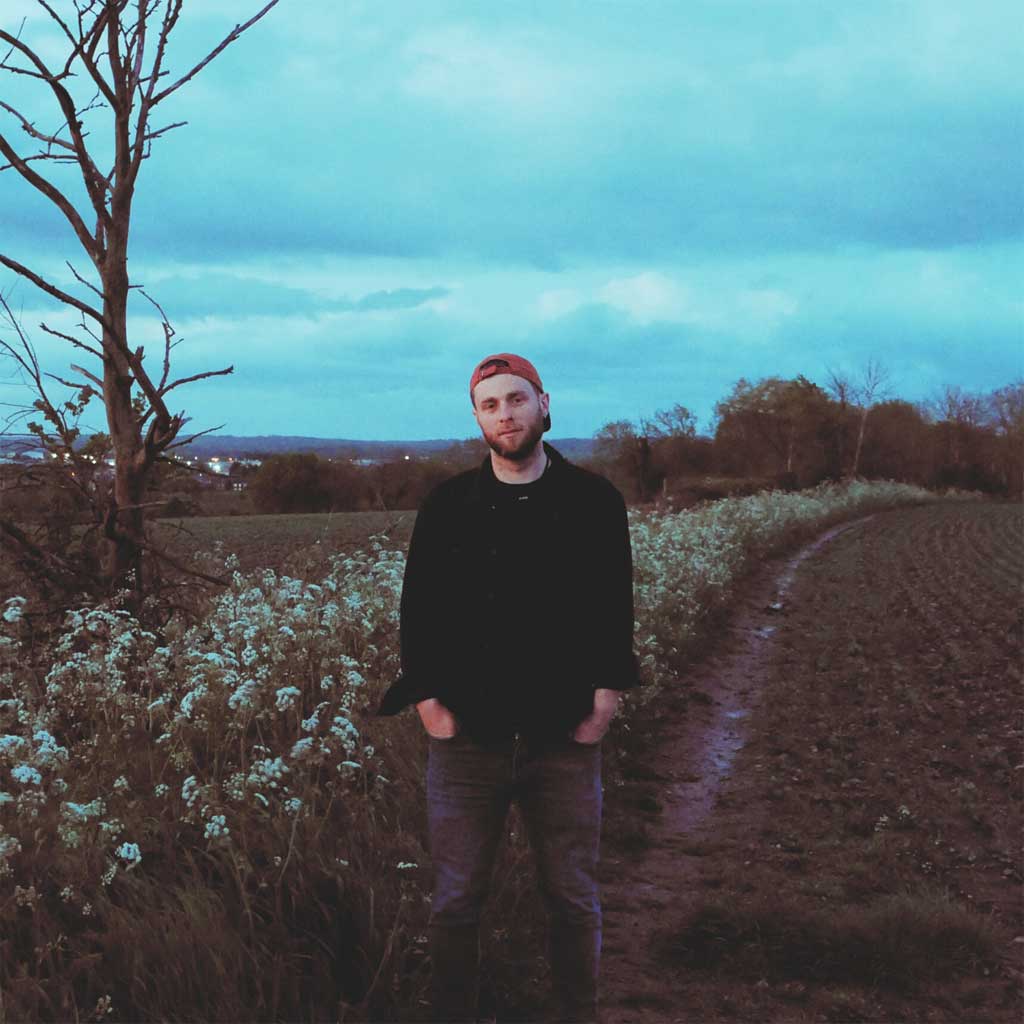 Kyle Parsons has released yet another heart warming track in the form of "I woke up outside". The track released last month, was recorded early this year, and tracks the first hours after a long night of partying, when someone important to you lights up your phone and brings you back to reality despite feeling worse for wear. Written years ago, Kyle says "I revisited it time and time again, and made so many alterations that it doesn't have much in common with the original"
As usual, the end result is an audible hug, Kyle's sweetly delicate vocals, that have enough grit and edge to evoke emotion in every listener, stream effortlessly over the equally delicate guitar and accompanying beats. He always has an undeniable ability to stitch poetic lyrics together with a beautiful melody. When talking about his musical influences, it's easy to see where Kyle's tastes have helped inspire and motivate the artist he is. Speaking of his influences throughout his life, he says, "Early on I was inspired to write songs by Dylan and Hendrix, who pushed the boundaries to write truly compelling songs and music. As a teenager, my soundtrack was grunge, with Nirvana, Pearl Jam, Soundgarden and Alice in Chains, being huge and still among my favourite bands. Hearing Jeff Buckleys "Grace" was also a game changer, and really influenced the way I've developed my voice".
The distinctive lilt in Kyle's voice lends itself to the calmer verses of his new track just as well as they rise to join the tempo of the rockier chorus, where the beat gets deeper and the intensity rises, like the racing heartbeat when receiving the messages you missed while sleeping the night before away. The music perfectly represents the adrenaline rush when realising that even just hearing from this person fills you with a euphoria and a need to disconnect and just hold them in that moment.
Hidden in the middle of the track is another hard hitting line about a friend getting hurt by making one mistake, turning the song into melodic train of thought, picking out pieces of the day and night before, and again how much you needed to hear from that one special person. It also spins the song on its head as you start to wonder if the girl in question, the one who may be perfect, is the one his friend betrayed or the one he likes hearing from. Or both; to me he's asking both himself and his friend the question "are you smitten, is she perfect?".
I've always said that Kyle's songs are lyrically poetic, and each track holds such powerful emotions within their notes and chords. Every day, Kyle picks up his guitar and plays or sings whatever comes to mind, until something stands out, and then he'll record it. He says "I then listen back, get a pen and paper, and I sit somewhere between the idea and the manifestation until the first version of a song is done. Sometimes the song is complete in its final form within a few hours, other times, it takes weeks or months to complete".
This dedication to the process certainly works, as each single comes out like a piece of art that has been tweaked and nurtured into perfection. Songs that cover relatable subjects resonate on a deeper level when they are presented in such wonderful packaging, and in Kyle's case, you can hear the passion, the emotion, and every feeling that brought the lyrics to their musical life.
When asked how he would describe himself to anyone who has not heard him before, he answers humbly "before anything else; a songwriter. When I write, I do so with the intention and the hope that each song might have meaning for someone". The subjects of his songs, including "I woke up outside" are ones that most of us have experienced, and can tie a personal situation to, which, for me, shows he's achieved exactly what he sets out to do.
Since live music has finally been allowed to take place again, Kyle has been lucky enough to perform locally at several events, including The Marrs Bar reopening weekend. Speaking of returning to live gigs, Kyle says "At first coming back, I was a bag of nerves, asking myself. "why do I put myself through this?". As I finished my first song, the answer was obvious: Music connects us, it unites us, it helps us find purpose and without it; life would be pretty bleak. I am truly grateful for every single person who comes out for live music and its an absolute privilege to be able to perform on stage again"
The title of this song is both the first and last line, leaving the listener pondering whether this rhythmic stream of consciousness has come to an end,, or simply drifted off again to start another train of thought.
This is the kind of track you can listen to over and over, and decipher something slightly different from each time. Simplistic yet clever writing, an absolute joy to listen to.
By: Kate Ford
Find out more