Full programme details for Light Night Worcester 2023
Wednesday 22 and Thursday 23 February
Light Night Worcester returns for the fourth time with as spectacular programme of creative and interactive work and walkabout street performances. On both nights visitors will be able to see:
[1] Strobilophones by Picto Facto – an illuminated street theatre show from 7.30 – 8.30pm with amazing inflatable puppets, dancers and singers. Strobilophones will set off from the High Street at 7.30pm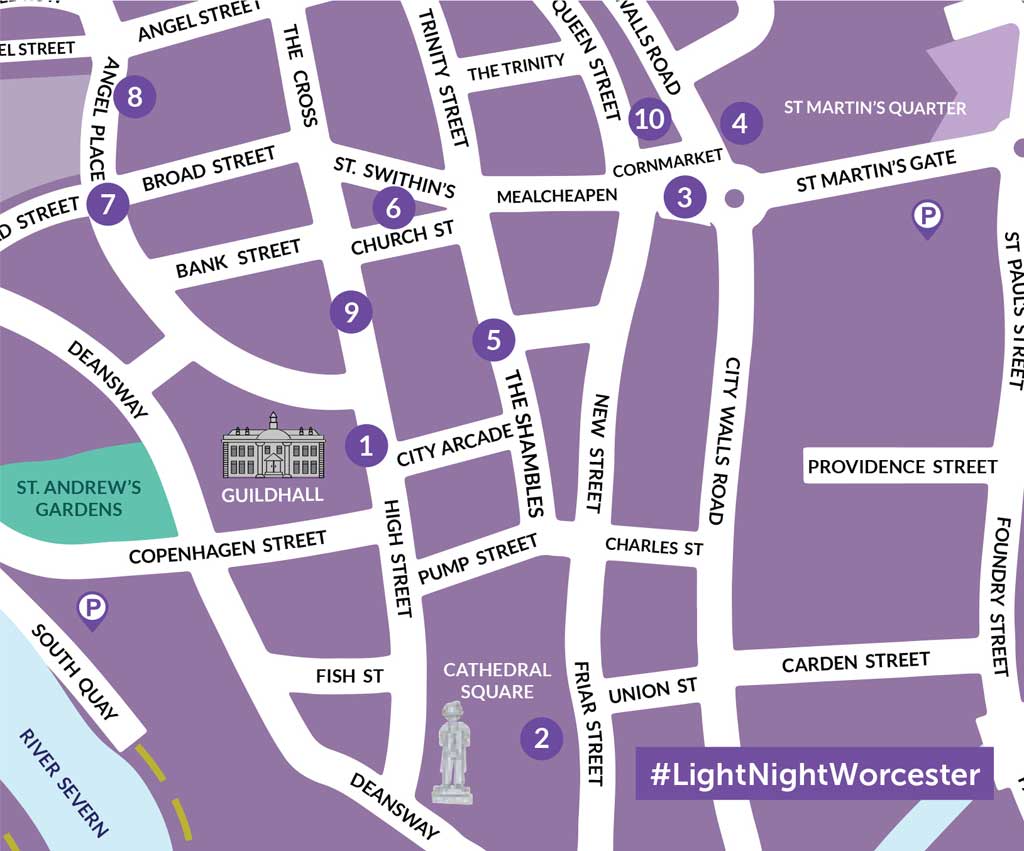 [2] Lampounette by TILT – giant desk lamps called Lampounette have escaped from their office. You will find them on Cathedral Square from 6.30 – 9.30pm lighting up their surroundings with their warm coloured beams.
[3] Light Looper by The Kazimier – this towering audio-visual game will be on Cornmarket from 6.30 – 9.30pm. The game involves four players at a time who must work together to accelerate a particle of light on a journey from earth to sky.
[4] Colony by Mike Blow – situated in St Martin's Quarter from 6.30 – 9.30pm these large, tactile sonic sculptures invite you to experience the physicality of sound through listening, touching and hugging.
[5] Echelle by Ron Haselden – shining brightly, this 5-meter pink neon ladder offers a fantasy escape route with its startling illumination. The ladder can be viewed from The Shambles (near to M & S and The Entertainer) from 6.30 – 9.30pm.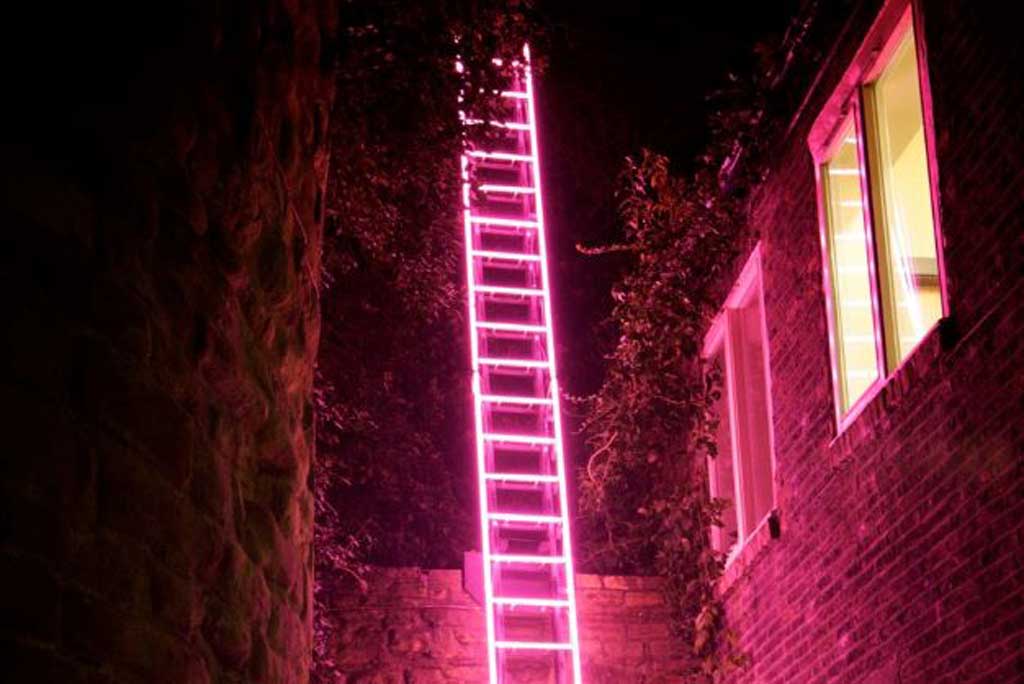 [6] Butterfly Dream by Anne Bennett – reflect on life whilst gazing at the hundreds of butterflies, each with a unique design illuminating the inside of St Swithun's Church from 6.30 – 9.30pm.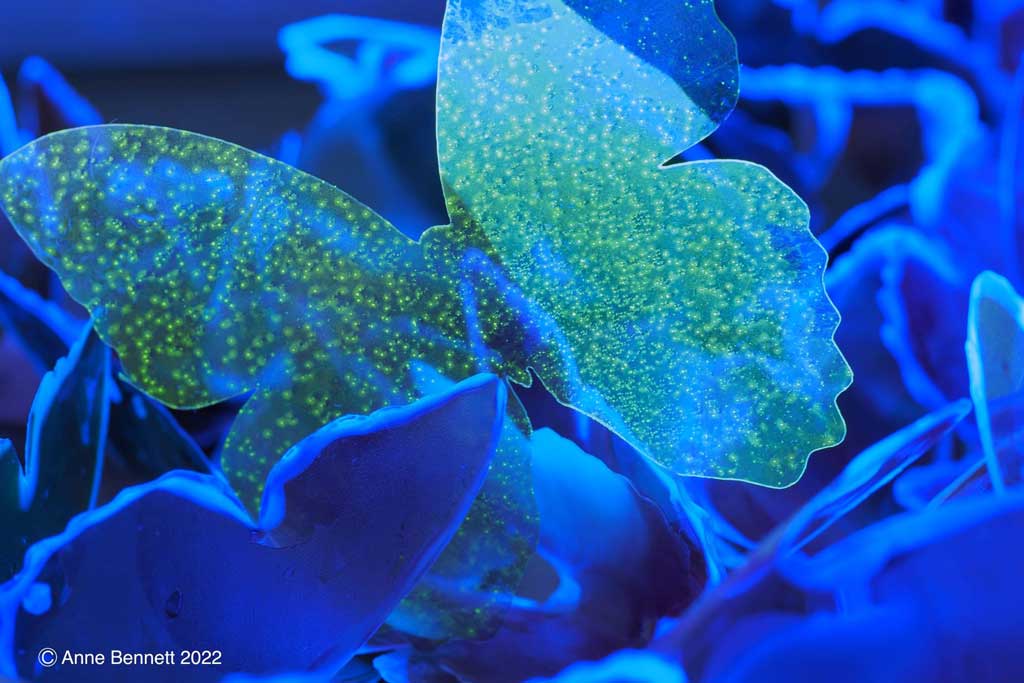 [7] Windows of Light curated by David Edmunds, Festivals Director – inspired by the work of "Rainbow" created by students of SintLucas in Eindhoven during Glow 2022, Windows of Light celebrates all that makes us different and unique. Windows of Light can be seen at The Unicorn Hotel from 6.30 – 9.30pm.
Visitors can also see alien-like walkabout performers Lumens on the High Street at 6.45pm and 8.30pm and Flame Oz's Fire Duo in Angel Place at 7pm and 8.30pm. City centre cafés and restaurants will be open as usual and for the first time there will be additional food and refreshments served by The Beefy Boys, No Frickin Chicken, Neighbourhood Deli, Cheeky Maharaja and YUM Sweet Treats in the Light Night food zone on Cornmarket carpark from 5 – 9.30pm.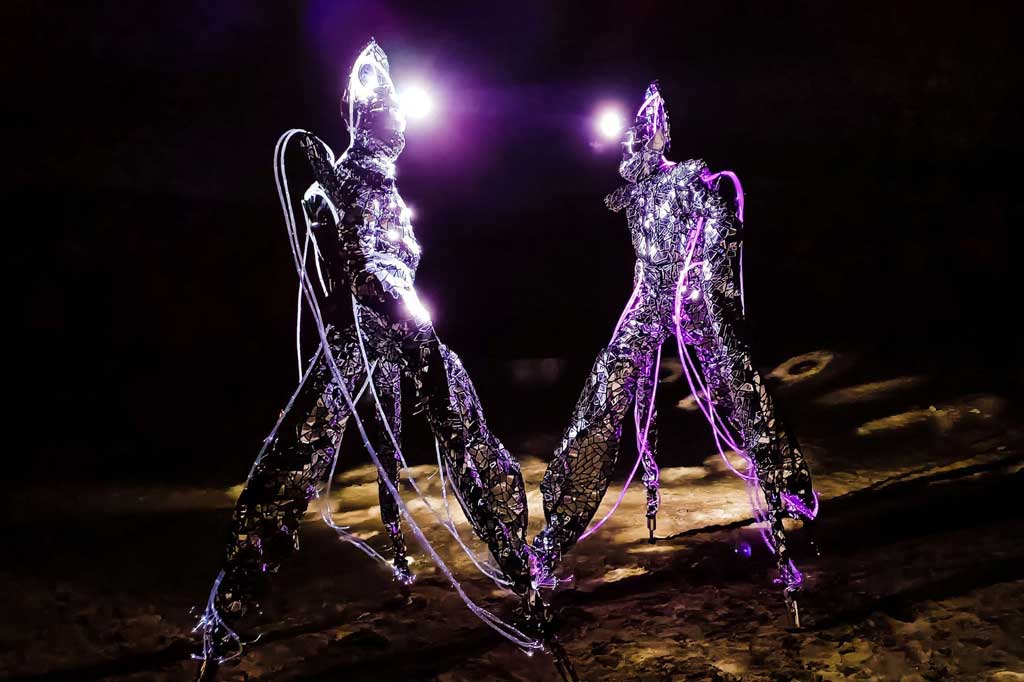 For a full programme with timings and locations visit: www.thearchesworcesterfestivals.co.uk/light-night to download the Light Night Worcester 2023 map and programme. Programmes are also available from the Tourist Information Centre and The Hive and volunteers will be handing them out on both nights.
Light Night Worcester is completely FREE and is part of the festival programme produced and managed by Severn Arts and the Arches Festivals team as part of The Arches Worcester project. Light Night Worcester 2023 is supported by Worcester BID, Worcestershire LEP, Worcester City Council, PBSigns and Guthrie Roberts.