Up on the top floor of the Malt House Emporium I chanced upon an artisan carefully stringing a guitar with all the attention of a life-saving surgeon stitching up his patient. Naturally, our easy conversation – as easy as moving from a D chord to an A on the fret board – was ignited by our mutual appreciation for music. This was my first introduction to proprietor and guitar strummer Paul Thomas. As you know, at SLAP magazine we are keen to champion the arts and artists and highlight their qualities… 
How long have you been trading, what was your inspiration for opening a guitar shop and what is your philosophy?
We're just coming up to the third anniversary of Strummers trading at the fabulous Malt House Emporium in [Ashchurch] Tewkesbury. Three years of meeting such a fascinating array of players! From Black Sabbath's Tony Iommi to retired ladies just starting to learn; from teenage band members to grizzled veterans – you just never know who might pop in next!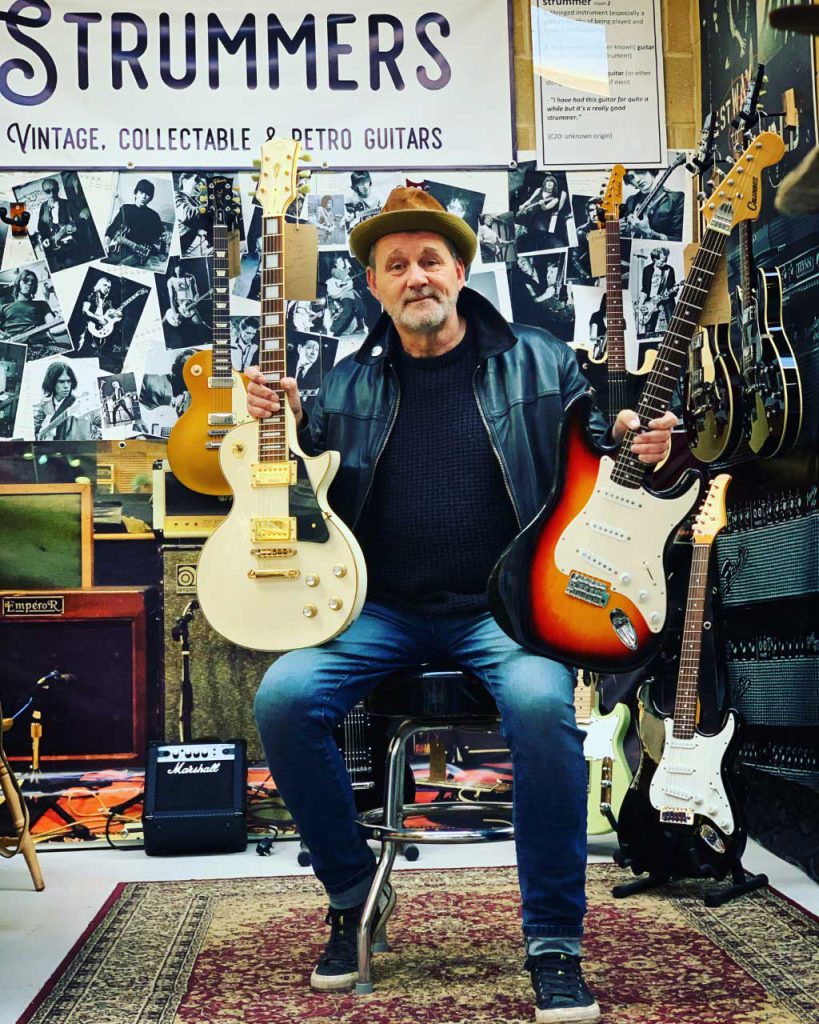 As for inspiration, well… I had been a school teacher for the longest time and had been wracking my brains for a new direction that could be both fun and profitable. I have always loved guitars since I was very young and started toying with the idea of opening a guitar shop as so many in the area had, frustratingly, closed down. But when I started researching the possibilities, I quickly realised there were two very good reasons for these closures! Retail space is incredibly expensive to rent and the on-line market had made it so difficult for independent music stores to survive. To be honest, I was a bit daunted by the apparent risks involved but my wife, Rachel, came up with an ingenious solution. She had been a long-time customer of the Malt House – an Aladdin's Cave of vintage, retro and collectable items, populated by about eighty independent traders paying reasonable. Why not try there?!
Our philosophy is to provide guitarists with everything that an on-line vendor cannot. A chance to touch, smell and play the actual instrument you're thinking of buying. And I think that in an increasingly virtual world, people are starting to appreciate the value of…reality!
Is the name "Strummers" important or symbolic?
Yeah. It's got three connotations really. First, it refers to the guitars we sell. To me, guitars are, first and foremost, a tool. So, let's not be too precious about them – they're there to be strummed! Second, it refers to the guitarists who do the strumming. And third, it refers to one of my heroes, Joe Strummer, who had no pretensions about himself as a musician and famously stated that he could play all the strings or none. Strictly rhythm!
You clearly love music looking at your website, shop and through talking to you…where did your personal fascination begin?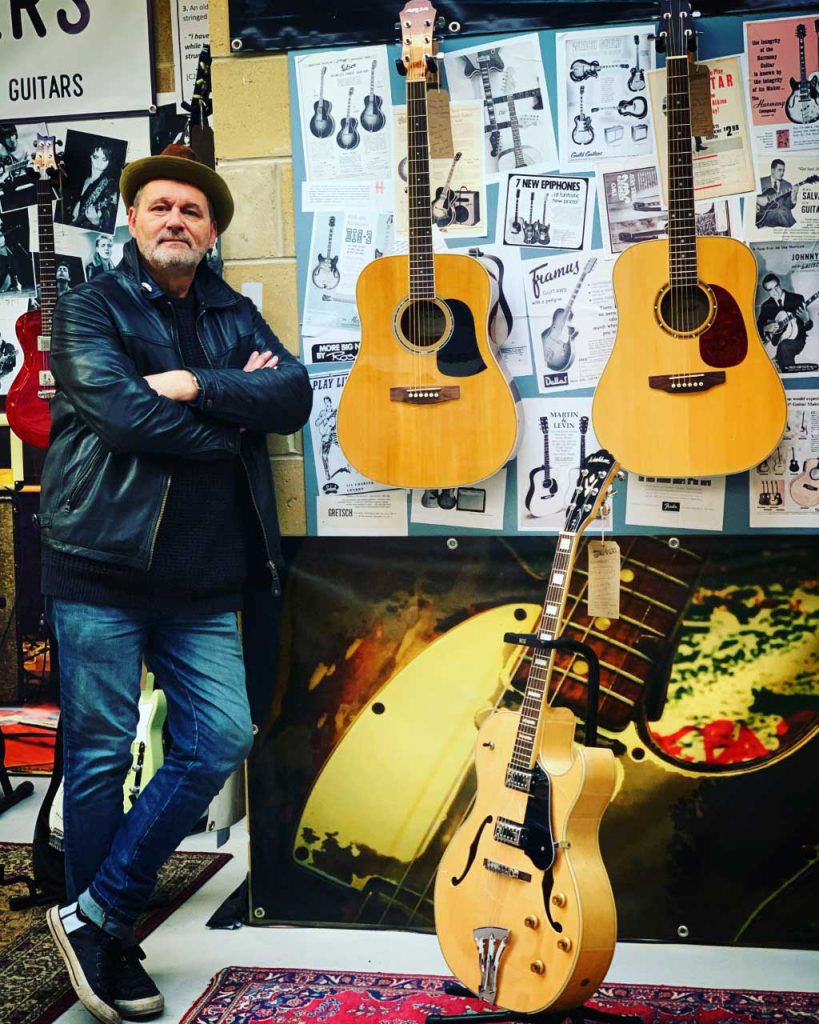 When I was really young, maybe three or four, I spent a lot of time at my grandparents' house where my teenage uncles still lived at home. They had motor bikes, record players and (best of all) guitars! They were very indulgent with me and let me mess around with their guitars as much as I liked. I think that's where it all started for me.
Paul Thomas has more than one string to his guitar, obviously. And as the conversation flowed like a James Dean Bradfield solo, Thomas articulated his own musical escapades and his current project…
You clearly enjoy playing guitars and playing live – have you played in other bands? – what prompted you to start a homage to the Pretenders?
I've been in loads of bands over the years – nothing beats playing live with other musicians. Originals groups to start with, then cover groups and more recently tribute groups. Up until fairly recently, I was in a pretty successful Clash tribute band but we finally got a bit old for that! So, Kid: The Pretenders Tribute is a relatively new venture. I absolutely love the Pretenders – especially the guitar parts!
What type of gigs are you looking for with the Kid incarnation? Looking forward to gigging again?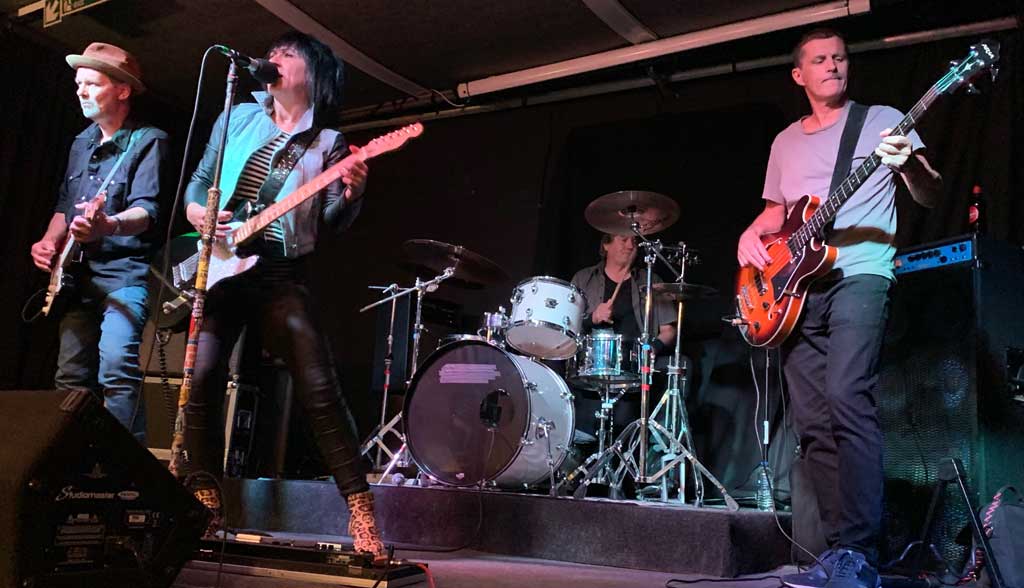 Yeah, unfortunately we put the group together not long before the first lockdown so the timing wasn't great. We've done a couple of gigs but need to get out more, soon! Anywhere with a stage and a PA and we're happy!
Paul Thomas andhis shop Strummers Guitar Shop offer quality guitars, a back-up service and a genuine passion for music. Furthermore, it is not too reckless to insist Kid their newly formed band, are far from "dressed in borrowed robes" – just check out their Facebook page!
For enquiries about Kid: The Pretenders Tribute
Facebook: Kid: The Pretenders Tribute
Tel: 07840-865816 (Paul)
You can find Strummers at:
The Malt House Emporium, Tewkesbury Retail Park, Ashchurch, Tewkesbury GL20 8JP (Plenty of free onsite parking)
Open 7 days a week: 10am until 5pm
Web Site: strummersguitars.com
Facebook: Strummers
Instagram: strummersguitars
Tel: 07840-865816 (Paul)
By: The Swilgate Scuttler