Worcester Open Climate Change Exhibition at Art House, Castle Street, Worcester from 12th January to 17th February 2023
Opening times : Wednesday – Friday 12.30 – 5pm
As an artist myself, engaged with the environment, this exhibition was particularly on my radar. I was keen to see the way other artists embedded the water and flooding as environmental markers of the Climate Crisis, and as I checked the Flood Watch on the River Severn before travelling, the impact of the subject matter is a constant reminder of its local relevance.

A collaborative project between Pitt Studios, University of Worcester and Meadow Arts, this exhibition offers a wide range of interpretations, I have highlighted a few of my favourites, which I felt successfully carried the environmental message, creatively and aesthetically.
Andrew Howe is an artist who embeds the subject within his work, his understanding and creative use of natural materials offers depth and questioning, far greater than the visual image alone.  His work, a painting of Sphagnum Moss on recycled paper is from a broader project studying mosses and Marches and is displayed in the front window of Art House.

Andrew also has solo exhibition Inhabited along with poet Kate Innes at Kings Worcester until 16th February 2023.
Monica Perez Vegas, The Haunt dominates with scale, colour and surreal ghostly figures. who peer between severed tree stumps like a still from a cartoon, Monica sites her work 'between nostalgia and unease'.
Artist Maureen Heaney-Sykes piece, Flow Lines is compelling; its smaller scale draws the viewer to explore, and the finely handwritten dates and water marks, halting tides to a time, a year, offering audiences a personal reflection on their own life markers along with the rivers. This simple and modest sculpture perfectly fits the brief, accessible yet intriguing, it successfully links you to the river through age and event.
Sarah Jones is an artist and sculptor whose post highlights the colours echo those used to mark deep and dangerous waters. Standing at an impressive 8ft, this is her second post Sarah relating to Climate Change, with her first accepted to the Royal Academy Summer Show 2022. Sarah uses reclaimed wood, whose true beauty can be explored with close inspection.
Another Royal Academy Summer show exhibitor, Dan Holden, has transcribed the words of smaller nations threatened by rising sea waters from speeches made at COP27 Climate conference. Here text, texture and paint layer narratives, history documented behind layers of abstract oil.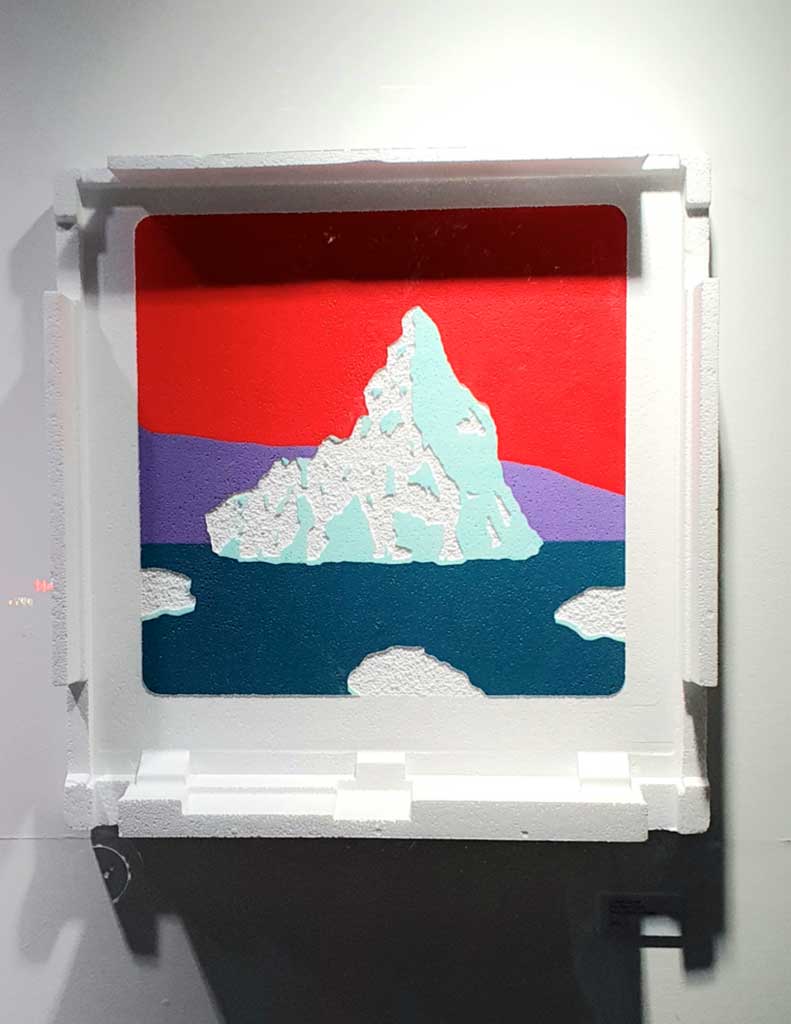 Lorsen Camps work Hot Point plays visually and intellectually on many levels, linking consumerism with climate, the fragile polystyrene packaging having been handpicked to reflect a snow scape against a hot red sky. Lorsen was selected as one of winning entries.
This exhibition holds a wide selection of works, curated to include conceptual, contemporary, and more traditional interpretations, far too many to highlight, and all require the physical presence to convey the skill and details of the work.
I encourage you to visit this show, to view the winners and to find your own treasures amongst the rich selection of works by established and rising artists exploring water and Meadow Arts have also commissioned three awards as a celebration of Watermark, and on 28th January 2023, these works will be officially opened in Worcester.
By Juliet Mootz
Juliet Mootz is a Reparative Land Artist and collaborator, using art as a tool to raise awareness and start conversations about events in nature.  Her current solo exhibition 'Living Shadows' is on view at Malvern Library until 26th January 2022.