Matilda the musical JR at Ludlow Assembly Rooms – 21st October 2022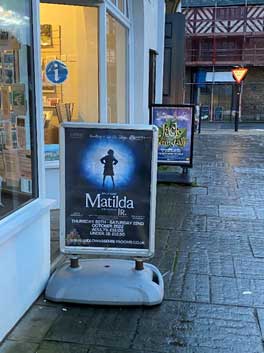 Talented young actors left audiences entertained at Ludlow Assembly Rooms on Thursday night, after performing Dennis Kelly's Matilda the musical JR. Based on the book by Roald Dahl, with music and lyrics by Tim Minchin, the musical tells the story of a competent young girl with academic talent noticed by her teacher, Miss Honey, despite her parents' blindness to her incredible ability.
Located in the centre of Ludlow, Shropshire, the assembly rooms provided the perfect location for Matilda, with wheelchair access and a bar. Tickets were priced at £15 per adult, or £12.50 for under 18s, with raffle tickets and programmes also available. This was a reasonable price to be entertained by a skilfully young cast, in a well-rehearsed show, for just over an hour and a half.
The performance began around 7:10pm, despite an advertised 7pm start. This appeared to be due to volunteers underestimating the time needed for audiences to seat themselves, therefore, early arrival is recommended.
Prior to the performance a strobe warning was given. Flashes of light were neither frequent nor intense during the performance, which would have had minimal effect on those sensitive to light.
I believe the set design was intentionally minimalistic, as groups of actors were often on stage together, so space was appropriately considered. Personally, I feel a minimalistic set complimented the story, without detracting from the excellent talent of the actors. Less props also allowed for smooth and immediate set changes. Throughout the musical, there were some technical issues with audio, which numerous audience members picked up on too. Three speakers, either side of the stage, projected high quality music. There were several instances where this even overrode the powerful voices of individual actors, despite the use of microphones. This was my only criticism, because the actors had learnt their lines, which were spoken with both skill and confidence, so it was a shame they couldn't always be heard. However, singing by multiple actors was simultaneous with background music projected powerfully to the audience.
By: Emma Davies