Friday 16th July 2021
The Old Con Club, Malvern
Out out and live live with some of Worcestershire's best; putting Malvern on the Mapp for a great cause.
Tentatively, Malvern's music makers are emerging with a new energy and meeting with a hungry receptive audience, starved of live music for nearly a year and a half. On Friday 16th July, a fundraiser was held, as a part of a two-event set to start the Mapp Fest Season for 2021, run by a collection of local musicians and providing much needed funding for local charities. Mapp Fest is the brainchild of local legend and philanthropist Andy Mapp, providing a mini festival of music on Link Top Common on the 7th August.
This year, hosted at the new Old Con Club venue in Great Malvern, four additional bands took to the stage to help raise funds and awareness, and the night I went, proved a rare treat to witness an eclectic selection of highly talented musicians.
First to the stage was Sean Jeffery, whose unpretentious covers gave full scope to demonstrate his warm vocals and acoustic interpretations including The Eagles, The Cure and Kings of Leon.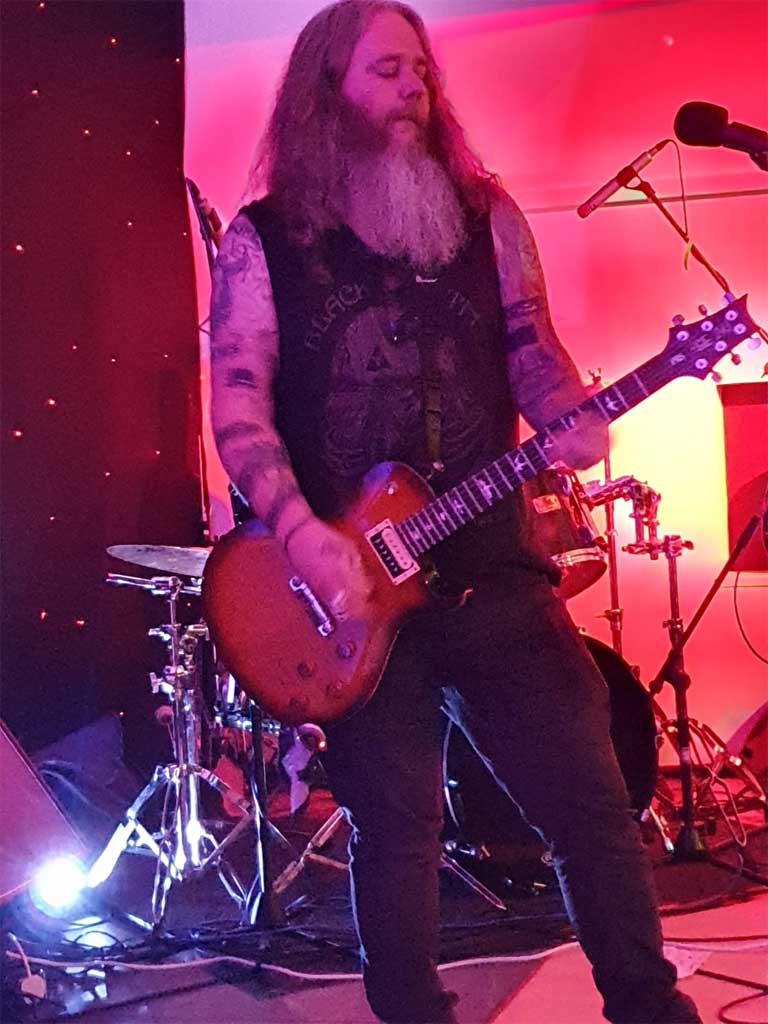 Next on was trio Cordless Bungee, whose combination of violin and guitars blended an indie and folk sound with drifts of Radio Head, here they proved their potential to draw in a crowd, with a tight confidence, soaring harmonies and a folk grunge thread that runs through.
Underworld Wonderland confidently possess the stage, as successfully as they thrash their melodic anthems to the audience. They are definitely heavy, yet balance well-crafted songs within a passionate performance, and they managed to engage a mixed audience; this is possibly attributed to (singer, guitarist, writer) Chewie's eclectic musical influences, ranging from the Carpenters to Slayer. For me they have tones of the Death Cult, and Forest Teeth is just one of their archive of songs which shows their niche genre, a unique cocktail, which seemed to successfully please all. Chewie's friendly, companiable banter and Viking thrash approach, at times gives nods to a more melodic and harmonious edge and the rapport between Andy Tucker's dexterous bass and Chewie's guitar is beaten into form by drummer Griff, and between them they offer a highly entertaining set. A band certainly worth the effort to go and check out and follow.
The Bone Clocks hail from Malvern, and for any David Mitchell Fans there are intriguing echoes between the book and this Malvern group. Al Jones heads the band and his engaging performance is attributed not only to his musical passion but to his professional acting background. He packs a punk punch and almost teases the audience, forced to fight the urge to dance due to current covid restrictions. Their selection of covers never fails to entertain and Jon Arnold's lead guitar, demonstrates an accomplished skill, humbly performed from the stage sides, drawing the audience into some complex guitar sections between vocal breaks. Bass is played by Pete Nash, adding an undercurrent of groove and stability, along with the unceasing energy of drummer Griff (appearing again). As with all good long established bands the relationship of time and practice has become an intuitive act and is bringing their musicianship to a higher professional level as entertainers.
On Sunday 8th August at 20.00 Chewie will be starting Chewie's Open Mic at the Old Con Club, 4 Church Street, Malvern.
By: Juliet Mootz