If you have been fortunate enough to have witnessed Red Hot Riot –  a three piece neo-rockabilly band from The Forest of Dean – live, you will know that they are generous with their audience during their incendiary live performances. And guess what, after interviewing Rick Delaney in "person", the ambitious and affable front man, is just as giving when being interviewed. The interview had to start somewhere and in the current introspective climate of self-interrogation:
Q: The pandemic has not put RHR off their stride, is this a result of a need to be creative or a direct result of the band's inherent ambition?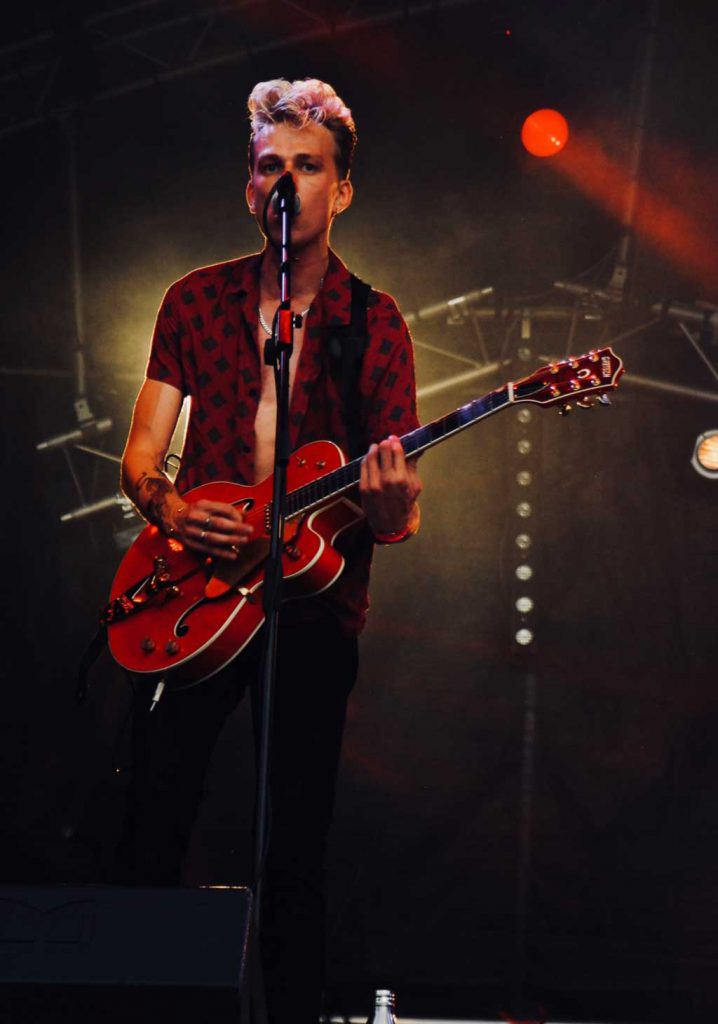 Answer: We've been pretty tactical with how we approach things now that the pandemic is around. I don't mean we're doing better than we were because of course we've hit a bit of a stale mate like most bands have, but we tried to make the most of a band situation. We started doing "Lockdown Covers" of our favourite rockabilly tracks, from Restless to The Polecats to more modern stuff like JD Mcpherson and they've been received pretty well! It's quite handy as we all have basic bits of recording softwares and mics at home that we're able to record individually and then ill mix it together. We also did a livestream gig direct from Soundtrack studios and another from 44 music whilst we were able to meet in bubbles of 6 and both of those went really well also! In short, yes, I'd say it's a result of a need to be creative.
And then we returned to the band's origins…
Q: Origin and inspiration for the band name?
Answer: Scott McParland (Slap bass player) came up with the name. We were throwing ideas about for ages before the first gig and nothing really stuck. I actually didn't like the band name at first but felt it was the best of a bad bunch, it's definitely grown on me now though. He said he mixed the old and new, old of Billy Lee Riley's song "Red Hot" and the new of Brian Setzer's Rockabilly "Riot", boom, "Red Hot Riot" it was.
Q: Who has inspired the band's musical identity – just rockabilly bands? – or are there other influences from the musical spectrum, as it appears you are willing to cover some eclectic bands and records?
Answer: If you've seen our "early days" (if you can call them that as they were only just over a year ago) then you'll know we are huge Stray Cats fans and they will always be one of our main inspirations. More recently however, we've tried to add something a bit fresher to our sound, we all have a wide taste in music spanning further than just rockabilly, rock n roll, psychobilly etc and with my writing I've started to add more of that. I'm into a lot of modern indie guitar bands for example, and with writing one of our new songs titled "GO" I looked at how those bands use different rhythms and aren't afraid to play around with the songs dynamics. I worked both of those into "GO" and although it's not the traditional rockabilly sound of the 50's, it's still definitely a song that fits strongly into the neo-rockabilly scene.
Anyone following this young band and there are quite a few of us, will know what the band has achieved much in a limited lifespan:
Q: RHR have achieved a great deal in a short space, or so it appears…is there a masterplan?
Answer: No masterplan whatsoever! Just continue to do what we did at the start, have fun, work hard, and enjoy the ride! I mean, of course we have things we'd love to achieve, the big one being we'd like to make it our full time jobs, but you do have to be realistic and there aren't many making a living full time from being in a rockabilly band. Regardless as long as we're enjoying it, we couldn't ask for anymore. It's all just a bonus!
We have been unfortunate enough to watch a lot of daytime TV recently and we understand the protocol as an artist or celebrity walks out into the studio of the chat show – they probably have something to sell. Our Ricky, along with his band, has thought about nothing but their debut album; the culmination of a lot of hard work, hard won talent and a desire to achieve and why wouldn't he want to sell this to us?
Q: What is the debut album's title? Due date for the album?
Answer: The debut album is titled "Forget Me Not", we haven't announced that yet but our label has so I guess it's already out there for the world to see, it'll be out on the 26th February which can be purchased directly from the bands Big Cartel page, or directly from the Western Star record label website.
Q: More than anything what would like to achieve with your debut album?
Answer: Myself and the other lads (Scott McParland on Bass and Dan West drummer) are immensely proud of what we've achieved, considering we wrote and learnt the songs individually at home during the first lockdown, it's one we're proud of. I would love it if people liked it, and were to talk with their mates about it. If the people are behind you then that's really when the ball starts rolling. It's really cool when you see people playing your songs on their instagram stories and stuff like that, so to see more of that when the album is out would be great.
Although, the interview was ostensibly about the impending album release, Ricky Delaney never forgets those around him and is always giving…
Q: There appears to be a great relationship within the band, were you all friends before you became a band and do the other band members, Dan and Scott, have eclectic musical tastes?
Answer: Yeah, we were all friends before being in the band together. Myself and Scott went to school together but didn't really know each other until we were able to go to pubs and discover we both liked music and beer! I first met Dan at the Frog and Fiddle in Cheltenham when they had "FrogFest" on, the night became a bit of a blur, but we hung out a few times and became friends before he was in the band. Yeah, we all like a wide range of stuff, Scott likes rockabilly and psychobilly mainly but has a big love for classic rock, he likes a lot of modern stuff too like Sigrid and Slaves. Daniel is mainly into blues and that's where his drumming began really. He's open to anything though and really likes a lot of dynamics in songs, which definitely shows in his drumming style. If readers want to check out what exactly we're listening too, they can follow our Spotify where we have individual playlists we add to regularly to give fans more of an insight into our taste in music.
Ricky is also quick to acknowledge those that support from the fourth wall…
Q: Are there any individuals or organization that you would like to thank for the support and help afforded RHR?
Answer: I have to say Alan Wilson of Western Star Records, that man is a living legend and has done more for us than we could have dreamed. Another is Gaz Mayall for getting us gigs in London and helping us with Glastonbury. Mr.Ducktail, Liam Morgan, Bosphorus Cymbals (Dans cymbal endorsement), BBC Radio Gloucester, loads others I could mention but of course our friends and family for tolerating us never shutting up about the band.
After the inevitable talk of the new album and the generous acknowledgement of others in a supporting role the interview explored what is equally important to the band:
Q: What do you miss most about touring and playing live? (Best venue to play?)
Answer: I really miss playing in little sweaty pubs and clubs with a crowd right in front of you having a good time. I miss the interaction with people who are new/old fans of the band, I miss being able to play guitar loudly with my best mates, I never thought I'd say this, but I actually miss the travelling too. Driving home at 5am after a gig in London on a Friday doesn't sound fun, and it wasn't at the time, but I'd happily do it these days without moaning once of being tired. There are many venues we miss playing at, but the main ones for me are Billy Bootleggers in Nottigham and Newcastle, Frog and Fiddle in Cheltenham, Gaz's Rockin Blues in London, Louisiana in Bristol, I could go on, there's loads and as soon as we can, we will be getting back into these places for sure.
Rather cheekily I contacted the Rockabilly Tsar at Western Star records, Alan Wilson, for a few choice words about Rocking Ricky and his band Red Hot Riot:
"It's been a pleasure working with Red Hot Riot. They are enthusiastic, hardworking and talented. The song writing is great and they are very good at what they do. They use Rockabilly as a platform and expand upon that. What I mean by that is that they are looking forwards, not backwards. This gives their music a contemporary edge but with a retro-ish underbelly, I like it!"
Well, Mr Delaney, I am sure that I speak for your legion of fans when I declare we are not only looking forward to you rocking a small sweaty club near us but also the impending album launch: Forget Me Not.
Lest we forget Ricky Delaney of Red Hot Riot was talking to The Swilgate Scuttler.
Pre-Order the CD of the debut album by Red Hot Riot, entitled Forget Me Not – Released 26th February 2021
Find out more about Red Hot Riot