Soundings, an exciting new event series bringing the foremost mechanical musical instrument makers to Worcester, has announced the line-up for their inaugural events, taking place at St Swithun's Church on 17th & 18th September as part of Worcester Music Festival.
The first event on Saturday 17th September will be split between a Show & Tell session, running from 3 pm – 5 pm, before an evening of performances starts at 7 pm; offering the opportunity to hear artists talk about their work with sound before revelling in the results.
Sarah Kenchington will bring her remarkable and constantly evolving semi-mechanical, human-powered orchestra that is designed to be played by one person and create music that is dictated by the uncontrollable nature of the instruments in the set-up. These include a pedal-powered double-ended hurdy-gurdy banjo, a mechanical sequencer, and a brass band section which uses balloon membranes.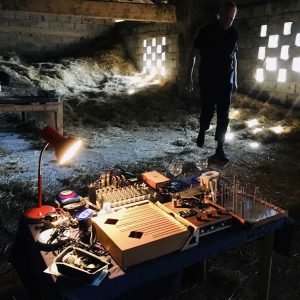 Lee Patterson's highly distinctiveworkexploits mechanical and chemical synthesis. Using sound making and recording to devise performances with a selection of amplified objects, devices and processes, from rock chalk to springs, from burning nuts to vibrating metal, he creates a novelty of playing objects and situations otherwise considered mute.
Rounding off the line-up is the Mammoth Beat Organ, a modular, mechanical music contraption created by Worcestershire-based Sam Underwood and Graham Dunning. This two-player, semi-autonomous musical instrument plays unusual, sometimes erratic compositions drawing on drone music, minimalist repetition and fairground organ techniques.
Soundings continues on Sunday 18th September with a free group workshop led by the artists behind the Mammoth Beat Organ. Together, budding makers and performers will create a series of new instruments which can be played independently and as part of the wider machine.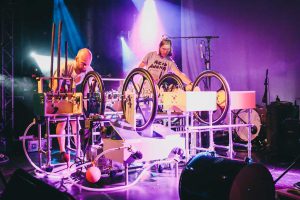 Once these are built, the group will develop a performance together, planning and rehearsing the pieces to be played before a live performance takes place in front of an audience, showcasing the instruments and music created.
Soundings also want to hear from any musical instrument makers who might be interested in showing their work as part of a short 'open session' at each event. Please get in contact via the form on the website or email soundings@mrunderwood.co.uk if you are interested in this, the Sunday workshop, or if you have any other queries.
Soundings is funded through Arts Council England's Lottery Projects Grant. Support for this project has come from Severn Arts with investment from the Arches Worcester project, funded by the Cultural Development Fund – a DCMS / Arts Council England fund.
For more information and to purchase tickets, please visit: www.worcestermusicfestival.co.uk/soundings
Find out more about Worcester Music Festival