Of course, Tewkesbury is famous for its historical black and white architecture. Infamously, there has not been a Record Fair held in Tewkesbury for a number of years, following the Fair in June we have black and white evidence there was a need…
With the architects of the day offering a spectrum of formats, genres, artists, editions and versions the Record Fair was a success. Tewkesbury was clearly appreciative of a Record Fair on its doorstep and the numbers in attendance were a clear vote of confidence for all involved.
Confident all involved can replicate the day again and just so we don't lose any impetus the Fair will be returning again on Saturday July the 30th; before indulging in a break for the summer holidays.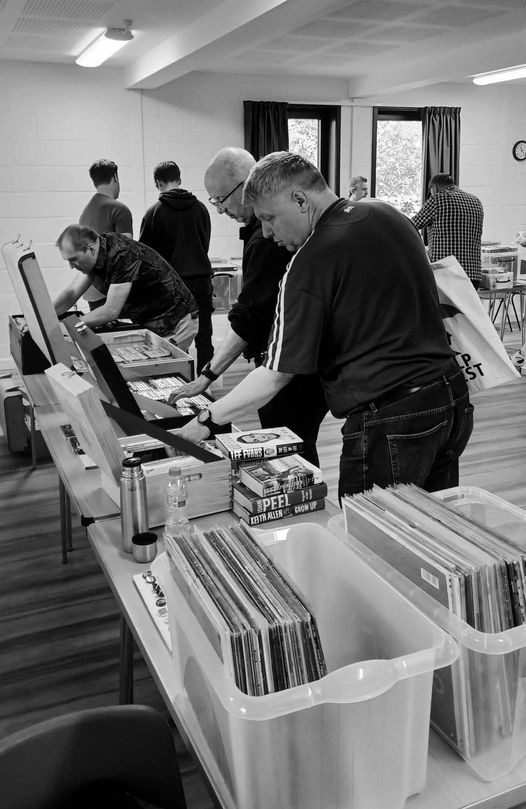 Taking a busman's holiday on their weekend off, we have some new dealers (alongside some "old faces") offering all new stock for you to delve into. Once again, our friendly dealers promise to deliver another satisfying Record Emporium for the obsessives running from 11am until 4pm.
Of course the support from all who attended was highly appreciated. Moreover, the support from local record shops, Fairs and magazines was much appreciated and truly invaluable in reaching our audience. Therefore, unconditional thanks must go to SLAP magazine, Moseley Record Fair, Forest Vinyl in Cinderford, Trading Post based in Stroud, Jason from Desirable Vinyl, Simon at online Maverick records, Phil and Mike at Vinyl Vault in Cheltenham, the good people at Carnival Records in Malvern and To Have and To Hold Records with their own black and white frontage in good ol' Tewkesbury.
The welcoming doors to the The Wheatpieces Community Centre are easily accessible from Worcester, Gloucester, Evesham, Cheltenham, Hereford, Theocsbury, Brensham and all villages in-between:
Wheatpieces Community Centre
Columbine Road
Walton Cardiff
Tewkesbury
Gloucestershire GL20 7SP
Don't forget there is an excellent chippy, Tewkesbury Fryer, over the road and because we are running on a Saturday…it's open!
Kid Gonzo
*Please note: Comfortable chairs are available for long-suffering partners and/or family members who have been dragged along against their will.