In August this year Yew Trees Artist Studios celebrates its Second Birthday! These working studios first opened to visitors in August 2020, the first of the COVID years. Undeterred by lockdowns and restrictions the original three Yew Trees Artists, Dan Holden, Susan Birth and Richard Nicholls, quickly established a reputation as resident artists producing high quality artwork.
After the January to March lockdown in 2021 they continued to advance, expanding their customer base in the local area and welcoming visitors from further afield.
Early in 2022 Richard Nicholls moved to a new studio above the original print room in Bevere Gallery and Jennifer Ng joined this happy community of resident artists. Also this year through the summer the artists have introduced Guest Artist Saturdays and hosted music and poetry events in the delightful wooded space around the studios.
Mixed media artist Susan Birth said,"We are proud to have established ourselves as an exclusive venue to meet artists, see their working processes and view original contemporary art. We love the fact that our visitors often recommend our studios and come back with family and friends. Here, visitors can be inspired to get creative! They can see artwork being made, chat about techniques, materials, influences and inspiration. We work in different creative styles and mediums including abstract oil and acrylic painting, collage, art photography, watercolour and Chinese ink. Our contrasting art styles offer visitors a broad and varied experience. There's something for everyone here!"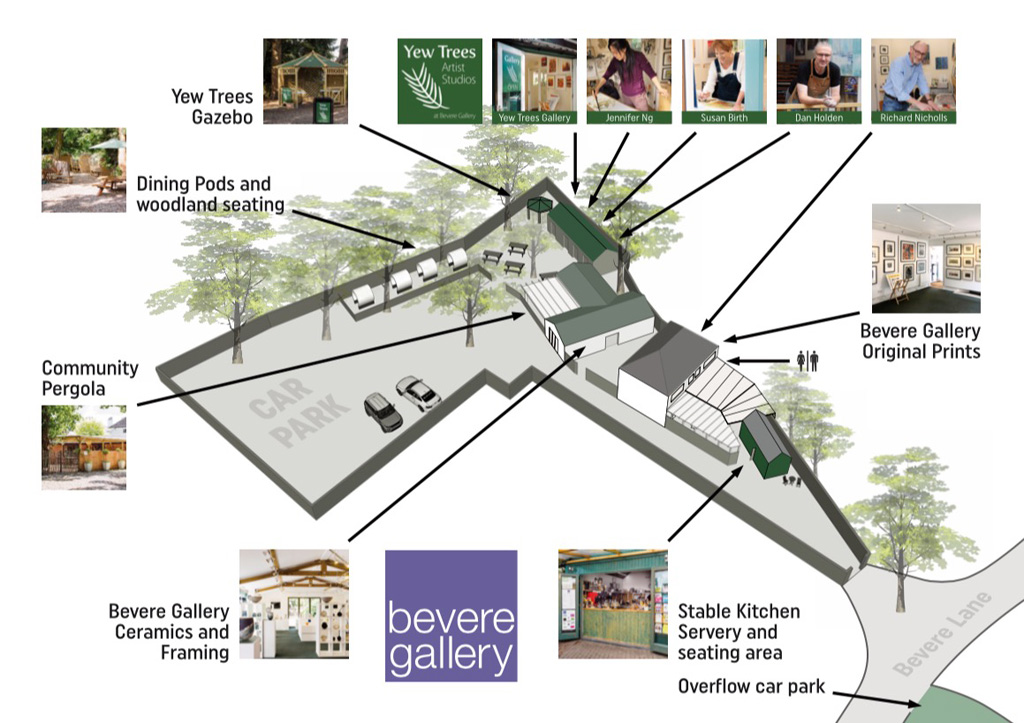 Yew Trees Artist Studios are open to the public Tuesday to Saturday between 10 am and 4 pm.
On the Bevere Gallery site visitors can also browse stunning collections of ceramics and original prints, and enjoy homemade cake, drinks and ice cream from the popular café. There's plenty of open and covered woodland seating too in this beautiful countryside setting.
Address: Yew Trees Artist Studios, Bevere Gallery, Bevere Lane, Worcester WR3 7RQ
Contact: Susan Birth susanbirth@btinternet.com 07762 351192