Live music at University of Worcester Freshers Fair Sunday 12th September 2021
With Worcester Music Festival cancelled for the second year running due to logistics of working around covid restrictions, another opportunity arose for one of the events organisers. The University of Worcester approached them and invited them to bring together an eclectic musical line-up to provide entertainment at the Freshers Fair 2021. Hoping to hold a festival style event, the University certainly asked the right people, as the WMF is also involved with Uncover, whose work promoting and organising regular music events is hugely important for the local scene.
Alongside work for SLAP magazine, they proved to be the perfect ally to organise the event and curate a line up that highlighted a range of talent from around our region. Daytime entertainment was made up of laid back acoustic solo artists and duos, while the evenings ramped up with bands to rock a stadium in true festival style. Many of the artists performing are regulars at Worcester Music Festival, Uncover events and have been featured in SLAP magazine. I was lucky enough to have the opportunity to attend the evening event on Sunday 12th September, and what a night it was.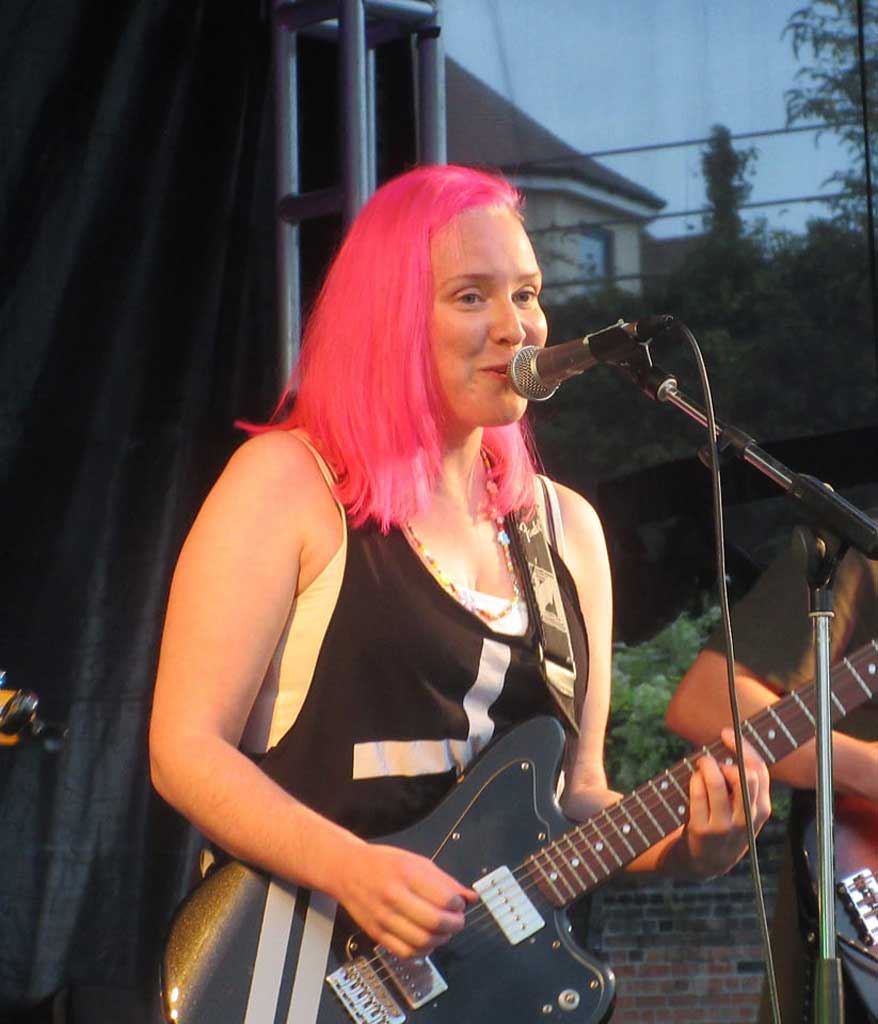 The impressive stage was situated on the grounds of the University's Castle Street Campus, and with sound provided by Insert Audio, it certainly was a festival worthy set up. First up were much loved local band Chevy Chase Stole My Wife. This is a band who always deliver an infectious energy on stage, visually, front woman Emma is bundle of happy energy who performs with such a cheery persona it's impossible not to get a swirled up with the mood. We had a song about a rollercoaster, R.I.T.A, which takes us through the twists and turns with a groovy guitar, as her name is shouted with appreciation. "This is Art Calling" took a slightly slower place with a deep groove and Impressive fast guitar riffs. "Anxious Teeth" had a galloping intro and a consistent chattering beat, and "On The Moon" was a mellow track with deeper vocals, showcasing Emma's vocal range and versatility. The song ends on louder vocals and a beautiful guitar solo that flew out into the air and made you listen. "All the handsome men are dead" and "I Fell in Love with a Tightrope Walker" brought a punk energy to the set. Song after song, the energy radiated from the stage, and tracks such as Swayed and Give Us a Smile kept the audience wanting more. Final song "My Gig" got the crowd involved, shouting "No" in response to the lyric "Are you gonna come to my gig?". A bubbly, fun set, a fabulously fizzy way to start the evening. These guys never disappoint.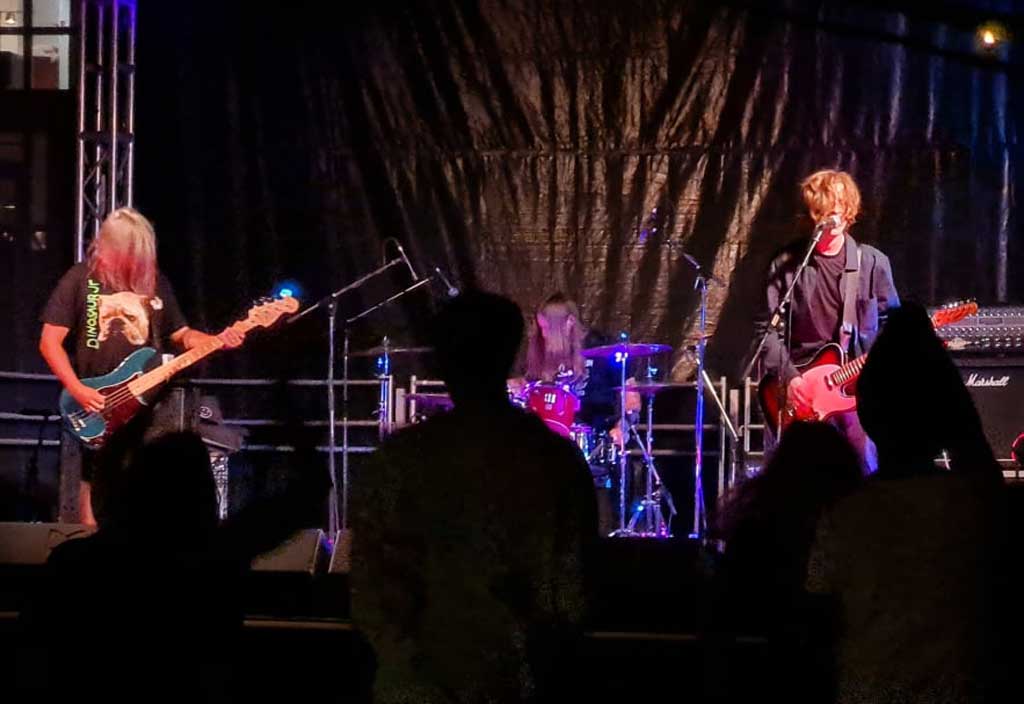 Next up were Zilch, a raucous alt rock trio who have been on the live scene since September 2018. Near the start of the set, 2 students were at the front of the stage, hands on the speaker, feeling the beat punch out like a sonic boom. Vocalist Thoms gritty, heavenly vocals belted out anthems such as Misgiven and Orange Peanut – a head banging track with violent cymbal crashes, screeching instrumentals and screaming vocals which encouraged equal screaming of pure joy from the crowd. "Bouncing" and first single "Righteous" threw out vibes of Muse, whining guitars deserved a festival spot,and final song "Shade" ended the set in a pulsing whirlwind to warm up the chilling evening air. The music spoke for itself, sound quality and performance hit all the right notes, proving this was a gig in its own right. A polished, professional set, which even a broken string didn't interrupt as the band played on and the crowd continued to rock out.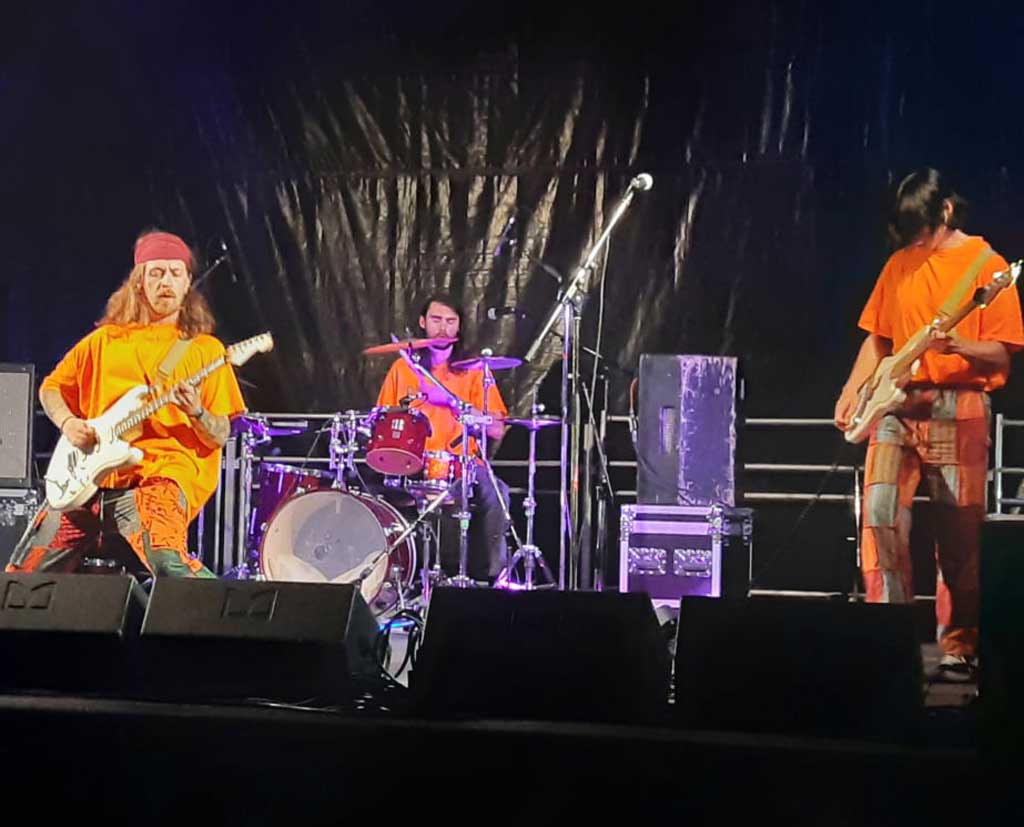 Final act of the night, Echo Gecco, colourfully took to the stage in orange clothing, adding a bright visual element to the stunningly bright set they were about to serve. Having seen these guys for the first time at Lakefest last month, I knew that the night was about to end on a high. I wasn't wrong. One track flowed seamlessly into the next and I stopped taking notes as every now and then words evade even me. This band literally throw out musical ropes and reel you in. Vocalist Josh has a humour and stage presence hard to ignore, and the undulating grooves that ride throughout the tracks will whir and wind, rise and fall. You can't look away, you can't switch off, and you wouldn't want to, there is too much to see and hear. The vast changeable pace means there is literally something for everyone within an Echo Gecco set. If a box was made for music, these guys have punched a hole through that box and spilled out into the wild to change the shape of music in the most exquisite way. A simmering set of jammable tracks such a No Help Tonight and the "epic" All Over The Shop – which contains the lyric "I don't want to get in your head", which is ironic as that is EXACTLY what they do. One minute tender, the next rocking the stage with an intense passion you can FEEL.
Echo Gecco are human fireworks, explosive, enjoyable to watch and reach for the sky as that's clearly their limit… to infinity and beyond, boys!
Many of the artists that appeared at Freshers Week will be taking part in the Marrs Bar reopening event being run by WMF from 1st-3rd October, details to be found on the WMF website. The University of Worcester is hoping to put on a similar event next year, and after seeing for myself what a successful collaboration it was this time, am I the only one considering going back into education so that I don't miss out?
By: Kate Ford
Find out more