Record Fair 10th October 12-5pm at The Old Con Club, Malvern
Hands up if you like your music in a physical format? Thankfully, we have a near "oven ready" Record Fair on the horizon to help you track down and trace that Abba inspired ear worm or elusive Ziggy Stardust album. All under one roof in the centre of Malvern town, with local dealers, a fully stocked bar and a musical playlist to help you enjoy your Sunday afternoon crate digging…
Face it, vinyl has been going through a bit of a revolution of late and we fully intend to help spread the faith. However, also available will be music related literature, CDs, cassettes and a friendly welcome – all for an entrance fee of £1.00.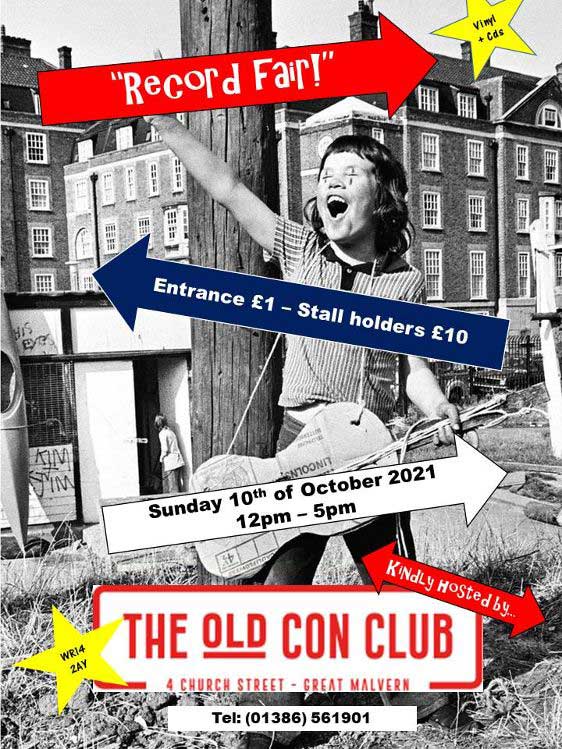 Space at the Old Con Club, 4 Church Street, Malvern, WR14 2AY is ideal for our venture and the venue is fast making a name for itself as a truly creative hub. The host Joe is as enthusiastic as we are and equally looking forward to our Sunday service. We have the support of Carnival Records, 83 Church Street, Malvern with Chris having already booked a stall. Mel from To Have and To Hold Records, 6 Church Street, Tewkesbury has also been very supportive. Praise be! And if you think I am going to finish with a religious jape…then we are all singing from the same hymn sheet.
At confessional all I will admit to, is hoping to see you on Sunday 10th of October at the Old Con Club!
Stall holders fee only £10.00. Accordingly: bookings, ideas and daft questions…Tel: (01386) 561901
By: The Scuttler
More information