Scallywags Comedy Club – George Watson Memorial Hall (Tewkesbury) – 3rd September 2021
The first event I ever attended at our George Watson Hall was to witness the Sooty and Sweep show and if memory serves the show really knew the young audience's expectations…
By George, under the stewardship of Jon Wagstaffe the night of comedy at the Watson Hall really did understand their audience- mostly. They had come to laugh and nothing was going to stop them. The slightly older front row were happy to be called "club double-jabbers" and the brave lady on the front row was content to have her reputation and night-time job brought into question…in the pursuit of laughter. The knock-about Punch & Judy style – call and response humour – was all that was required: "give me a cheer if you are just happy to be out!"
Kevin Dewsbury brought his slightly more urbane humour and delivered comedic monologues that had the experienced comedian evaluating his content. Despite his confessional exclamation he was alcohol dependent at the start of a sketch about drinking alone in the pub his routine deserved more of a positive reaction. Clearly frustrated Dewsbury was able to think on his feet and go about his business with a professional tenacity. The throwaway line…"it was a boring salad and needed addressing," informed he knew what was going on. This simple one-liner received a bigger laugh than his well-honed, yet, longer observations. Fact.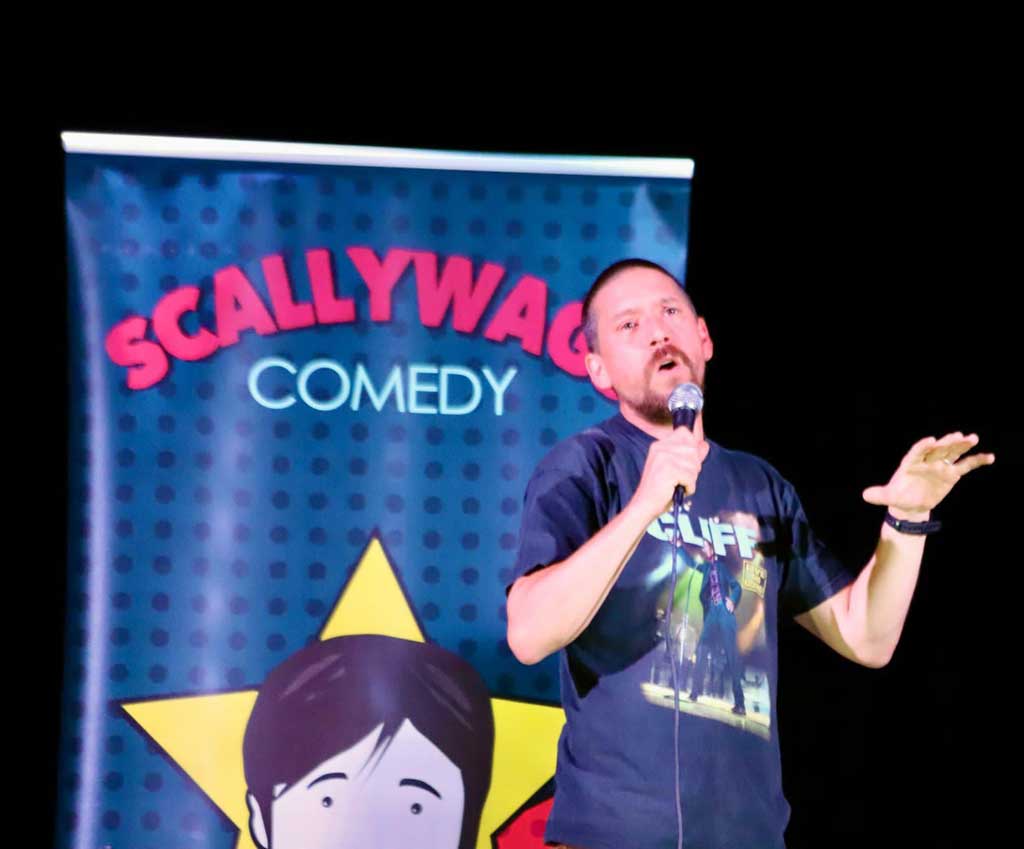 In fact, the seemingly shambolic and shuffling style of Josh Pugh is misleading as he is a skilled paradigm of self-deprecating humour. Never afraid to mock his life-style, his work, and even his own marriage in the desire to amuse and entertain; he achieved this by charming the audience with his likeable and affable approach. The routine about someone impersonating his wife online, even using her personal details on a dating site so she had to meet up with men to apologise and then needing to…was, well, laugh out loud funny. No wonder Josh Pugh has won awards and acclaim.
Paul Pirie was awarded the headline spot for the night. His delivery consisting of fidgeting, an ill-at ease approach and well- rehearsed spontaneity which appeared to win over the by now well-oiled audience. The sporadic, splenetic & skittish delivery swung between the political and the childish and the audience knew what it wanted. When in doubt unzip a knob gag is the maxim many subscribe to! Pirie's repetition of the despair of political correctness inspired the inclusion of one or two clumsy lines; in an attempt to appear edgy, questioning and unaccepting? However, even one or two or three in the audience were unsure of this limited approach.
By George, comedy at the town hall? Elementary, my dear Watson!
Tickets for the next night of Comedy at The George Watson Hall, on November the 19th 2021 are available. Early bird tickets are £11.50 with tickets on the door for £14.00.
By: The Swilgate Scuttler