St James CE, Welland
So far this year we've seen legions of locust munch their way across East Africa, hellish fires in Australia, biblical floods and now pestilence, as Covid-19 grips much of the world. Could there be a better time to answer the call to church? Elles rings out the call tonight in acoustic-trio form, alongside guitarist Joe Wilkins and the newly baptised (tonight is his second performance with Elles) Mark Lewis on double bass. Set to play four unique church sessions, the trio have crossed rapid torrents of Severn flood water to reach Upton, a picturesque island in a vast sea. The congregation spill out through every nave, aisle and pew of the rural church, finding Elles and her two disciples arranged with the alter as their backdrop.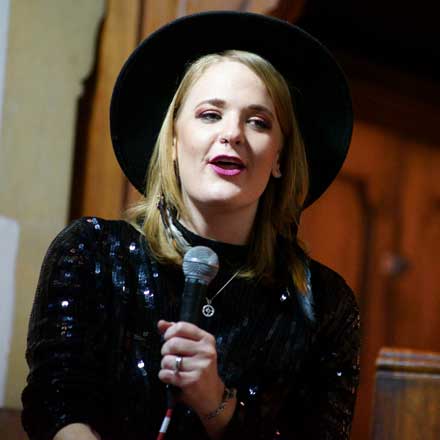 Joe plucks the opening chords while Elle invites us to "Walk On Water", how divinely appropriate. Elles' voice rings out through the room, soaring to reach the highest arch of ceiling; it is unsurprising that she has recently won UK Song Of The Year at The UK Americana Awards, a prodigious and sought after title. The winning single, "Little Piece Of Heaven", was co-written by Bobby Wood and Black Keys' Dan Auerbach, during a trip to Nashville. Here in St. James, we are treated to an acoustic take that forms a cosy, soulful, little piece of heaven.
"Halfway House" is one of Elles' newer pieces; raw country blues that powers over bare guitar and minimal bass framework – if this is anything to go by, her next album is definitely one to look out for. Elles turns to her piano for the lovely, melancholic ode to Janis Joplin, "Girl Who Owned The Blues", before a passionate "Leapers Fork" brings about an interval.
Written in collaboration with Joe, and Tamara Stewart, "Woman Like Me" is a barbed, bluesy powerhouse; even in this reserved setting it has real bite, and I'm not talking ginger nut biscuits. Elles returns to the piano to rip into an equally sharp, "What Is The Matter With You?" before lifting the lovely, "Miss Me When I'm Gone", from previous album, Road I Call Home. Time seems to be racing away, the boys have given Elles centre stage as she walks the aisles, guitar in hand, to sing the emotional "Time's A Healer". It's a lovely, light moment of connection with her audience, who have long been won over by Elles warmth.
Joe and Mark settle back in; it's time to close the service, and what better way than to conjure up the mischief of a "Medicine Man"; a story of false promises and failed cures, but also a personal reflection on lessons learnt along the road. I'm not a religious man, though this is one sure-fire way of getting me to church! An unmissable, spellbinding evening in a beautiful setting, Elles' acoustic music reveals the truly lush qualities of her voice, brilliantly supported as ever by Joe Wilkins and new recruit Mark Lewis.
By: Graham Munn