Evesham Record Fair – Sunday 30 July 2023 – Bengeworth Club, Evesham
Unlike reluctant asparagus Evesham Record Fair organisers are returning to Evesham for the second time this year…
Luxuriating in the timeless glamour of the Bengeworth Club on Coronation Street, the Record Fair made an impression on one impressed customer: "We have never had anything like this before in Evesham!"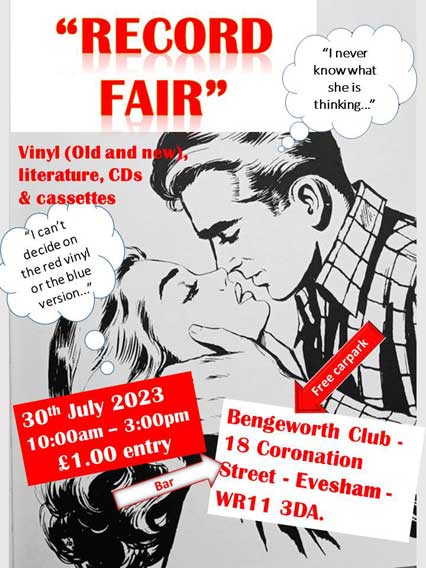 The affable dealers promoted a warm welcome, enjoying easy conversations about the pending Elton John gig, the merits of seeing John Cooper Clarke live and just how sweet natured Suzanne Vega is in person. They fully intend to replicate the atmosphere of bonhomie again this time around…
All the while, offering pre-loved vinyl, virgin vinyl, a kaleidoscope of music on CD and biographical literature of a musical nature. Ever read Springsteen's elucidating, beautifully written and comprehensive biography? No? Believe me…you are missing out!
Please don't miss out on Evesham Record Fair!
The carpark offers ample free parking to the left of the building and the £1entry will be through the front of the club. It runs from 10am until 3pm on the day. The Bengeworth club will be serving hot and cold drinks and there is plenty of space to enjoy a relaxing day celebrating music in all its guises.
Evesham Record Fair – nearly – as prized as asparagus itself! However, you won't have to walk around a muddy field to pick up a copy of Joy Division's first album.
Evesham Record Fair: Bengeworth Club, 18 Coronation Street, Evesham, WR11 3DA